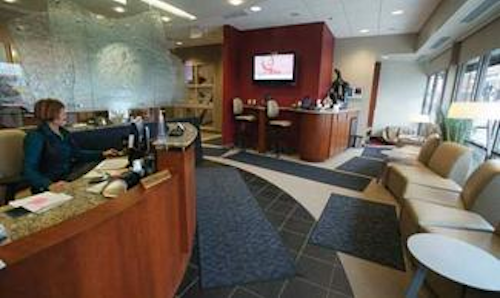 Story by Editor Dr. Joe Blaes
Photography by Skarstad Photography
For more on this topic, go to www.dentaleconomics.com and search using the following key words: Boger Dental, Dr. Joe Blaes, relationships, philosophy, design, technology, comfort.
This is an easy practice for me to write about since it's based on the same philosophy I have developed for my own practice — a philosophy that ultimately results in relationships. People take the time to build these relationships because they believe this is the best way to understand other people. Stephen Covey expressed this philosophy well many years ago with one of his Seven Habits of Highly Effective People — "Seek first to understand, then to be understood."
The principals of Boger Dental — Stephen P. Boger, DDS, Chad E. Boger, DDS, and Joseph T. Madden, DDS — all embrace this philosophy. Dr. Stephen learned from some of the legends of dentistry, including Dr. Bob Barkley, Wilson Southam, Avrom King, Dr. Omer Reed, Doug Young, and Bud Hamm, among others. Dr. Steve Boger says, "These men are the first ones to apply a behavioral model of relationships to dentistry, and I credit these teachers with changing my life."
Boger Dental was built functionally and architecturally around this concept of care. Dr. Boger had practiced this type of dentistry for 20 years in the facility they moved from. Dr. Chad joined his dad seven years ago and Dr. Joe came on board as an associate last year. Now together and in their new building, the trio have reaffirmed this philosophy and made design changes to serve everyone in a better, more functional office. It is important to note that the entire dental team believes in this philosophy of relationships — between themselves, the doctors, and their patients.
Boger Dental is very thoughtfully designed. The office is designed and built as a "front deskless" model. A concierge greets all patients and sees to their every need. It is of paramount importance to give patients a feeling of welcome, warmth, and safety, and to help them understand what will happen during their appointment. They can enjoy juice, tea, fresh brewed coffee, fresh baked cookies, and computer terminals to help them feel at home. The flow from there goes to treatment areas situated in a U-shaped hallway.
The office layout is centered on two spacious, nicely appointed, and comfortable consultation rooms with flat screen monitors for digital consultations. These rooms are the center of the relationship-based practice. In these areas, treatment coordinators begin to develop relationships with active listening skills while exploring their dental health care concerns. As Dr. Reed has pointed out for years, people who feel listened to and understood and who trust you are more apt to accept your best and finest care.
Part of the Boger Dental philosophy is for each patient to be greeted, served, and dismissed by the same team member, whether that is a CDRA, hygienist, or treatment coordinator. So, for example, a patient coming in for restorative care would be greeted by an assistant, who would stay with the person throughout the appointment, and then summarize treatment, collect payment, reappoint, and give the patient a Ritz Carlton "fond farewell." Boger Dental feels this relationship building is very important for patients to feel well served. Having the consultation rooms near the front helps in this process if treatment rooms are in use.
One of the major steps before Boger Dental's move was becoming a paperless office which is much more efficient because all records are immediately available to all office computer terminals. The entire team can access clinical and financial files for all patients. Also, the traffic flow for the clinical team is greatly enhanced with the centralized sterilization area.
Following office design, equipment selection is the next challenge. The doctors and team took the time to take some field trips to different dental manufacturers and try out some equipment. Most equipment manufacturers gladly allow dental teams to visit. The team, with ownership in the equipment decisions, and office design and layout, has a positive attitude with all the changes involved in a move. The Boger Dental team plays a significant role in most decisions. They have spent countless hours over the years in team building and team meetings.
Next, the office added technology. Remember, the office is paperless, so they added a fully integrated digital Panelipse and digital radiography for intraoral images. The office is equipped with the Waterlase laser, which allows the practice to treat soft- and hard-tissue concerns. It is perfect for gingival recontouring, preventive resins, and especially closed flap osseous treatment of biological width issues and crown lengthening.
Boger Dental has several diode lasers used primarily by the hygienists for laser-assisted hygiene, which has been accepted quite successfully. These lasers are also used for sundry soft-tissue issues that arise in restorative dentistry. The dentists also find themselves using the lasers many times a day. The practice also has KaVo DIAGNOdents for laser caries detection.
Dr. Chad Boger practices neuromuscular dentistry and has an assembly of technology for evaluation and treatment purposes. This includes the J5 Myomonitor from Myotronics TENS unit, which delivers controlled, periodic, bilateral electrical stimulation to provide muscle relaxation, increased blood circulation, and increased range of motion. The K7 Evaluation System provides the dental clinician with three technologies for measuring, displaying, and storing objective data on physiologic and anatomical status and function — jaw tracking, electromyography, and joint sonography. This system includes the K7/CMS Computerized Mandibular Scanner, the K7/EMG Eight Channel Electromyograph, and the K7/ESG Electrosonograph.
The practice has DigiDoc intraoral cameras in every operatory, which are used on almost every patient in a codiagnostic manner to communicate concerns, explain something visually, or affirm treatment decisions. There are two monitors in every room for intraoral pictures, satellite TV, or DVD viewing. These are visible whether the patient is sitting up or reclined. They also offer satellite radio or CDs.
Rather than rely on pills, Boger Dental provides state-of-the-art I.V. conscious sedation, a very safe option to relieve dental anxiety. A licensed nurse anesthetist administers IV anesthesia and oversees the sedation throughout the appointment. This leaves the team free to focus on its work while the patient feels deeply relaxed and comfortable.
A major influence in the design of the Boger Dental facility was the architect Reed Robinson, who listened to the doctors' ideas and added his own. Other influences were all the great behavioral dentistry teachers that taught use of space as it relates to a behaviorally congruent and functional flow. The Boger Dental team also developed a very good relationship with Patterson Dental and A-dec.
This final bit of advice comes directly from the doctors at Boger Dental: "Have a vision. You need one to have a congruent dental practice, and you need a vision of your practice and life to facilitate this process.
"Be as sure as you can that your architect is the right person. Make sure it is someone who will listen to your vision and work toward it. A good architect will be there constantly during construction to monitor and make adjustments if necessary.
"If we had a secret to success it would be providing a behaviorally sound new-patient experience, from the first phone call or letter, through the comprehensive care and maintenance. Also, as an extension of that, we have the ability to help people enroll in our finest care, which is best for our patients and rewarding to do."
---
Boger Dental
Stephen P. Boger, DDS • Chad E. Boger, DDS
Joseph T. Madden, DDS
2720 Annapolis Circle N • Plymouth, MN 55441
Phone: (763) 546-7707
Advanced restorative, cosmetic, and family dentistry
Web site: www.bogerdental.com
e-mail: info@bogerdental.com