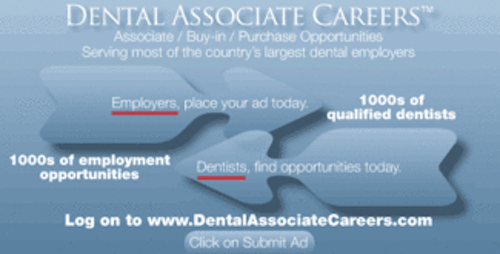 by Larry Wintersteen, BA, MA, CMT
It seems like we're all floundering in this time of uncertainty and fear — socially, politically, and economically. Too many peoples' lives are being altered, and the things they have traditionally enjoyed are slipping through their fingers. All of us are looking for an endorsement of values, acceptance, and security. In times like this, we find strength in personal contact and relationships. For that reason, I want to remind all dental teams that they are in a perfect position to touch lives, master customer service, and bring smiles to people's faces.
Yes, patients come to your office looking for the humanitarian elements of your service. It is mastering the humanitarian elements that make a difference and motivate people to come back or refer others to your office. Creating and maintaining a warm atmosphere is a habit in progress.
Therefore, rekindle truths that you already know. But like most people in a busy and changing world, we have to be nudged to remember what counts in a service profession. We must also remember that for the most part, dentistry is an elective service. Consequently, are your practice and professional team candidates for acceptance?
Some offices are too busy worrying about attracting new patients, while their existing patients are sneaking out the back door. Remember, it is absolutely necessary that you review, practice, and market the invisible elements of service. Join me, as we revive real principles that have been proven over and over in marketing as the reason people come to see you or become loyal and attracted to your products.
Market an attitude of service. Be excited with the potential of meeting and caring for people. Let your enthusiasm and kind gestures add light and life to all that enter your place of service. The attitude of helping and serving others is a gift. It's not just something you think ... it's something you do! It must be in the forefront of your brain and your self-talk.
Do the unusual. Never get too comfortable. Give yourself a reason to stretch beyond the ordinary. Patients can feel progression in motion. They know when the team is energetic and creative. They appreciate it when you are excited about new equipment, a new office, or a recent CE course. Patients know when you stand out from the crowd. They see you as a beacon and a guiding force for good in their lives.
Standards must be defined for the office. It is essential that the team fits into the scheme or gestalt of your vision. It is important that you not only formulate protocol and standards for the practice, but that you embrace them with consistency and believability. For example, create a departmental mission statement for which you can embrace and take ownership.
Assignment
Have your team put something like this together for front desk personnel, hygienists, dental assistants, leadership, and doctors. This is sort of like a departmental mission statement. Here's a sample:
Creed and Challenge
I will always be sensitive to patient needs and comfort.
I will strive for efficiency and effective time management.
I will stay updated and proficient with assisting and expanded skills.
I will be professional in appearance and behavior.
I will enhance my listening and communication skills with courtesy and appropriate performance.
I will cross train with my team players, both front and back office.
I will motivate and educate patients to oral health excellence.
I will be an ambassador for the dental practice, both in and out of the office.
I will compliment the standards and goals of the practice. I will support the management core.
Don't just think OK — think better and beyond. When we get passive, we get casual. When we're casual, we're not teachable or flexible. Also, when we're casual, we stop caring or looking for ways to impress or serve. It's like courtship. You must constantly work at being the person you want others to like. Put your best foot forward, be a helper, and demonstrate the power of a smile.
Every act is a marketing act. Make every person a marketing person. As a team player you must realize that you are an intricate part of the total practice image. You are a representation of excellence and dependability. Take ownership of your deeds and efforts. Act as if you are the sole representative of the standards and thoughtful extras within the practice. Market your energy, attitude, expertise, and presence. People are the natural resource to your success.
Service attracts relationships. Remember, your patients are people with individual needs. Learn to listen and read them. Make them feel like they are your special mission of kindness and helpfulness. Personalize your conversations and relate to their needs, fears, joys, etc. Be professional, and more importantly, be personable, in an appropriate way.
Incorporate technology into your marketing plan. Technology will allow you to educate, motivate, and speculate customer service. Instruments of learning through technology will give you more free time to attend to patients' needs. You can visit with patients while technology is doing other things on their behalf. You can press a key or touch a screen and the world of dentistry can have life and meaning much better than before. You can send an e-mail to every patient with confirmation, reminders, education, motivation, and appreciation. When patients arrive home, they can turn on their computer and have an e-mail message and attachment from you that gives them further clarity and confidence after they have left your office. You can keep your name and image in front of them through technology and not have to wait for a six-month recall appointment.
Marketing is a personality or popularity contest. Most patients believe in your skills — unless something still hurts or falls out. But usually they remember your personalities and gestures of kindness. The doctor often sets the mood of the office and the personality of the practice. Does your office maintain a healthy balance of fun and professionalism? Do you demonstrate confidence and humility when rendering services? Does your office have a glow and energy that is captivating and calming? Do your patients say, "I really like coming here because this is such a great place and they are all special people"?
Act now! Too many dental practices are still thinking about what they need to do to grow or refine their practice, while others have moved forward. Remember, you might be on the right track, but if you don't move, you will get run over. Don't lose windows of opportunity. Be specific in your objectives, measurements, performance, and success. Think action and avoid procrastination. Do what others are not willing to do and do it well, with the patient in mind. Give your vision a purpose and a profit margin.
Sell hope and personal identification. Give patients a reason to smile. Give them your undivided attention and confidence through positive and possibility dialogues. Interact with their heart and sense of importance. Many patients come to your office to have personal interaction or to see a staff member. Some patients even drop by just to say hello or get a lift. That's why it is important that your practice and your marketing have a human face.
First impressions. For the most part, each impression you make will, temporarily at least, be your last. So make it memorable. Act as if there is no other chance to make a difference in someone's life. Therefore, live for today and embrace the moment. Become a positive conversation piece.
Positive works! Say one positive thing and you will become associated with many. Learn quickly that if you find a person doing something good or commendable, turn them in. Look for the good. If you cannot see a difference in your service, then look harder. Negative thinking is counterproductive for you and for the team. Unfortunately, patients know when the elements of negative thinking are present.
Stamp out indifference! Patients traditionally leave a practice and go to another one because of indifference. You can't be just another dental office. Patients want more than that. Give them a reason to want to stay and share. Make them want to be an ambassador of goodwill on your behalf!
Above all, surround yourself with strong work ethics and integrity. This is the heart of your service. Practices grow when you master marketing from within!
Larry Wintersteen, BA, MA, CMT, founded Wintersteen & Associates in 1974. He stresses the importance of self-discipline, sensitivity, motivation, honesty, expansive thinking, and balance. Contact Wintersteen via e-mail at larry@wintersteen.com.