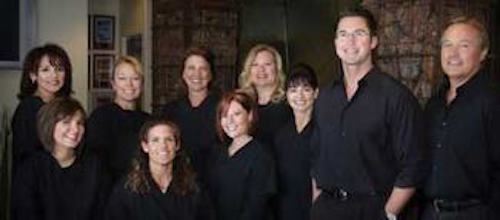 Story by Dr. Joe Blaes, Editor • Photography by Marie Peck
For more on this topic, go to www.dentaleconomics.com and search using the following key words: Dr. Mark Peck, Dr. Mike Corson, Dental Studio 101, practice transition.
I visited Dr. Mark Peck and Dr. Mike Corson a couple of months ago in Scottsdale, Ariz. Their office is located in an upscale outside mall development that includes an assortment of medical offices, banks, and boutique retail stores. The entire area is well-zoned and developed to preserve the natural beauty of the desert rock formations and vegetation.
The office is front deskless and inviting to the first-time visitor. Shortly after entering, I was greeted warmly by an assistant and given a quick tour of the office. A wide hallway starts between two columns of native rock contained by wire netting.
As I stepped past the columns, I was on a clear plastic floor between two waterfalls with water running under the floor. I must say it was the most dramatic entry I have ever encountered in a dental office. While the office is well laid out to allow for efficient use of space, the real story is not about the office. Rather it is about how Dr. Peck and Dr. Corson are transitioning into a new practice ownership.
Transitioning a dental practice can be a stressful experience for all parties involved. No dentist wants to see the practice he or she worked so tirelessly to build struggle under a new owner who is faced with many challenges while learning to run a business.
Fortunately, selling a practice does not have to be abrupt. In fact, it's becoming more common for senior dentists and associates to negotiate a gradual transition that can benefit everyone involved.
This type of transition has challenges, but there are many resources to make the process easier. For the past two years, the two dentists have been transitioning ownership of the practice — Dental Studio 101 — from Dr. Peck to Dr. Corson. They have found the services of a transition specialist invaluable. Through their experiences, the duo has learned some factors that should be common to all transitions to ensure they are as smooth as possible.
Deciding the right time
Dr. Peck explains why he decided to add an associate.
"Any number of conditions can make a dentist consider transitioning ownership of a practice," he said. "I began by working five to six days a week in my practice. But over 20 years, I trimmed back to three or four days. It became clear to me that operating on this shorter schedule was not in the best interest of the practice since we encountered issues with scheduling, staffing, and lab costs.
"Also, it was not ideal for handling patient emergencies," Dr. Peck added. "I'd heard stories that made bringing on an associate sound like a nightmare, but I ultimately decided it would be beneficial. I knew I'd need professional guidance in order to avoid any negative experiences. After interviewing many companies, I chose Mercer Transitions to help the process run smoothly."
Dr. Corson states why he wanted an associate position.
"Beginning my career as an associate was not my original plan," he said. "After serving as a military dentist, I was going to join my father's practice. However, my father — who had practiced over 40 years — was at a point where he wanted to practice just one or two days a week. I considered the complexities involved in opening my own office, such as structuring a loan, acquisition of technology, and how I would be limited by what I could afford at this point in my career. I realized I would be more comfortable having a mentor since I was interested in learning advanced procedures that were not taught in dental school. By practicing with someone who operated this way, I could learn every day. When I met Dr. Peck, I saw an opportunity to work in the kind of practice I couldn't create for myself for years."
Making a personality match
Consulting companies offer many different types of services in managing transitions, from turnkey solutions to brokering. An important factor to consider is a company's success rate in matching people. The transition company we chose offers a personality profile to give clients an idea of their compatibility, and we've learned how valuable it is to find the right personality match.
Horror stories of what can happen to those who don't choose wisely are common. This step should precede all others, even if it takes six to 12 months to find the right match. It will end up saving time. If a transition falls apart, it does so at great expense to staff and patients. So choose wisely!
Drs. Peck and Corson learned how a transition affects office staff. Prior to the partnership, the staff at Dental Studio 101 was a tight-knit machine. They were excited about an associate that would help expand the practice's hours and services. But when new office staff — who were competitive in knowledge and abilities — were added, some tension and struggles for positioning were created. This is when a good consultant can ease the way.
The transition company helped the practice hone its vision, and then proceeded to get buy-in from the existing team and newly acquired staff. It took about six months, but now that everyone is on board, the team works well together, and the practice provides the best possible patient care.
The day-to-day running of a practice together
A good transition plan should outline both parties' expectations about how the business will run. During the first meeting with the transition consultant, the doctors thoroughly discussed their separate expectations, how they expected to work together, and a plan for the next 10 years. Because everything was laid out from the beginning, they have had no surprises and none of the "nickel-and-diming" that can cause partnerships to dissolve.
Not all transitions are structured on the same time frame. There are many ways to plan, based on an ownership model and circumstances. The transition company provided a program of scenarios to show how much should be produced to meet goals. This practice received conservative estimates. So while it is only three years into the transition, the practice is at a five-year stage with the scenarios.
Once discovered and brought into a practice, a good transition partner brings with him or her a set of high-level details that need to be foreseen and planned for. Dr. Peck was so excited after finding Dr. Corson and beginning the transition that he overlooked a rather large detail, namely expansion of the facility to accommodate a new surge in growth. He had realized that eventually there would be a need to expand. But somehow in the delight of journey, Dr. Peck forgot the pains of adding team members — and even more so — the delight of facility expansion and the construction process.
Dr. Peck had been comfortable in a fabulous facility for 10.5 years. It was the epitome of combining artistry with dentistry. The previous facility featured a 30-foot-long waterfall and an art gallery reception area. But it was a five-chair facility in a building that was leased.
After bringing Dr. Corson into the practice, there were three hygienists and two doctors and a rather large bottleneck. This created a ceiling on profitability. The dentists considered expanding the current leased office but quickly found this was not possible. So the focus was changed to finding a building to buy.
Dental Studio 101 is now newly situated in 4,000 square feet of technology and beauty. From the Phoenix area, the dentists put together a progressive architect in Fifer Design (Marty Fifer) and a quality dental contractor in Kaiser Construction (Jason Kaiser).
Being a water fanatic, Dr. Peck found Desert Mile Creations. Desert Mile Creations owner, the late Tony Batson, was a high-level aquarium designer and builder who built three distinctively prominent waterfall features. One such feature has 10 feet of water that falls on each side as one walks over a "river." The river flows from the reception to the operative areas.
Drs. Peck and Corson had seen the portfolio of EGI Design (Ellen Glass) of Orlando, Fla. She immediately felt the intuitive sense of the project as it related to the personalities and characteristics of the doctors. Glass brought artwork into the new space that included a gallery, Level 9, and many local artists. This process had been done in the previous space. Glass has made the doctors as excited about their interior design as they are about their technology.
As for technology, the office incorporates BioResearch BioPAK biometrics, a Tekscan digital occlusal adjustment system, DEKA Lasers, DIAGNOdents, platelet-rich plasma centrifuging, and many digital touches. For example, New Sound Technology brings a demand for music, games, movies, and TV to the chair side. Utilizing local rep Bob Gess, the office is equipped with Sirona Systems and includes cabinetry, chairs, a sterilization center, CEREC, and the GALILEOS Cone Beam.
The overhead patient lighting and computer mounting systems are from the innovative Mounts'n Motion company. This system provides mounts that have an antimicrobial surface treatment, an antidrift index bearing technology, and a tri-axis pivot to place patient lighting and an LCD screen in the best position. Drs. Peck and Corson also have incorporated many spa amenities. They have truly combined a work-play environment that is displayed in every respect, along with quality patient care, and caring.
Future plans include bringing on another provider in the next three to five years. Dr. Corson may have the opportunity to sell a share in the practice twice during his career while still remaining in the practice. Dr. Peck is thinking about practicing on a minimal level after his eventual "retirement."
The transition agreements include grandfather clauses that provide for this type of arrangement. The dentists highly recommend exploring this option. When both parties enjoy working together, it can be fun and beneficial to the practice and for the senior doctor to maintain a presence.
During this process, Dr. Mark and Dr. Mike experienced many situations they didn't anticipate. But fortunately their consultant knew what to expect. By having the transition thoroughly planned and talking through so many "what-if" scenarios, they have been much less anxious about practice growth and the transition process. With the right advice and tools, transitioning a practice can truly be a "win-win" situation.
---
Dental Studio 101 Office equipment checklist

Mounts'n Motion patient overhead lighting
Mounts'n Motion computer mounting systems
Sirona chairs
Sirona operatory cabinetry
Sirona sterilization center
Sirona CEREC 3D
Sirona GALILEOS Cone Beam CatScan
Sirona electric handpieces and motors
BioMedical Multimedia chairside entertainment system
EagleSoft practice-management software
CAESY patient-education software
Mercer Advisors OnTrack® practice consulting software
Schick digital X-ray
Schick digital intraoral cameras
Canon 5D extraoral camera
DEKA HyperSpeed CO2 soft tissue laser
DIAGNOdent laser caries detection system
BioResearch BioPAK biometrics
Tekscan digital occlusal adjustment system
Straumann and Ankylose implant systems
Salvin platelet-rich plasma centrifuge
Vita Easyshade
Kreativ Mach 5 air abrasion
Statim 5000 autoclave
Midmark UltraClave autoclave
Midmark PowerAir™ compressor
Midmark Classic Series vacuum
Porter inline nitrous system
---
Dental Studio 101
Dr. Mark Peck, DDS • Dr. Mike Corson, DDS
33739 North Scottsdale Road
Scottsdale, AZ 85266
Phone: (480) 488-4852
General, cosmetic, implant, and restorative dentistry
e-mail: drpeck@dentalstudio101.com