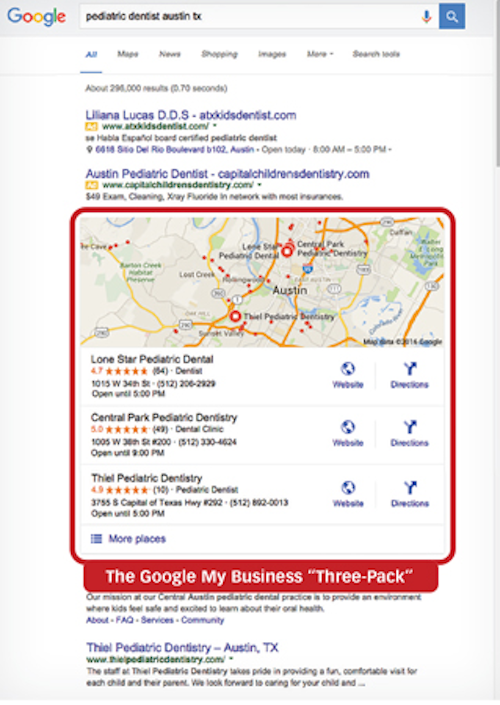 Scott Childress
Nearly 90% of Internet users say they use online reviews to choose local businesses.1 If you're a dentist seeking to expand your marketing reach to parents, these statistics are even more significant. Parents are more likely than any other group to look to the Internet as a key source of medical referrals. In fact, 72% of parents say they trust online reviews for medical professionals as much as they trust personal recommendations.2
The growth of your practice and community reputation depend heavily on how much attention you're paying to online review building. It is essential that pediatric dentists proactively approach reputation management, systematically build positive reviews, and honestly examine practice hotspots that are a high risk for negative parent feedback.
Your approach to reputation management should be proactive
If you haven't searched online for your name or your practice recently, it's time to do so. Obviously, the business listings that appear on the first page of search engine results are highly important because this is the area that parents are most likely to see when they search for a pediatric dentist. The most prominent area on Google for location-based listings is the map area that displays up to three local businesses, nicknamed the "three-pack."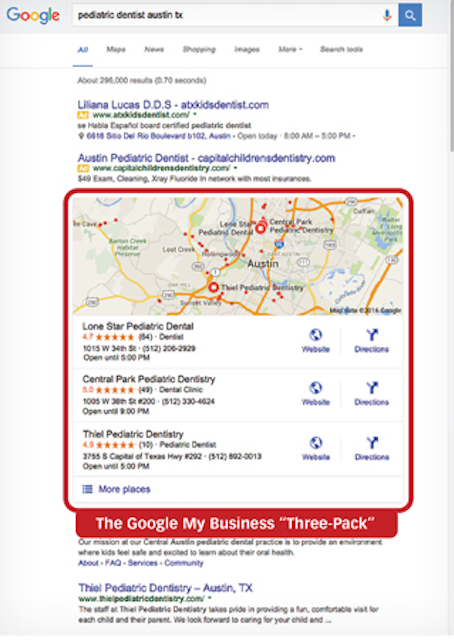 Narrowing your focus even further, the reviews for your practice that appear in the Google three-pack should be your top priority. One-third of all online reviews are left here through Google My Business listings.3 Building reviews on your Google My Business listing is far more valuable than asking patients to leave reviews directly on sites such as Demandforce, RateABiz, and Solutionreach. These sites generally do not appear on the first page of a Google search. Even when using these tools, your primary focus should still be on Google My Business reviews.
Claim and optimize the most important directories for reviews
While the number of reviews you have on your Google My Business listing is just one of many ranking factors, if your practice listing isn't appearing in the three-pack, it's likely you don't have many reviews there. Your first priority should be to optimize those listings or hire an expert to do this for you. Then you'll be prepared to begin building reviews there.
In addition to your Google My Business listing, the two other sites that deserve the most attention are Facebook and Yelp. Combined, these three sites account for nearly 80% of all online reviews.3 Taking control of your online reputation starts with gaining "ownership" of these primary listings to ensure accurate, complete, and consistent information across the web. Again, gaining positive reviews is crucial for your dental practice's rankings in each of these directories.
Building positive reviews requires a systematic approach
Dentists should develop a systematic approach to requesting, responding to, and regularly monitoring reviews. While a practice might collect a handful of reviews with a passive, organic approach, the realities of human nature mean that parents are far more motivated to leave a negative review than a positive one. If they're angry, that drives them to tell the online world about a bad experience at your dental practice. Encouraging satisfied parents to take the time to leave you a positive review will require developing a strategy and a plan.
Your review plan doesn't need to be complicated. It can essentially involve developing an effective way to request reviews, comprehensively monitoring your online reputation, and subsequently responding to what's being said about you online. There are several online review-building tools available, and you'll want to make certain that the primary focus of any tools you use is building reviews on the big three sites: Google, Facebook, and Yelp.
Finally, dentists need to communicate the importance of building positive reviews to their staff. Actively seeking positive feedback from enthusiastic patients must become part of the practice culture. Staff buy-in is essential.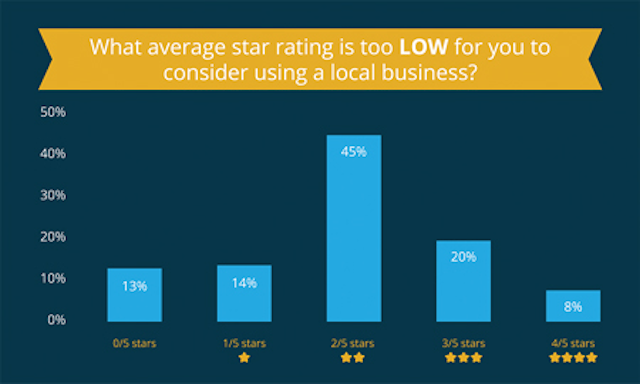 Source: https://www.brightlocal.com/2014/07/01/local-consumer-review-survey-2014/
The easiest way to remove negative reviews is not to get one
Of course, no matter how caring and inviting your practice environment is, we all know that it's impossible to make every parent completely happy all of the time. But when your online reviews show patterns of the same type of complaint, it's time to pause and evaluate. Dentists need to honestly analyze trouble spots and find ways to eliminate negative reviews before they occur.
This is especially true when working with children because parents can be very sensitive to issues you never may have considered. While we can rally against "helicopter" parenting styles, whether we believe their perspectives are right or wrong, fighting against what parents believe to be true will never build positive reviews.
The best strategy is to listen. Talk to the parents who are your biggest fans and find out what they suggest as improvements to their patient experience. This includes everything from scheduling appointments, wait time, staff friendliness, financial policies, and billing follow-up. Provide parents a safe place offline to vent, and give them an opportunity to tell you and your staff if they're unhappy. Train your staff to recognize frustrated parents and diffuse anger before it finds its way into a review.
The importance of building positive reviews is growing
Nine out of 10 Internet users have read online reviews to research local businesses, with nearly 40% doing so on a regular basis.1 Further, online business listings with reviews obtain higher search ranking and patient interest, which dramatically increases website visits and new patient phone calls. This trend continues to accelerate, and understanding its importance is key to the growth and sustainability of your dental practice. A strong review-building strategy will separate growing practices from those that become stagnant and fail to adapt to the Internet culture.
References
1. Local Consumer Review Survey 2014. Brightlocal website. https://www.brightlocal.com/2014/07/01/local-consumer-review-survey-2014/. Published July 1, 2014. Accessed February 17, 2016.
2. Anderson M. 87% of Potential Customers Won't Consider Businesses With Low Ratings. Searchengineland website. http://searchengineland.com/87-percent-customers-wont-consider-low-ratings-228607. Published August 25, 2015. Accessed February 17, 2016.
3. Blumenthal M. Where do consumers leave local reviews? Facebook now #2. Blumenthals website. http://blumenthals.com/blog/2014/07/30/where-do-consumers-leave-local-reviews-facebook-now-2/. Published July 30, 2014. Accessed February 16, 2016.
---
Scott Childress is the director of Internet marketing and social media at Smile Savvy. As an expert in online marketing, Scott oversees the management of over 700 accounts for dentists in seven states and six countries. Scott spent over 13 years in the nonprofit world using 21st-century outreach tools for an increasingly tech-savvy donor base. He has provided presentations and CE lectures for major dental conventions throughout the United States.