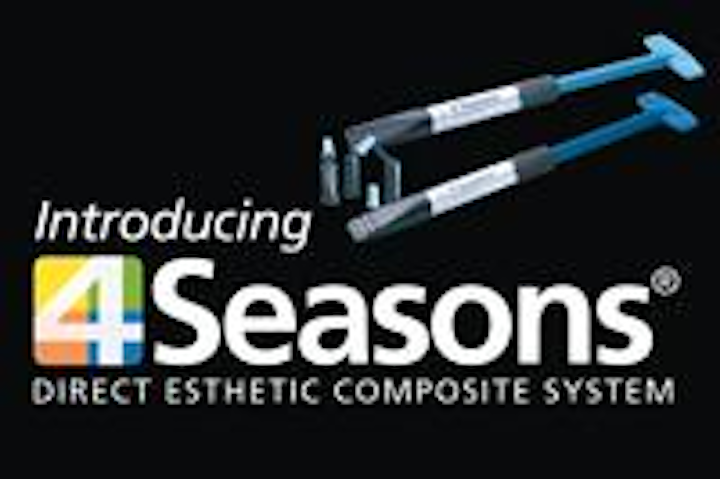 Joseph Blaes, DDS
Pearl 1 — 4 Seasons by Ivoclar Vivadent. Another introduction of a micro-hybrid composite is just what we needed ...
... but wait, perhaps this one is actually different! One of the problems with micro-hybrid composites has been the learning system associated with producing the kinds of results we have been led to expect. It takes some time to learn how to layer composites when most of us have been using one shade and getting a fairly good match with monochromatic materials. The other problem has been shades. Most of us are familiar with the Vita shade guide, but each composite comes with its own shade guide and its own way to get to that shade.
This is not true with 4 Seasons; it is different since it is the only composite material that is an exact match of the Vita guide. There are 40 shades in the 4 Seasons system, but Ivoclar Vivadent has simplified the shades and made them more logical. There are only dentin and enamel shades rather than "body," "opaque," "semitrans," and so on. Once you have mastered the layering technique, you can get some amazing results.
I have been using this material for the past few months and have found it to have above-average handling characteristics. 4 Seasons is a little stiffer but easy to handle in all restorations, both anterior and posterior. The material does not stick to instruments or slump after you have placed it.
4 Seasons restorations may be placed using a traditional "shade layering technique" as you recreate the translucency, opacity, fluorescence, and value of natural tooth structure using the dentin and enamel shades. Or, try a simplified "anatomical technique" where you can recreate nature by overlaying a highly chromatic dentin shade with one of three new "value" shades, much as your lab builds porcelain restorations.
4 Seasons is much easier to learn than other materials I have used — it must be the logic! The shades seem to mimic natural tooth structure, allowing me to achieve outstanding aesthetic results. The small-particle, micro-hybrid chemistry provides excellent polishability, high strengths, and low wear in both the anterior and the posterior.
Call Ivoclar Vivadent at (800) 533-6825 or visit www.ivoclarvivadent.us.com for more information.
Pearl 2 — Ribbond® Triaxial Dense and Thin by Ribbond, Inc.
Here is one of those products that once you have used it, you wonder how you ever got all along without it. I know that many of you are familiar with Ribbond lock stitch leno weave. However, this is a new product that is designed to have great strength, yet it has an elastic quality that allows the material to flex rather than break. The elastic quality of Ribbond Triaxial is what makes it ideal for direct composite bonded bridges, provisional bridges (acrylic and composite), and endodontic posts and cores.
Another advantage of this material is that it holds its shape and stays where you put it for polymerization. The greater strength of Ribbond Triaxial allows you to place only one layer within the pontic area. This is a big savings of time and material.
Order Ribbond by calling (800) 624-4554, or visit www.ribbond.com for more information.
Pearl 3 — My Insurance Covers This ... Right? — a patient brochure by Carol Tekavec, RDH. This is a great new patient brochure from the clever pen of our insurance columnist, Carol Tekavec, RDH.
Many offices dread the in-evitable question, "How much will my insurance cover?" Helping patients understand their insurance benefits is a fact of life for many offices, even those that do not accept insurance directly. My patients file their own claims, but we still spend a lot of time explaining benefits. We help them maximize the benefits due from their insurance policies.
Do your patients understand their dental insurance? Most don't. How does your staff handle patient questions and complaints? This new brochure can help. It is great for sending with patient statements, giving out during treatment conferences, and keeping at the front desk. The information is presented in easy-to-understand terms in a high-quality, full-color, six-panel brochure. It answers many of the questions that your patients ask your staff every day, including: Why doesn't my insurance pay 100 percent? Why are so many procedures not covered? What does UCR really mean? If I always have a balance to pay, what good is my insurance? Plus many more. This brochure will back up your staff in a patient-friendly, nonconfrontational way, and make financial discussions go more smoothly.
To order, call Stepping Stones to Success at (800) 548-2164 or visit www.steppingstonestosuccess.com for more information.
Pearl 4 — Wedge Wands™ from Garrison Dental Solutions. Here's a neat idea from the Garrisons! Why not put a wedge on the end of a stick so you don't need another instrument for placing it? Why not, indeed!
The Garrisons put their heads together, and bingo, we have a nifty wedge-on-a-stick that is easy to place and break off after you have seated the wedge. Yes, you can put pressure on it without the stick breaking, and you can bend the wedge at any angle you need for easy placement. The wedge is nicely contoured to provide exceptional adaptation. The wedge tip and all edges are rounded, providing tender care for the sensitive papilla.
To order, call (888) 437-0032 or visit www.garrisondental.com for more information.
Pearl 5 — Calset™ from AdDent. Would you like to give your posterior composite better physical properties? How about giving your composite a lower viscosity to ensure adaptation to all those "nooks and crannies?" Well, AdDent has a new idea for you to consider — the Calset.
Simply put, Calset is a heater — a heater for composites! The Calset will heat your composite compules to 130 degrees and increase the flow characteristics dramatically. A stiff composite will take on a honey-like consistency that is easily adapted to the cavity preparation.
What about all that heat on the pulp? Research has shown that the injection of composite resin heated to 130 degrees into a cavity preparation results in a pulpal temperature rise of only 2.9 degrees. That's not much all!
An added benefit of heating is that the polymerization process is accelerated depending on the composite used. This means a reduction in curing time by as much as 50 to 80 percent. Now this should grab your attention! I can immediately think of two advantages of this little oven — if my composite flows better, I can quit using a flowable composite, and, I save time on curing! Wow! The Calset composite oven provides a simple method of improving flow and increasing the degree and speed of polymerization.
Order from your dental dealer or visit www.addent.com for more information.
Dr. Blaes has a general practice in the St. Louis area. He is known for his expertise in dental materials and techniques and his innovative systems designs. He writes and lectures on "How To Increase Productivity and Profitability." Dr. Blaes is a member of the American Academy of Dental Practice Administration. He may be reached at joeb@pennwell.com.