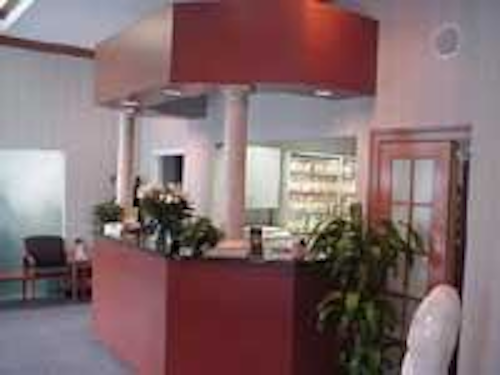 by Dr. Joe Blaes, Editor
This month, we feature an office located on Long Island, New York in the town of Huntington. Dr. Gene Antenucci has been in this area since 1987 and has developed a community-based family dental practice. As this practice matured and expanded under his direction, the size of the facility became a limiting factor for continued practice growth. The challenge was to allow for growth in a new facility while maintaining the core of the practice. Dr. Antenucci found a location in close proximity to the existing office in a professional area that allowed for a freestanding building with ample parking. This location provided a high degree of visibility for the practice. All of these factors have allowed the practice to grow by providing access to a greater diversity of new patients.
The aesthetics of the building make a statement yet are not overpowering or ostentatious. The building features a classical design — including columns — that carries into the interior. The color scheme of the wall coverings, paint, and furniture all combines harmoniously to lend a sense of warmth and calm.
Each treatment room was designed with concern for asepsis and cleanliness. The lights are ceiling-mounted and delivery units are at a 12 o'clock position. The operatory countertops are free of instruments, as are the operatory drawers and cabinets. A state-of-the art sterilization center stands off the central hallway and serves as a working showpiece to all patients. All in-struments and handpieces are cleaned, sterilized, wrapped, labeled, and stored here. Directly across the hallway is the dispensary where all dental materials, small portable equipment, and disposables are stored. This serves as a storage and processing area for each individual procedure. Stored items are in labeled bins and organized according to procedures.
The front desk is designed with three individual stations. A "hostess" faces the entry, meeting and greeting patients as well as directing traffic flow. The remaining stations are for account collection and appointment control and are separated physically so that patients have a sense of individual attention and privacy.
Technology is uniquely integrated throughout the office in each area. There are 21 flat-screen monitors located throughout the facility. The front-desk station, operatories, the dispensary, doctor's offices, and conference room all have PCs connected to the network. In addition, the five doctor's operatories have two flat-screen monitors, including one that is chair mounted that displays cable television, DVD, and VHS images. The other monitor is used for diagnostic and educational technologies including intraoral cameras for diagnosis and education, digital sensor-based radiography, CAESY, SciCan ImageFX dental imaging, and the KaVo DIAGNOdent. A complex computer cabling system integrates all of the technologies with the computer server station occupying a portion of the laboratory.
Each hygiene room is equipped with a flat-screen computer monitor that displays data, charting, intraoral images, digital radiographs, computer-enhanced cosmetic images, and CAESY patient information.
Dr. Antenucci and staff use the latest treatment technologies, including air abrasion, and diode lasers for bleaching, periodontal, and surgical applications. Dr. Antenucci also uses an Erbium laser for tooth preparation; CEREC CAD/CAM; high-intensity Xenon curing lights; and BriteSmile bleaching technology. The entire network is linked to the internet via cable modems.
What began in 1987 as a single doctor home-office with a receptionist and an assistant has grown into a practice with five doctors (two full-time associates and two part-time associates), five hygienists, five assistants, four receptionists, and an office manager. The office is fully fee-for-service and constantly strives to deliver the highest levels of patient care. The office holds morning huddles and weekly staff meetings for training, along with discussions of important issues.
Return on investment
The building is two years old and the practice has shown steady growth, even in this weak economy. The practice business plan served as a valid blueprint of costs and income. Dr. Antenucci agrees that transitioning to a larger building with a larger staff brings greater overhead. Advanced technology is expensive. Training is expensive. Bricks and mortar and dental chairs and machines are expensive. Staff is expensive. However, within six months the gross income increased over 25 percent without doing anything but allowing for room to expand. Each year, the practice has shown significant growth, averaging between 15 percent and 20 percent. More time and effort is spent with staff management, staff training, building management, and marketing, but the return is there. This practice has established itself as a premier practice in the New York area.
Despite this phenomenal growth, Dr. Antenucci has maintained the ability of the practice to truly care for their patients by developing strong and lasting relationships. People-centered service is at the forefront of all practice interactions. Dr. Antenuccci has provided the leadership — the necessary glue — to put together not only a beautiful new facility but also an excellent practice that serves the community well.