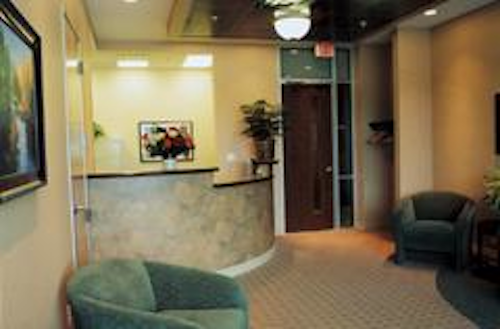 By Dr. Joe Blaes, Editor
Dr. Michael Gradeless of Fishers, Ind. is a dynamic example of how the right guidance and philosophy can transform your practice.
I would like to introduce Dr. Michael Gradeless from Fishers, Ind. Regular readers of Dental Economics know Mike from his monthly column, "The New Dentist." By the end of this article, you will understand why he is so qualified to speak to the dentists who are just starting out in our profession. Dr. Gradeless has experienced the worst and the best that dentistry has to offer. The most important influence on his present practice is the memory of the state his practice was in 12 years ago.
Dr. Gradeless writes, "Twelve years ago, I practiced in a 750-square-foot office that was tucked between a dog wash and a country-and-western bar. We had a closed-cone X-ray machine and blue vinyl chairs in the reception room. Patients had to walk through the furnace room if they wanted to use the bathroom. All of this was fine with me because my wife had an MBA and sold computers for a living. We lived on her income. The transition came when we decided that we were both unhappy and that we needed to work together. We gave up stock options, health insurance, and a significant income. We decided to grow the practice and knew that we had to move. Without any professional advice, we moved to a 2,000-square-foot facility on a hospital campus in the fastest-growing section of town. Two years later, we were broke. We were a year behind on our personal taxes, two quarters behind on our payroll- tax deposits, and 90 days past due on every bill we had.
"Now the story gets better. We started studying with the Pride Institute. In the first year, both our gross and net income increased by 32 percent and we were able to get our payables under control.
"The growth did not stop there. When we decided to relocate again, it was the management training that set me free. My practice is special, and I believe that any dentist can build the same kind of operation. The message that I took from my management training was that it is all about relationships. Building relationships with your patients, family, friends, and business associates will build your practice.
"Patient relationships are translated into the design of our 'super room.' This initial exam and consultation room allows the team to meet the patient side by side, rather than in a dental chair while wearing a bib. Relationship building begins with our new patient interview in this room. We believe in co-diagnosis by utilizing the intraoral camera. No drills or any hint of dental treatment are allowed in this room. Nothing is over the patient and the Dental-Ez Vac Back chair is perfect for this application.
"All treatment rooms have windows and large, open spaces, and we continue to build relationships with a private office for financial arrangements. The large and open operatories allow for future mobile equipment and have large conduits plumbed under the floor to allow for any future built-in applications.
"To build this office, we relied on family and friends. My sister was the architect, my brother-in-law was my lawyer, and his fraternity son was the builder. The commercial real estate representative was a friend of the family, as was the interior designer. The long-term relationship we've enjoyed with our Patterson representative allowed us to purchase only the equipment we needed. The equipment that makes the biggest impact in our practice are the intraoral cameras. I have used them for years and I don't think I could practice without them. The Dentrix software for our office computers has the same high impact to the practice. We have been using electronic claims processing through a clearing house since 1990. We are now filing claims directly online with selected insurance companies and have funds deposited directly to our bank account. We receive payments in two days from the date of service!
"We purchased a Ram-Vac dry vacuum for the new office. Having the dry vac instead of the conventional wet system saved us a $12,000 sewage impact fee. Another small equipment purchase that has impacted the practice is the Root ZX apex locator and the Tulsa Dental rotary endodontic handpiece. These have made endo fun and profitable."
How about that story for disclosure? How many of you could tell similar stories? Do they have the same happy ending? Dr. Gradeless concludes his story with a set of beliefs:
• Every reasonably successful dentist should have an office at least this nice.
• Success comes from building relationships.
• We have all developed relationships that we can draw on to support a business expansion.
• Utilize management principles to build the practice of your dreams.