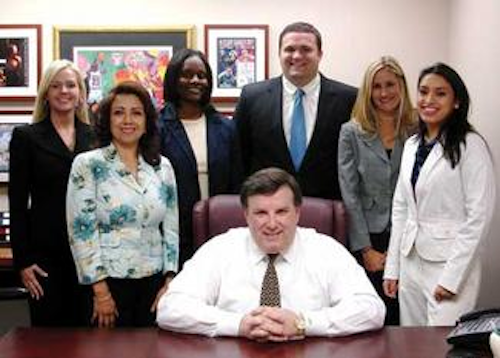 by Elizabeth Selasky
What happens when you start a small, nonprofit, rural Medicaid dental center? We all have impressions in our minds. Add a young, retired corporate chief executive officer and a retired cardiologist who is a community advocate with a big dream. Mix in a bright, young full-time management team of only business school or MBA graduates (combined average age is 27). What do you get? One of the Southeast's largest dental practices!
Started in 2004 as a place for Calhoun County (population 112,249), Alabama's Medicaid children, it was the dream of retired cardiologist and humanitarian, Dr. Warren Sarrell. He worked to solve the dental problems of the area's underserved youth with the help of local dentists and community leaders. They launched the Calhoun County Dental Center. Struggling to keep it staffed, the clinic tried to stay solvent operating on collections primarily from Alabama Medicaid. In 2004, they had no full-time dentist, a staff of four, and collections totaling less than $350,000.
At the beginning of 2005, Jeffrey A. Parker, a retired corporate CEO who was enjoying life traveling with his wife and serving as the Executive in Residence at Jacksonville State University's College of Commerce and Business Administration, joined the organization. His addition to the dental center quickly changed the staff, equipment, culture, revenues, and its name. By the end of 2005, collections nearly tripled to more than $1 million and would be more than $2.2 million in 2006. Due to its growing patient base, Parker and the Board changed the name to Sarrell Regional Dental Center in honor of its founder and chairman, Dr. Warren Sarrell. Moreover, the practice accepts no cash donations, has applied for no grants since his arrival, and has no long-term debt. The center has never even touched its line of credit.
Today, Sarrell Dental has expanded to three offices, all in rural Alabama counties. The counties include Calhoun County, Cleburne County (population 14,123), and Talladega County (population 80,321). All offices have paperless technology, KaVo handpieces, AEDs, and beautiful facilities. They now employ more than 40 people, still relying on Alabama Medicaid and Blue Cross/Blue Shield's ALL Kids insurance for their source of revenues.
No dentists on management team
The Sarrell Dental management team includes no dentists. Everyone in the organization reports to the CEO. The dentists are in charge of only their work in the operatory. This frees them up to concentrate exclusively on the more than 8,600 children Sarrell Dental Centers saw last year. Based on this practice's model, the dentists have no personnel issues, no practice financial concerns, and no operational responsibilities. They provide quality dentistry and then go home to their families.
Recruitment of dentists and hygienists has not been an issue since Parker's arrival. In fact, they never advertised for any of their openings until last month. The CEO decided to hire four full-time general dentists and supplement them with recently graduated pediatric dentists from the University of Alabama at Birmingham, the state's only dental school. "We get the best and brightest right out of the pediatric dental school. They are entering their own practices and need to work at Sarrell to supplement their income and survive the start-up period in their private practices. It is a win-win situation," states Parker. He works with these dentists as second-year pediatric residents at the Sarrell offices. "We pay UAB for their services and the residents get real-world experience in a very high-volume practice," Parker explains. UAB faculty supervise their work on site.
Hygienists and assistants have all approached Sarrell Dental for employment. Why? Because Parker has promised from day one: "If you can find anyone in the area who makes more money than you, doing the same job you do, with the same experience, let me know."
Several private practices have visited Sarrell Dental to learn from them. "This is not something that you can read in a book or visit us and try to replicate. It is bred into our culture" says Parker. As an example, a private practitioner in Birmingham, Ala., visited and met with Sarrell management several times. He opened a practice in the Birmingham area and tried to replicate the Sarrell practice. Although Birmingham/Jefferson County is nearly six times the size of Calhoun County, that practice has struggled. According to Mr. Parker, "Culture and management ability are hard to replicate. It gives us a huge competitive advantage."
Parker relies heavily on his young, bright management staff. He adds, "I have never met a competent individual who wants to be micromanaged and told how to do his or her job. We expect our staff to work with one goal in mind: world-class treatment for kids! That's our only concern."
Who makes up the management team?
Burt Arthur (age 25) is the director of operations, but started as a college intern with Parker. "This is the real deal," Arthur says. "Everyone wants responsibility, but few want the accountability that goes with it. Here, you get both." Arthur, who will complete his MBA this fall, like all management personnel at Sarrell, was in Parker's class at JSU and hand-selected by him. The education background of the Sarrell team is a rarity in small business. More than 63 percent of its full-time and part-time staff holds a four-year degree and nearly 50 percent have advanced degrees.
Why would all this bright, young, educated talent work at a nonprofit? "Every day is fun, exciting, rewarding, and pressure-packed," states Brandi Mangum, director of marketing. "Plus, we work with a proven, highly successful businessman (Parker) who challenges us daily. If we stay here, we will be well-treated and learn. If we leave, Mr. Parker will be supporting and promoting us externally for our next career move." Shari Riley, an ex-Division I scholarship basketball player and an MBA graduate, is the mobile business unit manager. She plans to pursue her PhD in finance in the fall of 2008. "To gain this level of accountability right out of the MBA program is unbelievable," says Riley. "It will serve me well in understanding practical business when I become a college professor." Interestingly, an accounting professor has also joined the team. Dr. Angela Sandberg, CPA, who teaches with Mr. Parker at JSU, was so impressed with the organization that she joined it as the corporate treasurer.
Progress continues in 2008, as collections are projected to be up nearly 30 percent. So as a nonprofit, what did they do? Expand! Sarrell Dental opened a full-time Optical Center on June 4 in their Heflin office. They expect to add optical to all of their practices if their initial effort is successful.
Plans for the Sarrell Dental Mobile Bus
No doubt, the biggest risk undertaken thus far is the Sarrell Dental Mobile Bus. The bus is outfitted with two operatories, paperless technology, GPS, DIRECTV, Kicker speakers, an AED, and five flat-panel TVs — it is a rock-star quality bus! Most important, the bus is paid for. Sadly, it is only used for screenings because Alabama's Medicaid program will not reimburse for mobile dental operations. The Alabama Legislature has before it a bill that would amend Alabama's Dental Act to include reimbursement for mobile operations, including the Sarrell Mobile Bus. According to Parker, "Some may question our timing of building the bus before the Dental Act was changed. However, it is our belief [that], without the bus, the Act would never be amended. The bus is paid for and we have staff in place ready to serve the underserved children in rural Alabama counties." Parker has also told the Alabama Department of Public Health that the bus is available for use in case of a natural disaster, which is a generous offer to help the state.
Are professional managers the future?
The use of professional management, not office managers, is the future according to Parker. "Look at the big, successful practices on the federally reimbursed side. Small Smiles and Kool Smiles are great examples. Bright, professional businesspeople run their organizations. In the case of Small Smiles, they saw about 750,000 patients last year and have recently received a $200 million cash influx from private equity investors to fuel future growth. To think this will not be the trend in private practice is short sighted.
"Two years ago, I had no experience in health care. We identified a model that works for us. Personally, I think a workable model would be easier to develop and execute in a private practice. Although this may be controversial to some, by business definition, general dentistry is a service commodity. It has low brand recognition, it is fragmented, and services are readily available. Small Smiles, Kool Smiles, and we — to a lesser extent — have identified a model to become focused differentiators. Branding, buying power, organizational economies of scope, and management 'know how' enables us to differentiate our brands. General dentistry is a highly fragmented industry with no dominant players that has similar patient deductibles and pricing. Industry consolidation is the logical conclusion."
Supporters and detractors
Sarrell Dental has been honored by the NFL Alumni Chapter in Atlanta as an Outstanding Organization in their "Caring for Kids" program. It is the first Alabama organization to receive this honor. Although other local accolades pour in, Sarrell Dental does have its detractors, and they are almost exclusively from other practitioners. They note that Sarrell Dental will not enter an area without a $1 per year lease. While Parker acknowledges that this is true, he points out that Sarrell Dental invests in things that make life better for underserved children, such as world-class equipment, its highly competent staff, its numerous free screenings for any school in its area, creation of the mobile bus — and the list goes on and on. "What we have invested in the community in two years would pay the rent on all facilities for more than a decade," Parker points out. "We are focused on only one thing: improving the lives of children."
For a nonprofit to grow to the largest practice in Alabama in just two years speaks to the performance of the highly motivated Sarrell team. With no long-term debt, the future is very bright for this talented group and its underserved children. Parker hopes it becomes a model throughout the United States.
Elizabeth Selasky is a marketing student at Jacksonville State University. She served as a marketing intern at Sarrell Regional Dental Center in the spring of 2007. Sarrell CEO Jeffrey Parker can be contacted at jparker@sarrelldental.org.