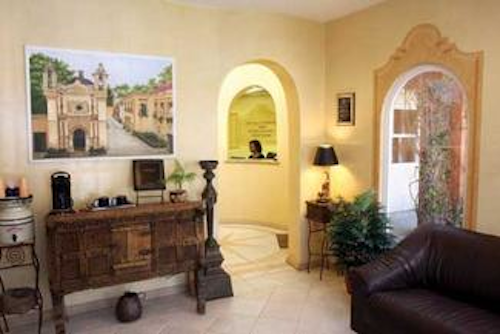 A Dr. Gordon Christensen protégé, Dr. Jose-Luis Ruiz gains success while joining his mentor on staff at Scottsdale Center for Dentistry.
by Dr. Joe Blaes
I have often remarked that the secret to my success in dentistry was that I had a mentor who passionately believed in continuing education. I will never forget his call to me when I had just opened my practice upon returning from two years with the U.S. Navy. He called me in December to ask if I was attending the Chicago Midwinter Meeting in February. I told him that I could not afford to attend the meeting. His immediate answer was that I could not afford not to attend. In February, I was at the meeting in Chicago. Since then, I have missed only one Midwinter Meeting.
I tell this story to introduce you to this month's cover article. The dentist on the cover took a similar path to success in his practice. Dr. Jose-Luis Ruiz began his career taking continuing education courses. Along the way, he met Dr. Gordon Christensen. He took all of Dr. Christensen's courses, and even repeated some of them. Dr. Christensen became his mentor. Dr. Ruiz now is teaching with him at the Scottsdale Center for Dentistry in Scottsdale, Ariz. Dr. Ruiz has been in practice for 20 years in the Los Angeles area, and is the Director of the Esthetic Dentistry Continuum at the University of Southern California School of Dentistry. My interview with him follows ...
Dr. Blaes: Please describe how your practice philosophy influenced the design and construction decisions for your new facility.
Dr. Ruiz: Our practice philosophy is to provide patients with the latest in adhesive, tooth-preserving dentistry in a comfortable, artistic environment in which patients can focus on relaxation and pampering. Even though we have the latest in technology, we ensure this philosophy stays in the background so that the focus is always on the patient. The design and construction of our new state-of-the-art building exudes a warm, inviting atmosphere with rustic charm.
Dr. Blaes: How did you get started?
Dr. Ruiz: When designing the building, we first chose to visit several dental facilities in the area to find out what the latest manufacturers had to offer. We also bought two or three books with the latest in dental floor plans and décor.
We found that most of the practices we saw still looked like dental offices. It was important to our team that a new facility would really step out of that mold.
We have special, aged paint finishes on the walls with hand-painted murals, custom finishes on shelving and cabinets, and a reception area that is furnished as a sitting room to create a warm, inviting ambience.
Dr. Blaes: I know that you feel strongly about the team's involvement in the practice. How did the office design strengthen this?
Dr. Ruiz: Our office flows with efficient and methodical direction. We use a highly organized scheduling system that minimizes wasted time. We value our patients and do everything possible to maximize the time they spend with us. To better facilitate this idea, we have a team huddle every morning, in-office training every two weeks, and a monthly staff meetting.
We implement many of Dr. Christensen's team training philosophies. The office, as a whole, rarely has downtime or absent employees. Each team member knows that he or she is an important part of the success of our office. Due to this, team members place our office first.
Dr. Blaes: I notice there is much high-tech equipment in your practice. How do you keep the office patient-friendly?
Dr. Ruiz: Although we are high tech, we focused on a design that is beautiful, artistic, relaxing, and soothing. Since the remodel, our team feels proud of the facility and our patients feel more relaxed because of the environment and because they know they are in a professional environment.
Dr. Blaes: Describe how you have integrated high tech into the office routine.
Dr. Ruiz: Our new office was built on the basis of efficiency and excellence. The office runs on a digital system from the initial appointment on Dentrix, to new-patient X-rays, Acu-cam intraoral cameras, digital photographs, and Sirona Orthophos digital panoramic and tomography X-rays. Everything is digital and is readily available for the doctor to review practically anywhere in the office. All operatories are fully equipped with Sirona chairs and Schick digital X-rays. We have a full-service lab facility with a dedicated staff. As evaluators for Dr. Christensen, we constantly test and review the most innovative technology and products on the market.
Dr. Blaes: How do you keep everyone up to date on the newest and latest in technology?
Dr. Ruiz: When we built our facility from the ground up, we invested in new equipment for the entire office. We placed new computers and flat screens in all rooms, 37-inch plasma screens in the new-patient exam rooms, as well as a 42-inch plasma screen in the reception area. To keep staff current on procedures and operations, our monthly training meeting helps refresh and build a stronger understanding of our equipment.
Dr. Blaes: I am a firm believer in team involvement in projects like yours. Was your team involved in plans for the new office?
Dr. Ruiz: Yes, from the beginning. Team members assisted with traffic flow by choosing a relaxing décor, specifying the marbled reception area, and helping design an open floor plan that was spacious and relaxing. This was important because it kept everyone involved in making our dream office a reality.
Dr. Blaes: Many dentists wonder how they will ever get a return on their investment in a "dream" office such as yours. How do you respond to this?
Dr. Ruiz: Our return on investment is generated from patients being comfortable in the environment, and in turn, wanting to refer friends and family to the practice so these people can experience the same. Our practice has grown much "in the right direction" since we moved to our new facility. The office has benefited the entire staff since it is a relaxing, peaceful place to work with the latest in technology and computer systems. The open plan of the operatories makes it easy to maximize space while giving assistants greater access to move freely and work more efficiently. My advice to other dentists is to "just do it!" The only way to move forward is to make changes and persevere where no one else will.