A candy you can recommend
Pearl #1 - Smile Gourmet by Smile Sugarfree Candy, Inc. It`s always the little things in life that provide the most pleasure. In 1966, Dr. Henry Harcsztark came upon a unique process that blends and cures fruit flavors and creates candy just as delicious as the candy we loved so much as children. As we try to set our practices apart, one unusual, but extremely well-received, program is a "thank you" gift of the world`s best-tasting sugarfree candy shipped to the patient in a wide variety of clas
May 1st, 1998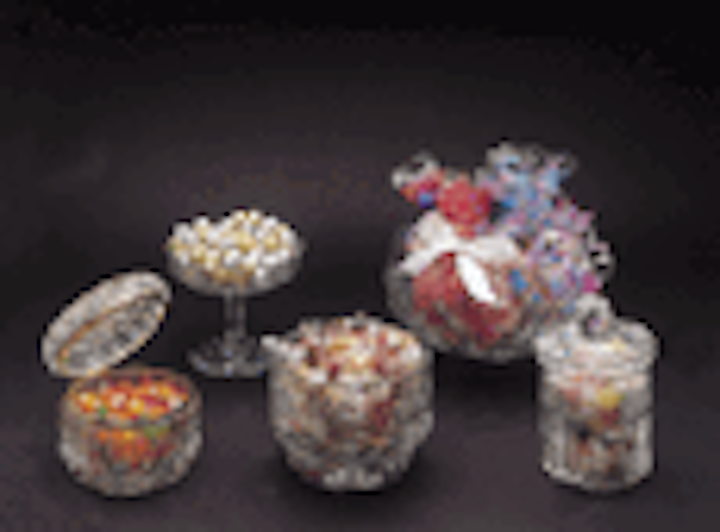 Joseph Blaes, DDS
Pearl #1 - Smile Gourmet by Smile Sugarfree Candy, Inc. It`s always the little things in life that provide the most pleasure. In 1966, Dr. Henry Harcsztark came upon a unique process that blends and cures fruit flavors and creates candy just as delicious as the candy we loved so much as children. As we try to set our practices apart, one unusual, but extremely well-received, program is a "thank you" gift of the world`s best-tasting sugarfree candy shipped to the patient in a wide variety of classy containers. Smile Sugarfree Candy offers gifts ranging from plastic "apples" to full-lead crystalware to Tiffany-brand quality gifts that show your office is a cut above the rest and that you care. We have been using this program for the reception room, as a welcome to the office, as thanks for referrals, to other referring doctors, to the health-food stores that refer to us and for many other occasions. Great-tasting sugarfree hard candies, lollipops, jellybeans, caramels and chocolate balls shipped in a wide variety of gift packaging with a personalized note from your office provide the extra touch that makes your office the "Ritz-Carlton" of personalized dental services. Give this company a call at (201) 998-0209, fax to (201) 991-8229 or e-mail smile@sugarfree.com for more information. Your patients will love this one!
Pearl #2 - Insta-Brite Bleaching Kit From Bisco. This is a great, new system from Bisco that allows you to take impressions and deliver bleaching trays on the same appointment. Bisco has developed a rapid-set silicone die material called Quick-Die. This is a quick, simple and easy system that saves money and time. You begin by simply taking an alginate impression. Then dry the impression and carefully inject the Quick-Die, which will set in less than two minutes. Take the resulting model and trim, if necessary, with a bard-parker. The kit has a new style of tray material with a foam backing that serves to keep the bleach material in contact with the teeth. Here comes the next time-saver! It is unnecessary to use block-out material on the model. So you can skip the usual step of build-up and then curing the material. Go right to the vacuum-forming machine and place your new model on the table and suck down the new tray material with the foam lining. Presto! That quickly you are ready to trim the tray with scissors. Avoid an extensive gingival overlap; however, a slight overlap onto the tissue will help create a seal to contain the bleach and will not irritate the tissues. Total time to make two custom bleach trays is less than 15 minutes. I have tried the trays myself and found them to be very comfortable. Now, patients can leave with bleaching trays the same day they decide on treatment, and you have lowered your cost to make the trays. Looks like a win/win to me! Order by calling (800) BIS-DENT and tell `em I sent you!
Pearl #3 - The Wand by Milestone Scientific. If you have been to a dental meeting since the ADA in Washington, you have seen the crowds around the booth showing The Wand. I must tell you that I was skeptical when I first saw The Wand at the ADA. Since then, I have become convinced that every dentist should have one. I would not want to receive anesthetic any other way. I know what you are thinking, because I thought the same thing: "I don`t need a machine to give painless injections; I can do that myself." But you can`t! The Wand is a computer-controlled, local-anesthesia delivery system. The Wand doesn`t work like a syringe. A microprocessor delivers precise pressure and volume ratios of anesthetic. Even in resilient tissue, such as the palate and the periodontal ligament, The Wand maintains optimal flow for an effective, virtually pain-free injection. You begin the flow of anesthetic before needle insertion, so that an anesthetic drip precedes the needle. This "anesthetic pathway" means that there is virtually no sensation or pain as the needle penetrates to the target. All of this results in a pain-free injection and a rapid onset of profound anesthesia.
If you are doing any anterior esthetic dentistry, you must be using the new AMSA (Anterior Middle Superior Alveolar) nerve block. It allows you to anesthetize completely up to 10 maxillary teeth with only two needle penetrations and only one carpule of anesthetic. The Wand produces a suffusion of anesthetic solution into palatal tissue, yet always at a flow rate below the threshold of pain. You get profound pulpal anesthesia without anesthesia of the lip and facial muscles, so that smile-line considerations and assessments will not be hampered by facial distortion. This reduces chair time and follow-up visits. The PDL (Periodontal Ligament Injection) is often avoided because it is difficult to administer, painful and inconsistent. This new system`s precision and control make PDL injections easier, more predictable and completely comfortable. The Wand revolutionizes dental injections by taking away the fear and anxiety on the part of the patient and reducing stress for the dental team. Order from your dealer or call Milestone Scientific at (800) 862-1125.
Pearl #4 - DON`T SWEAT THE SMALL STUFF ... and it`s all small stuff by Richard Carlson, Ph.D. My wife gave me this book, and I knew why as soon as I opened it. Small Stuff #2 is Learn To Live With Imperfection. I sure needed some help on that one! This is a fantastic book with 100 ways to help make your life better for you and your loved ones.
Dr. Blaes has a general practice in the St. Louis area. He is known for his expertise in dental materials and techniques and his innovative systems designs. He writes and lectures on "How To Increase Productivity and Profitability." He may be reached at (314) 434-6808.
Pearl 1
Pearl 2
Pearl 3