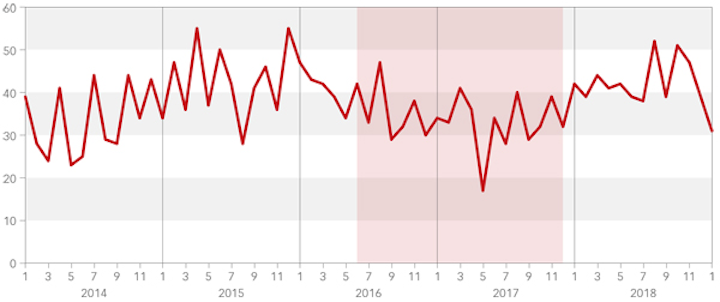 Joy Gendusa
IF you're a dental economics subscriber and loyal reader, you've probably seen my interviews with dentists willing to share their marketing journeys. For some, it's a rocket ride to 200-plus patients per month. For others, there are stumbles, such as wasting $9,000 on Yelp before turning it around and increasing new patients 350%. I want to start off by sharing another one of those marketing stumbles . . .
While conducting another one of these interviews with a client of mine recently, he mentioned the unthinkable: at one point, he had left my business for a competitor and mailed postcards with them for more than a year. How did he fare? I'll fill you in at the end. For now, let's focus on a single design change this dentist made that affected the response to his postcards.
That change? He switched out a photo of his family on his postcards for a generic, staged stock photo. Look at what happened to his monthly new-patient numbers, as shown in Figure 1.
Figure 1: Impact of removing dentist's family photo from direct mailers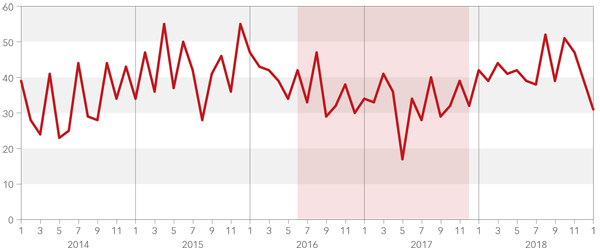 This graph shows the number of new patients (y-axis) acquired by this dental practice per month from January 2014 to January 2019. The shaded area shows what happened when a real family photo on the dentist's direct-mail piece was replaced with a stock photo.
What's the lesson here? As a dentist, it's critical to get personal with your marketing strategy. This dentist's new-patient numbers reflect that.
With this in mind, I want to share a few easy (but vital!) ways to infuse personal touches into your internal and external marketing. Then, I'll tell you how to take each method to the next level to create an extrapersonalized experience for prospective patients.
Must-have personal touch
No. 1: Real photos of you, your family, and your staff
People like to see real people (not actors), and they can tell when it's a stock photo. If this makes you nervous, don't let personal insecurities get in the way. We all have those feelings. The fact is that prospects don't care if you're attractive or not—as long as you're genuine.
Next level: Videos of you and your staff on your website
Even if it's a quick selfie video of you and your staff saying hello and filmed with your cell phone, it will do wonders for increasing trust with website visitors.
Must-have personal touch
No. 2: Real photos of your facility
Have you ever tried shopping for something on eBay or Craigslist and the seller doesn't include photos? Or worse, the seller only provides a photo that clearly came from a retailer or the manufacturer? It's awful. You want to see the real thing, right? The same principle goes for your practice. Show prospects what they'll be getting when they come to see you.
Next level: Videos of your facility or a virtual tour on your website
People love Google Street View. Personally, I use it all the time because it invites me to become familiar with a place I've never been. You can channel the success of Google Street View and build a huge amount of trust with prospects by offering a video or virtual tour of your practice.
Must-have personal touch
No. 3: Real Google Reviews
Thanks to Amazon, the heyday of the testimonial is over. Now we want verified reviews. You can get in on this trend easily. First, include a plug-in on your website that populates real Google reviews. Second, on your mailer just add "(Real Google review)" to featured reviews along with a five-star graphic.
Next level: Be transparent about how many reviews you have and star ratings
People like numbers, especially when it comes to reviews. For example, tell them that a review is one of 109 total reviews and 105 five-star reviews (or whatever the case may be). Go ahead and include a few three- and four-star reviews as well, along with a response from your office thanking the reviewer for the feedback and explaining how you've rectified the situation. It's a huge trust builder!
Must-have personal touch
No. 4: Map showing your location
Proximity is a big deal to busy consumers when it comes to choosing a new dentist, so don't make them Google you to find out where you're located. Place a map on your website, your direct-mail pieces, your brochures, and every other marketing piece that includes contact information.
Next level: Don't just screenshot Google
Instead, have a unique illustration done that highlights nearby landmarks, notable crossroads, and your practice. The downside to relying solely on Google Maps is that there can be too much information. By eliminating the extra noise, you'll make it easier for people to orient themselves to your location. It may only save prospective patients a matter of seconds, but these kinds of personal gestures add up quickly.
Benefits of personalization
These four personalization strategies are easy fixes that will add layer upon layer of personalization to your marketing efforts. The result will be a better overall patient experience from start to finish. (Because the patient experience starts when they first hear about you—am I right?) But as a marketer, I would be remiss not to mention another technologically advanced personalization strategy currently on the market in the print space . . .
Variable data
Think about your email marketing. You know when you go to send an email to your patient database and you start every email with, "Dear FNAME"? Well, that's just coding, and you know that the email, once it's in everyone's inboxes, will actually say, "Dear John," "Dear Nancy," etc. That same technology is now readily available for print pieces (such as brochures and postcards), and it's referred to as variable data. I'm pleased to tell you that in 2019, variable data is effective and affordable.
Here's an example of how it works: Let's say you grab a list of new residents (aka "new movers") in your area and also buy a birthday list based on your own patient database. In those lists you have two killer opportunities to create campaigns using variable data. For one campaign, your direct mailers will welcome every new resident to the neighborhood by name. For the other, you can wish your current patients happy birthday by name.
In more good news, variable data runs on autopilot. All you have to do is book the appointments!
The rest of the story . . .
So how did that dentist I mentioned earlier fare with this marketing? Well, he switched back to us in 2018, and we've worked together to get his new-paitent numbers back on track. More on him next month!
Author's note: Learn more about variable marketing at
postcardmania.com/variable.
Joy Gendusa is the founder and CEO of PostcardMania. Using just postcards, a phone, and a computer, Joy built PostcardMania from a one-person start-up into an industry leader. PostcardMania serves 82,401 clients, including 6,106 dentists. Need help promoting your practice? Call one of PostcardMania's dental marketing consultants at (844) 269-1836 or email Joy at joy.gendusa@postcardmania.com.