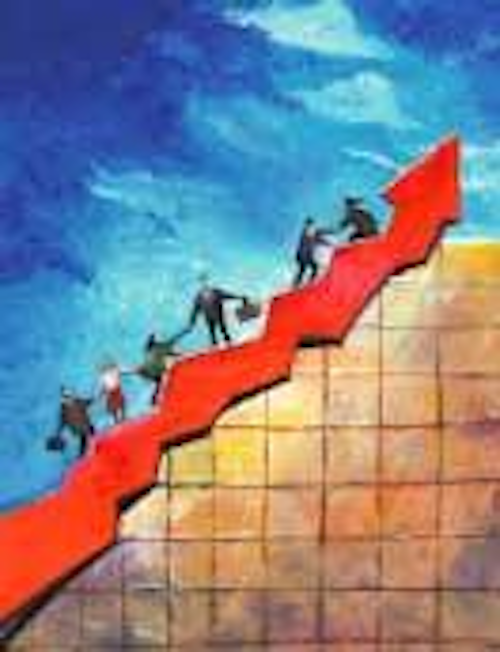 by Jeffrey R. Lavers
To paraphrase Oldsmobile, this is not your father's dental industry. According to a 2000 Market Trends Report issued by the American Dental Trade Association (ADTA), changes in technology, the marketplace, and economics have resulted in a dental industry unlike anything we've seen before. Today, not only are there an increased number of teeth but also myriad ways to treat them. Accordingly, dentists are altering their care methods and restructuring their practices to meet ever-evolving patient needs.
The report offers a detailed analysis of the factors that might determine the role of dentists and their staffs in the future. Although the number of dental practices and practicing doctors has remained relatively steady, dentists now must face the challenge of developing full auxiliary practices to offer the best patient services. However, the numbers don't tell the complete story. As the report details, the increased number of female dentists certainly will result in a shift in efficiency, patient/provider culture, and practice organization.
Overall, the report provides a range of scenarios that can lead the industry to extraordinary growth, assuming that change is not only embraced, but also properly utilized to offer efficient patient care. In this series of articles, you have seen how several dentists are implementing various practice models. Now, let's take a look at how change has shaped not only their practices, but their overall professional development as well.
The spoke
Dr. Lori Trost, DMD, PC, principal of the Center for Contemporary Dentistry in Columbia, Ill., doesn't need to look far to see the spinning wheel of industry progress. She sees herself as part of it.
"We're all spokes in a giant wheel, with the patient at the center," says the 16-year veteran in describing her staff, which currently is comprised of two full-time hygienists, one hygiene assistant, two chairside assistants, and two business managers. "And, when we add a team member, she joins the wheel and we all work together to help her get up to speed."
Located in a town with a population of 6,500, Trost is able to offer "big city" services by taking advantage of continuing-education opportunities to stay abreast of the latest technologies. Further, she empowers her staff to help provide a pleasant experience that begins when the patient walks through the door. Upon entry, her business managers offer patients a concierge-style service that includes a refreshment bar. Photos of satisfied patients' smiles are located throughout the office. Following their visits, patients are encouraged to write notes about their experiences in a book that is kept on display.
To help keep her practice as efficient as possible, Trost offers "accelerated hygiene" two days a week and encourages on-the-job training for her staff, including the use of digital cameras. She believes hygienists need to be aware of their importance, since they are the "gas pedal" of her operation. "My team members not only provide excellent care, they also are cheerleaders and end up spending more time with the patient than I do," says Trost. "As such, I try to surround myself with people who are positive and energetic; those who seek knowledge and want to be challenged."
Throughout the course of her career, Trost has observed changes within the industry that have impacted both her practice and herself. She believes proper dental care now is viewed in the context of an individual's overall health.
For example, Trost recalls wondering five or six years ago why her diabetic patients typically experienced oral bleeding. Today, the American Diabetes Association lists periodontal disease as a symptom of diabetes. She believes additional identifiers eventually will draw more people into her practice and credits dental manufacturers with developing products that encourage long-term health, such as restorative materials that provide a stronger seal.
Interestingly, the trend toward patients equating overall wellness with proper dental care has coincided with the rise of women in the dental industry, both of which equally influence Trost's view of her profession. Trost, along with her staff, sees her office as a "dental home," where patients can enjoy their experience and be assured that their entire health needs are being met, without anxiety. "We build a level of trust with our patients that is reflected in our treatment plan," she explains. "And when you engage patients in this manner, a certain level of nurturing comes through."
Trost finds the large numbers of women entering the field as dentists and hygienists encouraging, and she regularly serves as a mento to new members of the profession. However, she believes women still aren't where they need to be and thinks more should be encouraged to write articles and conduct their own research. "In many cases, we use an entirely different approach with our patients than a male dentist might employ," says Trost. "People in our profession can learn a great deal from us."
A lean, team-driven machine
While several dentists spend a great deal of time attempting to attract new patients, Scott Coleman, DDS, MAGD, tried a new approach. Approximately eight years ago, he halved his staff and thinned the ranks of his patients. He hasn't looked back.
For several years, Coleman viewed his Houston-based practice as an "insurance-driven machine." Working with several patients each day, Coleman eventually expanded his staff to 16 members, with their salaries comprising a large part of his overhead. But even though his practice was booming, Coleman was dissatisfied. "I'm not a big fan of roaming from chair to chair, trying to see three or four patients at a time," he explains. "My patients didn't receive my full attention, and I couldn't provide the full level of service they deserved."
To get his practice to a manageable level and offer patients a more pleasant atmosphere, Coleman began selectively reviewing his existing patients and shifting the practice's focus to cosmetic dentistry. He also cut his staff by half, eventually getting his staff salary overhead expense down to between 18 and 20 percent of total revenue. Yet for Coleman, the benefits were far more than financial. "Yes, the practice is making more money, but, more importantly, I feel better knowing that I can spend a significant amount of time with each patient and do my level best to meet their desires with regard to oral health," he says.
Today, Coleman's Cosmetic Dental Associates includes a staff of two ceramists, two hygienists, and two front-desk workers. It features six separate operatories, which Coleman shares with Spiker Davis, DDS, his professional partner for 28 years. With a streamlined practice and fewer staffing needs, Coleman hires carefully and offers his staff increased opportunities, while naturally expecting more in return. He isn't disappointed.
Coleman views his dental assistants as "patient advocates" who maintain a close relationship with the patient and, ultimately, help Coleman provide better care. "Patients will relay a lot more information to your staff than directly to their dentist, so the interpersonal relationship is very crucial," he explains. "Remember, you can always teach your staff how to use materials and make impressions. But people skills are difficult to learn."
Calling his own tune
Like Coleman, Albert L. Ousborne, DDS, believes that the insurance industry helped him shape the direction of his practice, albeit unintentionally. He recalls the late 1960s when he, as well as insurance companies, entered the world of dentistry. "When I first began practicing, I observed our profession gradually become beholden to insurance companies, which ultimately determined what services were offered," Ousborne explains. "It was definitely a case of who pays the piper calls the tune."
During the course of his career, Ousborne has managed to move away from HMO and PPO control by keeping his Towson, Md.-based practice small and offering quality products and enhanced levels of care. Since 1971, Ousborne has been focusing on crowns and bridges, cosmetic work, and implants, while his professional partner of 25 years, Tom Keller, DDS, practices general dentistry. Two hygienists, two chairside assistants, and two appointment coordinators aid both dentists. In addition, a bookkeeper and an administrative assistant both work part-time. "We all share the same philosophy — while we may sometimes charge more, our practice consistently offers five-star service," says Ousborne.
A strong proponent of strategic planning, Ousborne aims to keep his practice focused five years ahead and consistently follows through on his goals, often by embracing the advantages of technology.
Dr. Ousborne's office has been fully computerized for 15 years. The practice's treatment rooms now feature the latest flat-screen monitors, while appointments are booked electronically, allowing for a "deskless" front office that helps eliminate patient bottleneck. In addition, to meet patients' privacy concerns, two rooms in the practice were soundproofed more than 10 years ago, well in advance of the Health Insurance Portability and Accountability Act of 1996 (HIPAA).
Ousborne fosters continual growth by embracing the concept of a full auxiliary practice. He also believes that successful modern practices are comprised of three key components — administrative, clinical, and business — all of which dentists must keep in mind. "All of these components are equally important and must be included in the practice," he explains. "And to ensure that the practice runs as efficiently as possible, you're going to need a proper support system."
Opportunity = growth
Isaac Comfortes, DDS, faced a quandary. He wanted to increase the depth of his Encino, Calif.-based practice by focusing on aesthetic dentistry and creating restorations that reflected his background in art. At the same time, he sought to nurture professional development within his staff, without neglecting his patients. Ultimately, both he and his staff benefited from internal growth. "I gradually began relying on my staff more and giving them increased responsibilities," he explains. "And, eventually, the practice got to a point where I had more freedom to offer the care I wanted, and the work remained just as good."
Like his colleagues, Comfortes' practice — comprised of two assistants, two hygienists, and a receptionist — reflects the advances made in dentistry, from both a technology and service perspective. Computers have been a mainstay in all four of his operatories since 1996, and his hygienists regularly book their own appointments, which increases practice efficiency. Yet it is the learning opportunities Comfortes affords his staff that make the difference.
The assistants within Dr. Comfortes' practice take advantage of a state program to achieve the EF (Expanded Function) level. While the duties of some assistants are comprised solely of handing instruments to the dentist, EF-level assistants — upon completion of the program — actually pack cord, take impressions, and cement the final restoration. However, before they work directly with patients, Comfortes spends time with his assistants, helping them hone their newly learned techniques. This way, he explains, his patients, some of whom have been with him for 25 years, can more easily adjust and come to appreciate the new arrangement.
"I'm a firm believer in continual growth for my staff as well as myself, and it's reflected in the patients' experience," says Comfortes. "Now, I can spend more time with patients, and they know they're receiving an enhanced level of service from a well-informed, well-trained staff. It's simply a matter of making yourself available as a training resource and taking the appropriate steps to ensure that your practice operates as efficiently as possible."
Change as a team sport
Although the dentists profiled in this article clearly maximize the full capabilities of their practices to meet the ever-changing needs of patients and continue evolving as professionals, there is still much room for growth. For example, the ADTA report concludes that an estimated 35 to 40 percent of all practices are operating well below their production capacity and economic potential. Hopefully, these numbers will change as more dentists join their forward-thinking peers to make an optimistic future become reality.
In most cases, the ADTA report portrays a modern future for the dental industry — one in which technological advances, combined with shifts in supply and demand, will help dentists maximize opportunities for professional and personal growth. Interestingly, the dentists profiled here realized this future through a rather traditional method known as teamwork.
In each of the above instances, change not only was embraced by the dentist, but also effectively implemented with the help of a full auxiliary staff willing and able to learn. In some cases, they were "gas pedals"; in others, "patient advocates."
But regardless of which form they took, the staff was essential in helping each practice reach its full potential.
While these four dentists regularly utilize technology to make their practices more efficient, they also invest wisely in their staff, carefully allocating responsibilities to maximize levels of patient care. These dentists emphasize quality over quantity, avoiding undue insurance-industry control by thinning patient ranks and streamlining staff. By doing so, each dentist is rewarded not only with increased revenue, but also in the freedom to continue learning and developing as a professional.
We've seen dentists decrease overhead while increasing service, long-time industry veterans remaining ahead of the curve, and aesthetic artists who freely pass on skills to eager learners. We've also witnessed how one dentist has created a "dental home" and embraced the concept of patients equating dental care with overall wellness. Now it's time for others to come forward and share their knowledge and vision for the future.
To help realize this vision, ADTA Board Chairman Jim Breslawski, who serves as corporate executive vice president of Henry Schein, Inc. and president of Sullivan-Schein Dental, believes the industry should remain focused on the following challenges :
• Making it easier to incorporate technology in practices
• Helping provide broad-based leadership solutions wherever possible
• Working together with dental educators to help facilitate student preparedness
• Identifying solutions to expand access to the underserved
As he explains, "It's clear that the ability to create an exciting future for dentistry is within our grasp, and the rewards of realizing better oral health as a component of overall wellness are evident. Our challenge as an industry is to provide an environment within which the vast majority of dental practices can readily take advantage of the key ingredients of a fulfilling future."
As the evolution of the dental industry continues, the faces of the future will surely be different. But it's change that remains constant.