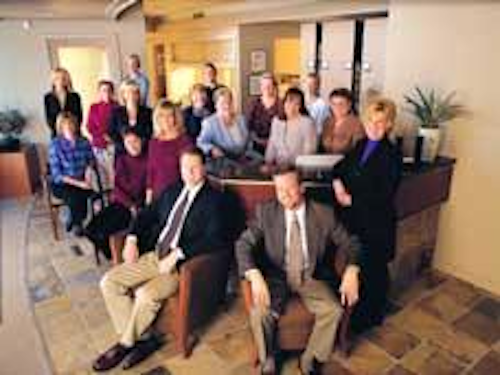 By Dr. Joe Blaes, Editor
The Fourth and Eastside Dental Building in Olympia, Wash., was developed to function as a single facility that houses two independent general dental practices. The partnership of John C. Walker, DDS and Bruce E. Cooper, DDS arose out of the mutual vision of two longtime friends and colleagues who wanted to develop a state-of-the-art facility to further the growth and capacity of their individual practices. Each practice has its own completely independent workspace, yet the project features continuity in design and integrated concepts that unify the project as a whole.
Dr. Cooper occupies the ground level of the structure while Dr. Walker's practice is on the second floor. (The floor plans are identical so only one is shown.) The fact that the floors mirror each other and that the operatories look out onto the street gives the exterior of the building a unified and identifiable character that clearly advertises its function as a dental office.
Continuity was achieved within the interior by choosing a single interior design specialist who utilized a harmonious color and materials scheme throughout the public spaces and the office suites. Individualization of the two practices was achieved through furnishings, artwork, and other personalized items.
It turns out that Carl Williams, the interior design architect, is an old friend of mine. Carl did the interior design on an office that I built back in 1988. Carl is a very creative person, and he has the knack of being able to build your ideas into the office so that when it is finished, it feels like yours.
The design and construction process also incorporates universal technology applications; however, each practitioner selected technologies that were most applicable to his practice. The entire building is wired with digital cable service, which provides a number of valuable features to the patients and staff. All treatment rooms have digital cable television and digital music for the patients' comfort and entertainment.
Digital cable also allows high-speed Internet access for the offices' administrative functions. Online benefits information through the local branch of Delta Dental is available in each operatory, which allows staff members to answer a patient's benefit questions almost immediately. Electronic claims processing via the Internet aids each practice in the timely collection of insurance benefits and credit card terminals that instantly process private payments. Both practices maintain individual Web sites and email accounts, which facilitates communication with existing and potential new patients.
All treatment rooms are equipped with A-dec Cascade radius delivery systems, which provide maximum flexibility in the workspace for both dentists and their hygienists. Custom "12 o'clock" cabinetry permits effective and ergonomic usage for both right- and left-handed providers. A-dec/W&H electric handpieces are integrated in the delivery system. The Assistina handpiece maintenance system provides increased longevity to the handpiece units over many sterilization cycles.
Dr. Cooper has used CEREC CAD/CAM technology as a pillar of his practice since 1993. The design of the laboratory space features the CEREC 3 milling machine centralized for convenience and utility. The "open concept" between treatment rooms allows for easy transfer of the CEREC 3 acquisition unit or the CEREC 2 unit.
The Denoptix digital radiology system was selected because the phosphor plate technology is similar in technique to film-based radiology. This decreased the learning curve for the clinical staff. Some of the advantages both offices realized were decreased radiation, shortened image processing time, streamlined image management between clinical and administrative areas, and elimination of film-processing chemicals.
The unique aspect of this project is the cooperative process that allowed each dentist to achieve his individual goals within the scope of a single project. Dr. Cooper and Dr. Walker shared concepts and information throughout that enhanced both offices. Staff members also were involved in the programming of their work areas, which allowed for customized workstation cabinetry with the developed floor plan.
An unusual aspect of this project was that each practice utilized different dental supply companies for their equipment, installation, supplies, and support. Everyone cooperated to ensure that the needs of each practitioner and his office were met and that prior business relationships were retained. Both practices have benefited greatly from improved efficiency, a boost in staff morale, a heightened community profile, and an increased new-patient flow.