Sameer Bhasin, MBA, MHA
How a person chooses to spend, invest, and save money is a very personal decision. So too is the decision about how to use credit. Many factors influence these decisions, including income, needs, and values. Understanding these factors can provide insight into patients' behaviors toward money and make the financial conversation just a little bit easier for the dental team.
Generational differences
Let's first take a look at the different generations and their key differences. A generation is defined as "all of the people born and living at about the same time, regarded collectively."1 The social, political, and economic events that happen during the formative years of each generation help shape that generation's beliefs and behaviors.
The youngest generation today is Generation Z. Born between 1997 and 2015, Gen Z comprises 26% of the US population.2 Many members of this generation grew up in the aftermath of 9/11 and the Great Recession. They are the first generation raised with smartphones in their hands, giving them instant access to information. They live in a digital world and consume information in sound bites. Many are still young enough to be financially dependent, so they make relatively few money decisions, especially when it comes to their oral health.
The next generation, millennials, accounts for 22% of the population.2 The millennials were born between 1980 and 1996 and are currently between the ages of 22 and 38.2 This generation watched the economy falter and many of their parents struggle during the Great Recession. They may be establishing credit and prefer to rely on debit and mobile payment options.3 Millennials are at the age when significant changes in life stage may occur. For example, the average age for marriage in the US is 28, first-time homebuyer is 33, and first-time parent is 26.4 New life stages are accompanied by new needs and wants for products and services. Of older millennials, 83% use credit cards (and may use three or more), whereas only 67% of younger millennials do.4
Born between 1965 and 1979, Generation X is one of the smallest generations, making up about 16% of the population. 2 Currently aged 39 to 53, many Gen Xers may be in their peak earning years and peak spending years.2 Financially, Gen X may have borne the brunt of the housing collapse that happened during the Great Recession. As a whole, this generation has the most credit card debt. They often use credit cards for their day-to-day purchases as part of their money management philosophy. Many may own homes and have school-age or college-age kids. They may be planning graduations, weddings, or retirement. Some are even grandparents.
People in the baby boom generation are now ages 53 to 71.2 This portion of the population grew up during a time of economic growth and helped fuel the growth of the credit card industry. Before boomers came of age, the only credit card available was Diner's Club. Boomers have the best credit scores, the most cards, and the largest total credit limit.5 Boomers may be empty nesters. Many may be part of the so-called sandwich generation—caring for both aging parents and teenage children. They may be planning, entering, or already "in retirement," which may mean traveling, grandparenting, continuing to work, or turning hobbies into businesses.
Finally, people in the oldest of the generations, often called the greatest generation or silent generation, are age 72 or older.2 They were shaped by two very significant events: the Great Depression and World War II. Members of this generation are characterized as self-sacrificing and frugal. This group is of retirement age and its members may be managing budgets on fixed incomes.
Generations + life stage = purchase needs and wants
Spending may also be impacted when someone experiences a major life event, such as graduating, getting married, buying a first home, welcoming a child into the family, or retiring. These events may require additional financial resources.
It's important to remember that a person's life events can be a good predictor of buying needs. The need for products and services changes with marriage, homeownership, growing a family, and raising college-age children. Needs again change when children leave the nest and someone enters retirement. For example, the birth of a new baby brings with it necessities that weren't on the shopping list nine months prior, and a new homeowner's fix-it list may require more trips to the local hardware store.
Dental care + cost = flexible payment options
For all patients, the most often cited barrier to dental care is cost.6 Creating a dialogue that helps the team identify key life events can provide a framework for the patient's current financial responsibilities, needs, and wants. This information can help the team better understand the patient and help create the foundation for a long-term patient relationship by giving the team ways to connect with the patient on a personal level. And, truly, it is simply getting to know what's happening in your patients' lives.
Because patients may view savings, spending, and credit differently and have the added complexity of different life events' purchase needs and wants, the practice should provide payment options to all patients. Understand that patients may have other financial needs and wants they could easily prioritize over dentistry. Offering a wide range of payment options, including cash, checks, debit cards, general purpose credit cards, and a health-care credit card with promotional financing available, may be appreciated.
Your dental team wants to give patients every opportunity to get healthy. Providing several payment options, including the CareCredit health-care credit card, may be the solution that enables patients to enjoy life events and oral health; buy the new house and get the new crown; plan the wedding of their daughter's dreams and get the adult orthodontics they've always wanted; travel the world in retirement and be able to keep their teeth for life.
References
1. Definition of generation in US English. Oxford Living Dictionaries website. https://en.oxforddictionaries.com/definition/us/generation. Accessed February 5, 2018.
2. The Nielsen Total Audience Report: Q1 2017. Nielsen website. http://www.nielsen.com/us/en/insights/reports/2017/the-nielsen-total-audience-report-q1-2017.html. Published July 12, 2017. Accessed February 5, 2018.
3. Skwronski J. More millennials say 'no' to credit cards. Bankrate website. https://www.bankrate.com/finance/credit-cards/more-millennials-say-no-to-credit-cards-1.aspx. Published September 8, 2014. Accessed February 5, 2018.
4. Livingston G. More than a million millennials are becoming moms each year. Pew Research Center website. http://www.pewresearch.org/fact-tank/2017/01/03/more-than-a-million-millennials-are-becoming-moms-each-year/. Published January 3, 2017. Accessed February 5, 2018.
5. Alard M. Credit and debt by generation. ConsolidatedCredit.org website. https://www.consolidatedcredit.org/financial-news/credit-and-debt-by-generation-2016/. Published January 15, 2016. Accessed February 5, 2018.
6. Cassandra Y, Nasseh K, Vujicic M. Why adults forgo dental care: Evidence from a new national survey. American Dental Association website. https://www.ada.org/~/media/ADA/Science%20and%20Research/HPI/Files/HPIBrief_1114_1.ashx. Published November 2014. Accessed February 5, 2018.
---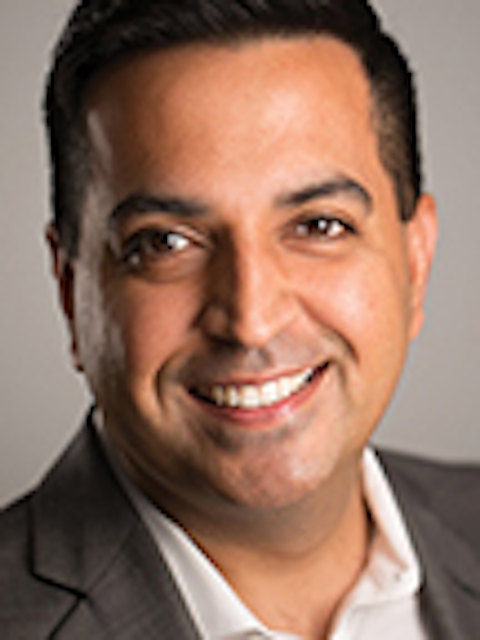 Sameer Bhasin, MBA, MHA, is vice president of strategic alliances at CareCredit, responsible for working with dentistry's key opinion leaders and educators to gather the latest insights and trends. Previously, Mr. Bhasin held positions as a CareCredit practice development manager and regional sales manager, where he acquired a decade of frontline practice experience.