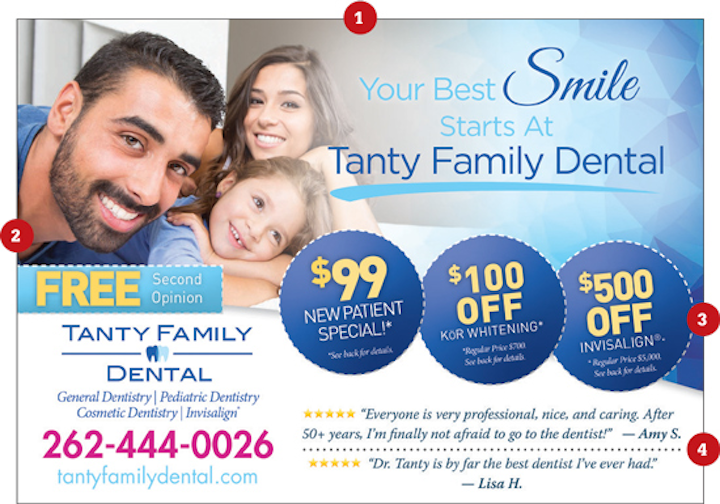 BACK BY POPULAR DEMAND, we look at the marketing efforts of our readers and tell them if they're making the grade. Marketing expert Joy Gendusa and DE Chief Editor Chris Salierno, DDS, provide a constructive critique of a chosen marketing campaign. This month we feature from Tanty Family Dental, a practice owned by Kevin Tanty, DDS, in Waukesha, Wisconsin.
Before diving in, I want to make note of two important dental marketing principles that Tanty Family Dental hits out of the park:
Repetition—With all the marketing elements laid out in front of you, you really see the big picture. Many dentists underestimate the magnitude of marketing that goes into taking someone from "unaware and neutral" about your practice to "new patient." Dr. Tanty did not make that mistake.
Branding—Consistent branding improves recognition and recall. The faster someone feels like they know and remember you, the faster they'll call you when they need a dentist.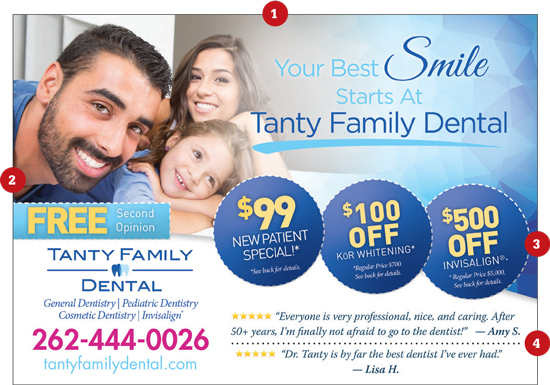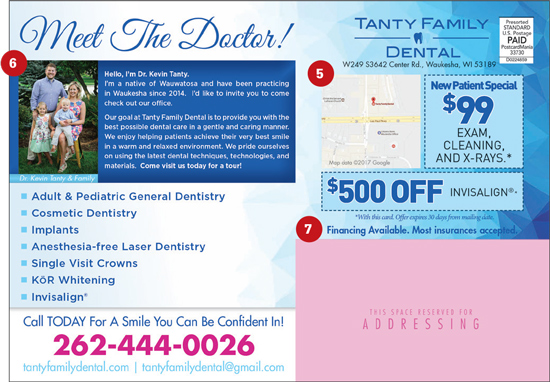 Postcard: A
Despite knowing not one, but two dental colleagues with underwhelming direct mail experiences, Dr. Tanty felt confident that postcards were an effective way to bring new patients into his practice. He was right: Monthly new patient numbers are up 349% since he started mailing postcards back in July of 2017. Let's look at the specifics of the campaign! (Follow along by looking at the corresponding number in the marketing materials.)
1. The main difference between Dr. Tanty's campaign and those of his colleagues is repetition. His colleagues stopped after one mailing, whereas Dr. Tanty has been mailing monthly for more than a year.
2. Examining our proprietary success data (we track every client's campaign that we can), 87% of our successful general dentistry campaigns include photos of at least one person smiling.
3. People like saving money! According to our data, 62% of successful dental campaigns feature two or more special offers. Among offers we've tracked, the $99 new-patient special and $500 off Invisalign are two of the most successful.
4. Do not include a testimonial without a 5-star graphic. Thanks to Amazon and Google, we now look for 5-star graphics when it comes to reviews.
5. Google maps are a familiar way to show recipients exactly where you're located.
6. Dentistry is personal, so it's a great idea to include a real photo of you and your family along with a short and relatable bio.
7. I'd make the financing option more obvious to appeal to more prospective patients.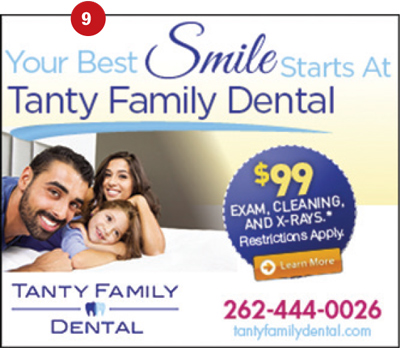 Online banner ads: A+
These online ads target households within the same geographic radius in which the postcards are delivered.
8. Campaign consistency equals maximum exposure. For example, these online ads alone have generated 1,082,479 impressions.
9. Coordinating follow-up ads like these can increase responses up to 400%.1
10. Dr. Tanty is using a unique call-tracking number for this campaign that records all of his incoming calls. This makes it easy to see results and listen to calls to troubleshoot his reception process. So far, Tanty Family Dental has had 199 unique calls from his postcards and online ads.

Homepage: B
11. Thanks to the blue-and-white color scheme, you know you're in the right place when you arrive at Dr. Tanty's homepage. Let's look at what else this page gets right—and wrong. (Note: Dr. Tanty told me just recently that he plans on revamping his website and hiring a web developer who is dedicated to dental. It won't be long until this site is hitting top marks!)
12. While I like this pattern . . . for a shirt, your top-most banner should make visitors feel comfortable. Images of happy, smiling people with great teeth would make a better impression and leave visitors feeling less cold.
13. Always include real photos of your office and/or staff. (Both is best!) Again, it makes people feel comfortable, and that is how you build trust.
14. This is a great photo and should be at the top! I also love how both figures are looking toward the copy, which draws your eye there.
15. For today's savvy, time-strapped customers, "requesting" an appointment creates a pointless barrier to conversion. Get a website that integrates to your calendar and customer relationship management (CRM) software so that busy people have the option to book an appointment straight away.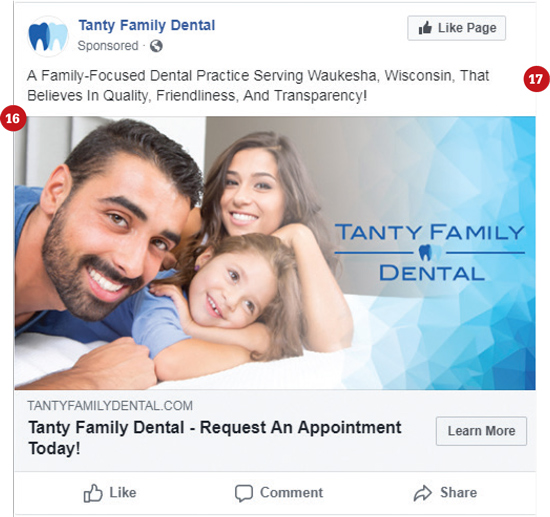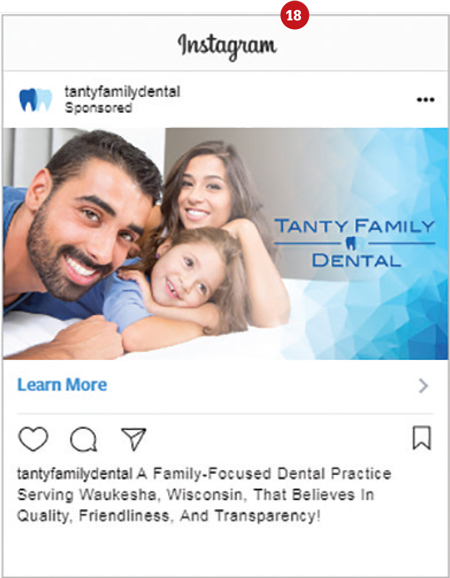 Social media ads: A+
Dr. Tanty has absolutely nailed a consistent, branded image across today's three major ad players: Google, Facebook/Instagram, and direct mail.
Dr. Tanty's social media impressions alone add up to 94,302 at the time of writing this. He's mailed nearly the same number of postcards—those clock in at 89,997. Those numbers must have the people of Waukesha, Wisconsin, saying, "This guy is everywhere!"
Note: Please do not feel discouraged if you don't have a marketing manager to run a big campaign like this. Dr. Tanty doesn't have a marketing person either, but uses an all-in-one, done-for-you marketing product called Everywhere Small Business to achieve this level of marketing saturation.
CHRIS: I applaud Dr. Tanty's use of the same imagery and color palette across his marketing initiatives. They say the average person has to see an ad seven times before they buy. If that's even partly true, then a consistent message and visuals are crucial to make a lasting impression.
16. Branding, branding, branding! It's almost as important as repetition, repetition, repetition!
17. Speaking of branding, the practice has loaded its caption with phrases that consistently perform well—"family-focused," "quality," "friendliness," and "transparency."
18. A recent Pew Research study shows a shift among young people from Facebook to Instagram. In fact, 72% said they use Instagram, while only 51% use Facebook.2 Dr. Tanty is covering his bases by extending exposure to both.
Overall Grade: A
With a consistent, coordinated campaign in place, new-patient numbers are up 349%, a new associate is on board, and Dr. Tanty has initiated the purchase of a larger facility to accommodate his growing practice. Those results deserve top marks!
Author's note: Want to see more? To watch Dr. Tanty talk marketing wins and losses, visit postcardmania.com/dr-tanty.
References
1. Spence E. Facebook puts everyone on notice about the death of organic reach. Forbeswebsite. https://www.forbes.com/sites/ewanspence/2014/06/06/facebook-puts-everyone-on-notice-about-the-death-of-organic-reach/#39dc26691856. Published June 6, 2014.
2. Anderson M, Jiang J. Teens, social media & technology 2018. Pew Research Center website. http://www.pewinternet.org/2018/05/31/teens-social-media-technology-2018/. Published May 31, 2018.