Selecting furniture: It makes a difference
Recently, a local furniture dealer for one of our clients contacted us. They were anxious to offer their services to the project and followed up by email ...

Feb 1st, 2013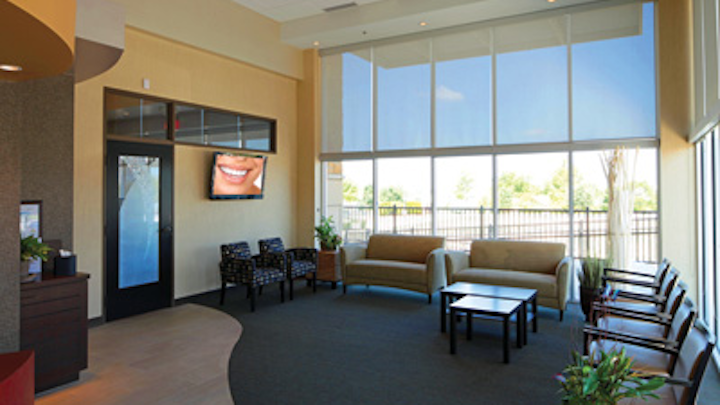 Jeff Carter, DDS, and Pat Carter, IIDA
Recently, a local furniture dealer for one of our clients contacted us. They were anxious to offer their services to the project and followed up by email with photos of all the dental offices in the area that they had furnished. We (and our client) appreciated their interest, but their photos repeated a "clinical" appearance typically assumed when furnishing a dental office. The sea of metal armchairs lined up along walls and snaking around the office left the vinyl and frame color as the only variation from one office to another. Clearly, function was addressed in "head count," but any consideration for a quality impact was lost. By no fault of the dealer, the furniture contributed little to the overall positive perception of the practice.
So, it is worth noting that every decision when designing a dental office hopefully solves a functional need but also contributes -- or not! -- to your patients' experiences. Furniture is one of many visible cues that produce an unavoidable message about your care and dental acumen. A high level of care is perceived by a quality experience of precision, skillfulness, and comprehension, and it is self-evident when your facility has similar qualities. Otherwise, patients must override their "mediocre office" impression to garner confidence through other cues -- your staff, your demeanor, and their experience with your dentistry.
To our point: Your office makes a statement -- either positive, negative, or disinterested. The choice to be conscious about this is up to you.
Furniture is a viable part of your office's impact, and if you haven't given thought to this concept, we offer a few recommendations:
Mix it up. A mix of furniture -- love seats, open armchairs, closed arm lounge chairs, and end tables -- has far greater impact than the same chair repeated 10 times. Mixed furniture arrangements are associated with home and fine hotel spaces and create a sense of quality very different from the same-chair repetition of a clinic setting.
Mix the fabric choices as well. Multiple fabrics, selectively coordinated (e.g., paired armchairs and love seats) expand your style statement. Think of your own experiences in well-crafted, creatively composed spaces and how they reinforce your assumption of quality with that experience. It is the same for your patients.
Be selective with your furniture budget dollars. Quality "contract" furniture will typically be more costly than its residential counterparts. Such cost differences are due to multiple factors -- stronger frame support in upholstered pieces, higher level of finish on frames, upholstery details, larger scale, high style or brand, etc. And while there are viable reasons for such cost differences, providing durability over many years of use, it can be surprising to clients and challenging to budgets. We recommend a strategy of selection based on the intended use and visibility by the patient. For example, waiting area seating and task stools will be high use and high visibility, and should be priorities in a furniture budget. Invest in the best quality items that are within your budget. Other pieces can be selected from less costly resources and will perform admirably with less abuse. As an example, we often source Crate & Barrel, West Elm, etc., for end tables, lamps, and staff rooms as a strategy to stay in budget with interesting and well-performing pieces. Such an approach can keep quality and style in budget with creative options from the typical furniture genre.
Fabric vs. vinyl. With few exceptions, we recommend fabric over vinyl in seating. There is a misconception that vinyl outperforms fabric, when in fact its inherent porosity belies several disadvantages -- discoloration from skin contact and visible wear with high use, susceptibility to puncture, discomfort to exposed skin, and the appearance of being inexpensive. In fact, contract fabrics offer extremely high wear (see Wyzenbeek "double rub" fabric testing) and clean up performance (see Crypton® super fabrics, Nano-Tex®) and offer huge variations in color, pattern, and texture. For these reasons, they are a favored choice for both performance and creating impact.
Great office outcomes are a sum of the parts. Your furniture should be an asset that positively adds to the patient experience by demonstrating your thoughtful intention of comfort and quality.
Jeff Carter, DDS, and Pat Carter, IIDA, are owners of PDG - Practice Design Group. Located in Buda, Texas, PDG offers a full range of design and consulting services to dentists nationwide. For information, call (800) 511-7110 or visit www.practicedesigngroup.com.
More DE Articles
Past DE Issues