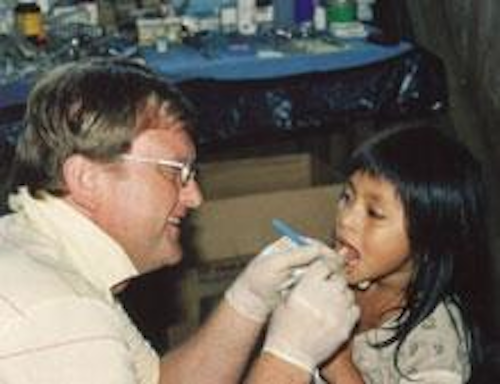 Dr. Keith Phillips
Imagine, upon returning from a mission trip to Bolivia, making the decision to liquidate your practice and launch full-time into a career facilitating dental missions. Dr. Ron Lamb, of Broken Arrow, Oklahoma, did just that in 1991. Dr. Lamb first visited Mexico in 1964 and witnessed for himself the overwhelming need for dental care in developing countries. He found that some developing countries have fewer than 10 dentists in the entire country and have no resources with which to build schools or clinics to train dentists. Over his years of traveling around the world, Dr. Lamb has found that it is not uncommon for patients to line up for three or four blocks waiting for their turn. Dr. Lamb says, "I've even seen cases where patients were so desperate for dental care that they would camp out on the street at night so that they didn't lose their place in line the next day." While many of us have witnessed these same situations, few have responded at the level of Ron and his wife, Pam.
Dr. Lamb graduated from dental school, got married, and started a private practice in 1974. In typical fashion, for the next 10 years he and his wife went about the business of developing a practice, buying a home and cars, and in general living the American dream. Ron and Pam also found that as their lifestyle grew, so did their debt load. Getting out of this "cycle of debt" is what Dr. Lamb saw as the biggest obstacle preventing them from following their hearts and entering into full-time mission work. After getting rid of a new car — a prized Corvette — and doubling up on house payments for the next five years, their dream finally would become reality. In 1991, Ron and Pam realized that the time had come for them to make the transition to a full-time commitment to the World Dental Relief (WDR) program. Ron says, "It was a bit like [the apostle] Peter being told to step out of the boat and walk across the water." Ron liquidated his practice and placed all of his patients into other practices, added 2,000 square feet to his office to help manage the supplies, and through the entire process managed to do five to 11 trips a year!
Over the years, Ron has developed alliances with several suppliers that have made all the difference in his ability to support mission efforts. Until recently, a major limiting factor has been the inability to handle off-loading of semi-tractor trailers. However, the WDR has recently purchased a 10,400 square foot warehouse facility. Ron says, "For years, we had to turn away entire truckloads of critically needed supplies because we had neither the room nor a loading dock — but this warehouse takes us to an entirely new level!"
As with most mission efforts, financial support is an on-going challenge. In 2002 alone, WDR supplied 326 short-term teams and mission clinics and reached an estimated 150,000 hurting people! By limiting administrative costs to just 3 percent, Dr. Lamb is proud to say that out of every dollar donated, 97 cents goes directly into program services. Unfortunately, as economic times have tightened, grant support for the WDR has been minimal. Patterson Dental, Hu-Friedy, Direct Dental, and American Instruments have been leaders in donating much-needed supplies and instruments. Each year, WDR receives and distributes over $400,000 worth of products which supply over 300 teams on short-term dental missions! A $5,000 grant from the International College of Dentists provided desperately needed portable dental units this past year.
Dr. Lamb simply asks each dentist and staff member to recall the scene in "Castaway" where Tom Hanks takes a rock and knocks out an abscessed tooth. "There is no pain like dental pain," he says. Overseas, it can be a life-threatening problem.
Ron and Pam Lamb have committed their lives to "Giving Back" in ways most of us would never dream of doing. If you or someone you know is planning a mission trip in the near future, or if you would like to support this program in any way, Ron and Pam ask you to visit the WDR Web site at www.dentalrelief.com.
Dr. Keith Phillips maintains a private practice in Winston-Salem, N.C. He is president and founder of The Giving Hand Foundation, a nonprofit organization committed to the start-up and development of free medical and dental clinics. Dr. Phillips also serves as a teaching associate at the L.D. Pankey Institute and is on the faculty of the University of North Carolina School of Dentistry.