Is 3-D right for me?
When you are drilling holes so close to nerves and sinuses, you need to know what's there. Cone beam technology makes that possible.
Jul 15th, 2015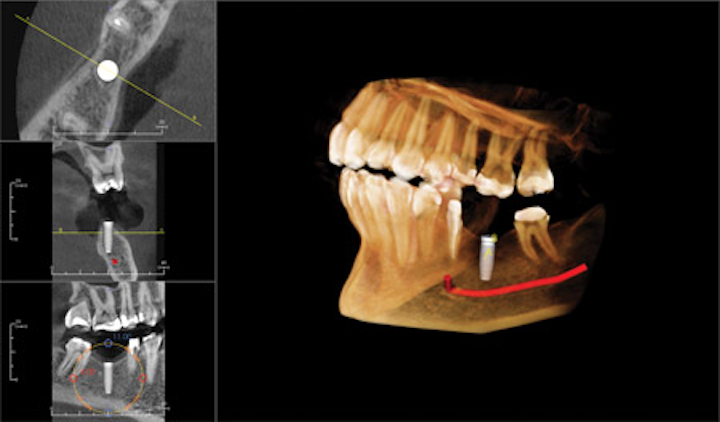 Chuck Majors, DDS, FAGD, FICOI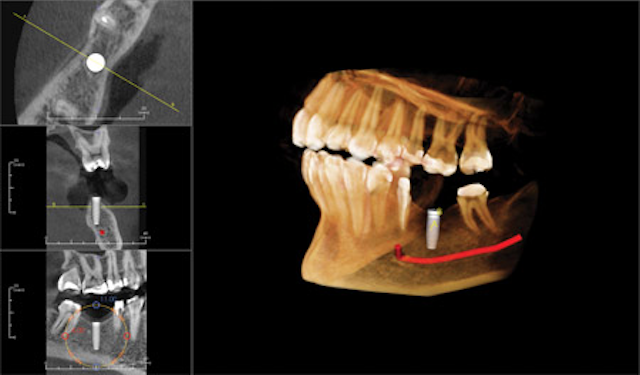 With 33 years in dental practice, I've amassed a fair amount of experience. The truth is that experience has underscored how important it is for me to maintain the attitude of a lifelong learner. The more I know, the more I realize I don't know. That maxim has proven especially true in my experiences with dental technology.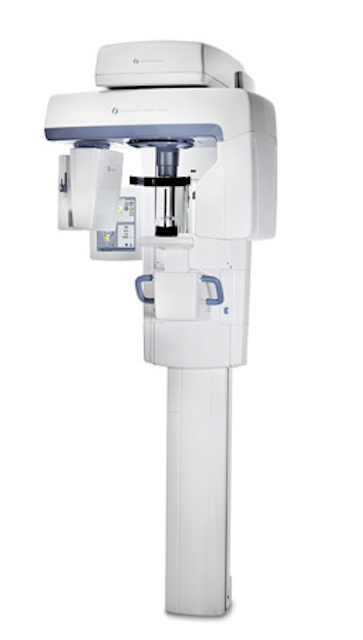 OP300 Maxio from Instrumentarium Dental
Many of my peers take a wait-and-see approach to technology, and there are some who simply don't believe in investing in technology. I perform a high number of dental implant procedures and, in my experience, when you are drilling holes so close to nerves and sinuses, you need to know what's there. Cone beam technology makes that possible.
Someone once said that once your mind is expanded by an idea, it never goes back to its original shape. Now that my staff and I know what information is available through 3-D imaging, our practice won't do implant dentistry without it.
Our path to 3-D imaging began nearly seven years ago. After hearing numerous colleagues discuss this technology from the podium, I decided to attend a weekend sales pitch at an oral surgeon's office in Washington, DC. We'd already incorporated computers, digital X-ray, intraoral cameras, and digital cameras into our practice. We'd learned not to jump on product bandwagons too early. However, I was so convinced during my visit that I bought my first unit while there. Then, in June of 2014, when I purchased my new practice in Bryan, Texas, I decided to get a new cone beam machine, Instrumentarium's Orthopantomograph OP300 Maxio.

RELATED READING | Diagnosis and treatment for Breakthrough Clinical pathology case: No 6
This time around, our criteria for the purchase were slightly different. We knew we wanted to stay away from any sort of proprietary software and closed architecture. Also, we recognized the value of a stand-up unit that would better accommodate patients with limited mobility and could also easily adjust down to a patient in a wheelchair.
I attend the Texas Dental Association meeting each year and it proved to be an excellent time to meet with vendors. I spoke with almost every company that has a cone beam unit. I kept coming back to Instrumentarium. The OP300 Maxio had the field of view we needed-from a targeted 5 x 5 cm scan to a comprehensive condyle-to-condyle view that includes the airway-and I liked the clean look of the machine. What finally sold me was the rep we worked with, Jimmy. He was a superstar. We've had the unit in our practice for almost a year now and he's taken care of us every step of the way. With training, support, and cost, he's provided excellent service and proven to be extremely knowledgeable.

The OP300 Maxio offers extended fields of view for diagnosis and treatment of the entire maxillofacial region.
Recognizing the value of an extraordinary rep is another lesson learned with time. The product itself is important, but when you buy that product, you have to consider the people who come with it. In my case, I was able to see how Jimmy worked with our dealer and that he interfaced with other people and organizations with integrity. He was seasoned and did what he said he'd do when he said he'd do it. He's seen products come and go and, most importantly, when we need him, he answers his phone. When we opened this practice, we had some very new members of our team who weren't familiar with the technology at all. He was patient and helpful through every call and seemingly basic question.
It might be difficult to figure out how to gauge whether or not your potential rep is one of the good ones, but you can do some fact-finding by asking for practices you can call as a reference. We call and ask a simple question, "Would you buy from this person again?"
In both my cone beam purchases (seven years ago and again last summer) my interest in the technology was driven by the opportunity to offer the best possible clinical options to our implant patients. Today, we're using the unit for more than we dreamed, including root canals, abscesses, and other structural issues. The common value across all those procedures is information. Not only does it give me confidence in my clinical approach, it makes it possible for the entire dental team to get behind the treatment we offer. Before 3-D, we didn't know what we didn't know.

RELATED READING |The myth of 'easy' root canals in endodontics
The question I hear the most is about the financial upside to that predictability. So many dentists are intensely focused on the bottom line. They worry about what they have to give up to afford the technology. In my practice, our response is that we give up the lawsuit. We've never faced one before, and we'd like to keep it that way. We can say we've done everything in our power to do things right-from the treatment planning to educating the patients, and through the procedure itself. Patients may be able to find dentists who are less expensive than we are, but we have the training and technology to do things right the first time. That is valuable. Technology creates value for patients who didn't know what was possible before.
And now, we're seeing value, financial and otherwise, in our investment. When I purchased the practice last year, the outgoing dentist was producing $24,000 per month. Within eight months, we were producing $124,000 per month. You can't chalk all of that up to 3-D imaging, but 3-D is a critical part of our process of getting patients to see the need and worth of the treatment. It is especially powerful when we meet with patients who have seen other dentists who offer lower fees but no real plan. Using this technology to its fullest potential is about so much more than "selling" more dentistry. It is about helping our patients receive the care they want and need.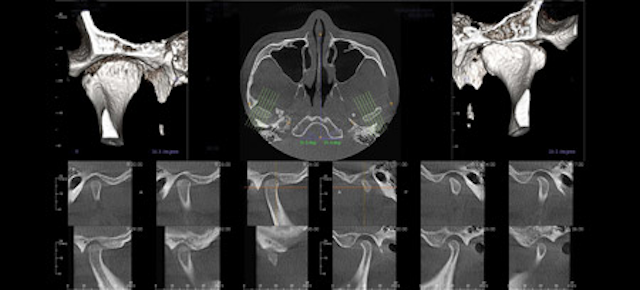 13x15 covers the entire maxillofacial region.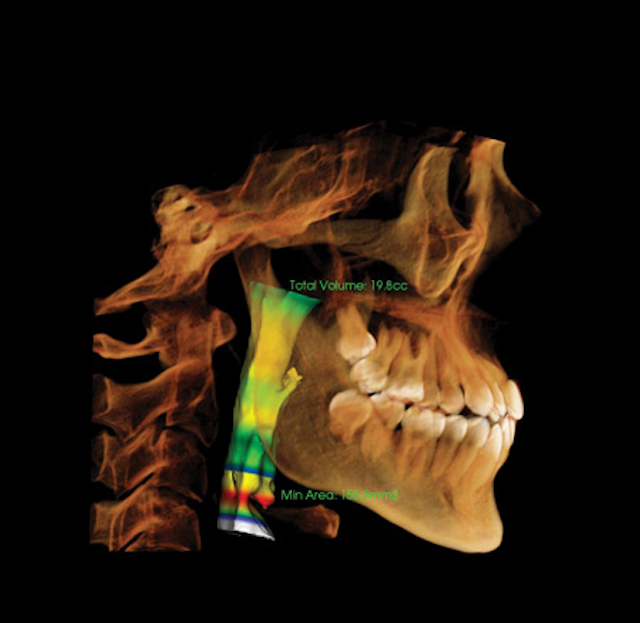 Larger fields of view offer broader diagnostic capabilities, including airways.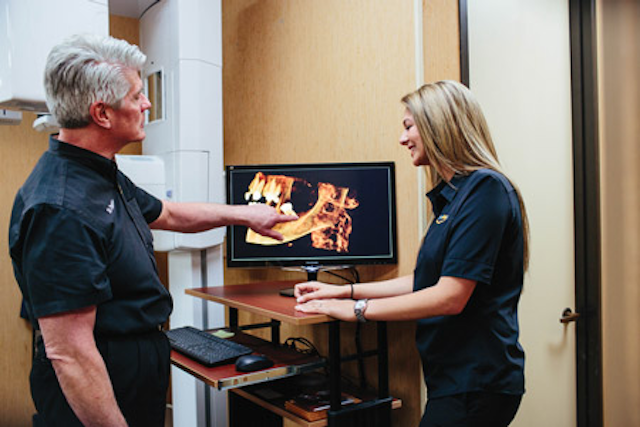 Dr. Majors reviews a cone beam image to consider available treatment options for a new patient.
When my assistant takes a scan, I can look-immediately, and before the patient is even reseated in his or her room, I can say, "Yes, we can do this," or, "No, we can't." To have greater efficiency and clarity courtesy of one technology is incredible.
The overwhelmingly positive reception by our patient base and the ways we see the practice continuing to evolve are reminders why 3-D imaging is such a powerful tool in our treatment plans. With the scans, photography, and support from our lab in producing wax-ups, our patients can truly begin treatment with the end in mind. There is a good percentage of people who won't pay exorbitant fees for dental work, but they will pay for quality treatment and competent care when you and your team create value.
The smartest dentists in the world who have been placing implants for years can pontificate on potential treatment plans, but unless you can see it, you can't predictably do it.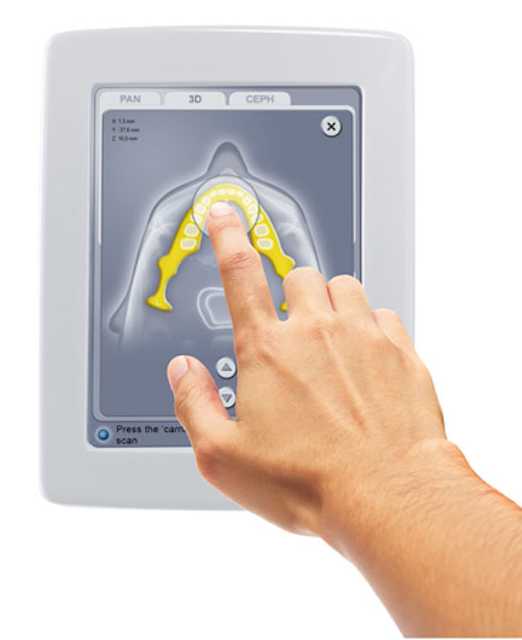 Selecting the precise area of interest is as easy as pointing.
Editor's note: Look for another article on 3-D imaging in next month's issue of Dental Economics.
---
Chuck Majors, DDS, FAGD, FICOI, is a second-generation dentist who developed a passion for being a lifetime learner at an early age. Chuck is well known for his comprehensive knowledge base and being well read on up-to date techniques, procedures, and debates in dentistry. At 33 years in practice, Chuck is committed to delivering what is best for each individual patient based on "their wants" and his knowledge. He purchased his fourth and final practice in Bryan-College Station, Texas, in 2014. He and his wife, JoAn, a professional speaker, author, and RDA, both have successful careers in dentistry. They cofounded Dentistry by Choice, a training LLC in 2004, and they speak, train, and write together.