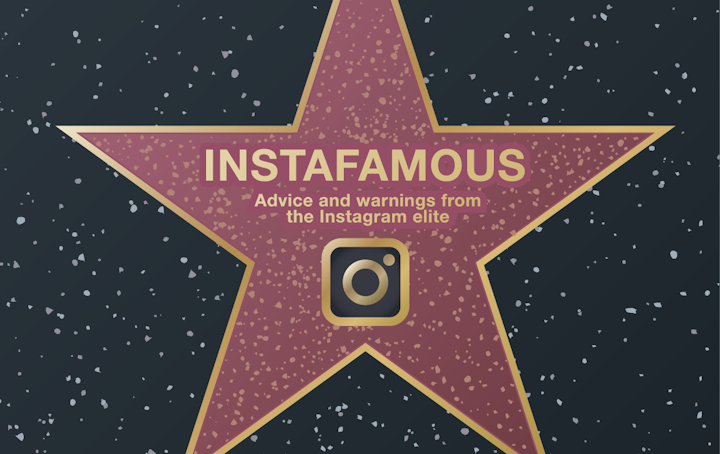 I have a little more than 2,000 followers on Instagram as of September 2019. That's a good number for your average user, but I pale in comparison to some of the Instagram dental super-users out there. This social media platform has never generated a patient for my practice. A dental company has never offered me money to endorse a product to my followers. My before-and-after clinical photos don't garner thousands (or even hundreds) of likes. So, I don't count myself as a true expert when it comes to building a successful Instagram account.
Fortunately, I know a few of the Instagram Elite in the dental industry. I've asked them how they got where they are, and if being an influencer on this platform is all fortune and glory. Here's the lineup:
Matt Asaro, DDS @drmattasaro 42.9k followers
Joshua Austin, DDS, MAGD, FACD @joshuaaustindds 14.8k followers
Brian Baliwas, DDS @sfdentalnerd 28.8k followers
Irene M. Iancu, BSc, RDH, CTDP     @toothlife.irene 15.8k followers
David R. Rice, DDS @ignitedds 8.6k followers
Tom Seery @realself 183k followers
Growth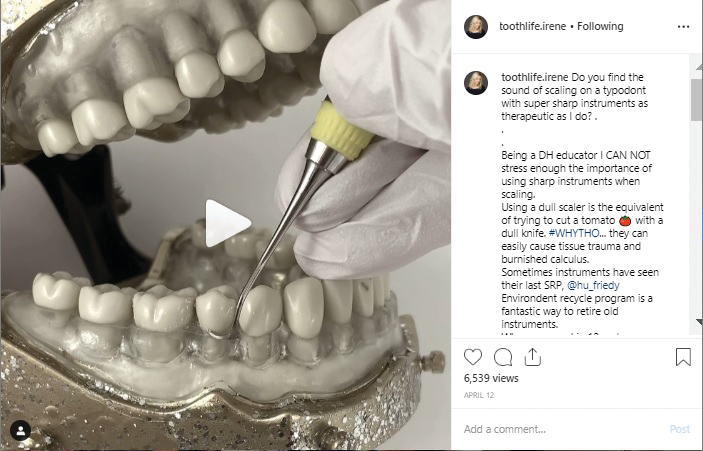 Irene M. Iancu, BSc, RDH, has found that video posts of her teaching are a big hit on Instagram.

It's tempting to think that there is a single post that can catapult you into Instagram fame. Sometimes, that actually does happen. Irene Iancu, a Canadian hygienist, recalls, "As a clinical educator at a local Toronto dental hygiene program, I started posting videos of scaling on my custom glittery typodont. The second video I posted using a Hu-Friedy 204S went viral. It was shared by some of the biggest dental accounts, and to this day it's still being circulated." This overnight sensation was a boon to her developing career as a thought leader and influencer. "It piqued the interest of companies such as Crest/Oral-B, qii, Patterson, Zevia, Medicolo, and dozens of others." (Figure 1)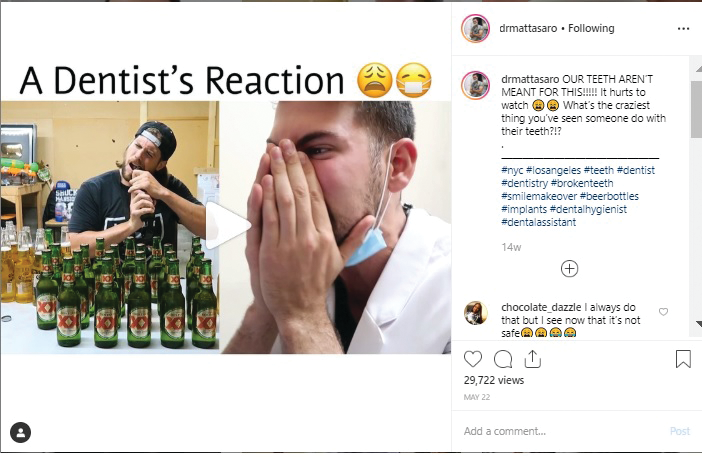 This post from Dr. Matt Asaro is a good example of humorous yet informative Instagram content.

Dr. Matt Asaro, a Los Angeles-based dentist who focuses on cosmetic dentistry, also struck social media gold. "The first time my Instagram started gaining some traction was because I posted a silly video of me goofing around and dancing in the clinic." The lesson? "People really like following doctors who seem like real people." (Figure 2)
But even Dr. Asaro notes that going viral shouldn't be your game plan. "The best ways to grow an account are consistent, meaningful, entertaining, and informative content, and engaging with your audience," he said.
Dr. David Rice, founder of IgniteDDS, agrees that this is about connecting with people. "Influencer success on the gram mirrors success in any business; it's about building relationships. Too many people worry about the numbers and the algorithms. Early on, neither matter. Focus your energy on engaging with people you genuinely know and want to know, and the numbers will follow."
Content
So, following other profiles, commenting on and sharing other people's content, and generally being a good internet neighbor should be your priority. But what about the content you post? Which photos and witty observations will perform well and which will fall flat?
"The great news for dentists is that the scientific method is also the path to success on Instagram and social media," says Tom Seery, founder and CEO of RealSelf, a cosmetic surgery educational site and marketplace. "Setting a hypothesis and then testing and learning it helped us grow our Instagram (@realself) from 5,000 to more than 180,000 followers in two years."
Test your ideas, don't be afraid to post a dud, and learn what excites (and doesn't excite) your audience. Having learned from thousands of posts from the likes of dentists, plastic surgeons, and dermatologists, Seery has some insights on best practices. "Some of the best performing posts are before-and-after photos and treatment videos. My advice is to show clear results and give consumers a behind-the-scenes look at how dental treatments really work."
We also should not be afraid to address challenges or objections patients have to treatment. While we may be trying to avoid any online controversy, we would also be inadvertently missing out on the details about dentistry that many patients actually want to learn about.
 "At RealSelf.com we see a high demand for hard-to-find insights about dental treatments, such as the average price of a treatment and how real patients rate their experiences with dental aligners, implants, and teeth whitening," Seery said. "This can serve as a guide to your online strategy, which should focus on meeting patients where they are in the decision process. Consumers want to be informed before coming in for a consultation or treatment."
The dark side
Unfortunately, regularly broadcasting yourself on social media is not without its troubles. "My four-part Instagram and Facebook video series with Crest about tooth whitening gained about 200,000 views per clip on Instagram alone," said Iancu. "This welcomed great questions from social media, but also from 'trolls' who commented openly and negatively, thinking I was just an actress claiming to be a dental professional."
As a long-time blogger, I can vouch for the interesting characters that come forward when we discuss topics such as fluoride and amalgam. Tackling dentistry's tough issues can generate a lot of activity for your account, as long as you can stand the heat.
Another concern is fake accounts. Dr. Josh Austin, a San Antonio dentist and writer for the "Pearls for Your Practice" column in Dental Economics, realized that his dogs started to outshine his own brand. "I got thousands of followers after a dog account regrammed a few of my posts. But a slight few of the accounts interact. I think it's all AI fakery. I'd rather have 1,500 real local followers than 15,000 dog bot accounts."
Having a high follower count may inflate our egos; but having low post engagement looks suspicious to an audience. Dr. Rice explains that you can actually sort out the fake follows from the real ones. "What you need to do is head to Instagram audit. It knows what percentage of yours (or anyone else's) followers are legit. Your target percentage is greater than 60%."
Some aspiring influencers may be tempted to actually purchase followers, but Seery strongly advises against that tactic. "Whatever you do, don't buy fake followers or likes. It undermines your efforts and can hinder your long-term success."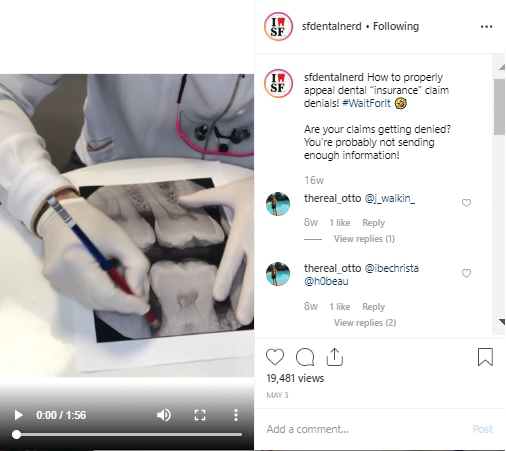 Dr. Brian Baliwas often shares helpful tips about how to file dental insurance claims.

Instagram is a highly visual, easily digestible form of storytelling. At its best, it's exactly that: telling stories. If we want to enthrall our audiences, Dr. Brian Baliwas, a cosmetic dentist from San Francisco, says, "Stop chasing vanity metrics such as follower count or likes and comments. Be yourselves and bring substance and content to the table." (Figure 3)
CHRIS SALIERNO, DDS, is the chief editor of Dental Economics and the editorial director of the Principles of Practice Management e-newsletter. He is also a contributing author for DentistryIQ and Perio-Implant Advisory. He lectures and writes about practice management and clinical dentistry. Additional content is available on his blog for dentists at thecuriousdentist.com. Dr. Salierno maintains a private general practice in Melville, New York. You may contact him at csalierno@pennwell.com.