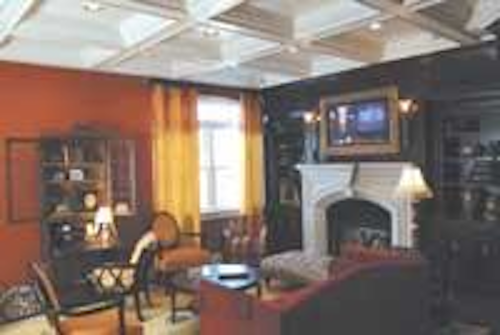 A trip to the dentist is usually no fun for most people. There's that unmistakable dental office smell, the shrill whine of the drill, and chrome-plated picks and syringes, none of which are conducive to relaxation.
But the Atlanta Center for Cosmetic Dentistry envisioned a different world, one where a visit to the dentist is a relaxing and pampering treat. But would such an atmosphere really compel people to look forward to regular dental checkups? Would it influence them enough to go ahead and get that Hollywood smile they've always wanted? The answer, this practice discovered, is a resounding "yes!"
On a hill that overlooks a busy thoroughfare sits a Gone With the Wind-style mansion. This building houses the posh, new offices of the Atlanta Center for Cosmetic Dentistry. The building is so opulent that it has become the subject of numerous stories on the emergence of spa-like dental salons on on many national broadcasts.
Drs. Debra Gray King and Richard Creasman and their associates assure patients a dental visit like no other. So unique is the ambiance that their practice has been profiled in international publications such as USA Today, The Wall Street Journal, Vogue, The Guardian (from Great Britain), and Time — cutting across the health, beauty, business, and consumer spectrum.
The ACCD is at the forefront of a growing number of cosmetic dental practices that are redefining how dental services are delivered. The vision for the facility began about four years ago, when, according to Dan King (Dr. King's husband and ACCD's chief operating officer) they "looked into the crystal ball" and saw the day when 30 to 35 boutique dental practices all offered the same services in much the same way. "We decided to break out of the pack," he says. "We decided to be in the top tier."
Continues King, "Look at the statistics. Half of the country does not visit the dentist on a regular basis. And even those who do go to the dentist usually view it a necessary evil." This "torture chamber" perception motivated the Kings to make going to the dentist an enjoyable experience. Explains Dr. King, "With the new technology and techniques for delivering appearance-enhancing care, the only thing missing was the relaxation aspect that a spa brings. We wanted our patients to not only get a gorgeous smile, but to actually enjoy the process. If dentists can convince just 10 percent more of the population to visit their dentist by making the visit a pleasant, pampering experience, it will make a huge impact on consumers and the dental profession."
And while out-of-state and celebrity clients have been drawn to the practice and continue to endorse the benefits of their beautiful smile, Dr. King says the majority of their patients are from the metropolitan Atlanta area. Many soccer moms and business people simply drawn to the practice as they drive by it.
King says the new facility was not a "build it and see if they come" venture. The 12-year-old practice was built the old-fashioned way — one patient at a time. Last summer, Dr. Richard Creasman joined Dr. King as a partner. In the fall of 2002, the ACCD and its staff of 25 moved into their current 8,400-square-foot offices.
The environment is carefully controlled, right down to the pervading scent of lavender and the soothing sound of waterfalls in the operatories.
Patients undergoing dental treatment are routinely treated to massages, paraffin wax hand treatments, heated neck pillows, soothing eye masks, customized "dental zen chairs" that incorporate sound and massage, or virtual reality glasses to view a DVD.
To ease their clients' anxieties, the ACCD has created a soothing, peaceful atmosphere. The ambiance is reminiscent of an upscale resort. The reception area is accented with comfortable furnishings, flowers, oil paintings, and a refreshment center with coffee, tea, bottled water, juice, and cookies freshly baked on site. Such amenities are immediately soothing for those clients who may be negatively anticipating a dental visit. Aromatherapy candles burn in various corners of many rooms. Instead of assistants in scrubs, cheerful dental "concierges" dressed in designer outfits greet clients by name and lead them to a "dental zen chair" where they get a "sound" massage. Clients also can surf the Internet, listen to music, or watch DVDs on a flat-screen TV while their hands and feet are massaged. All they have to do is say "aaah." The idea is that clients will hardly notice the dentist redesigning their smile. The bottom line — the ACCD not only wants clients to love their new smiles, but to enjoy the process.
General facts: The facility is designed so that the patient care is conducted on the first floor (5,000 square feet), while the support operations are conducted in the 3,400 square-foot space upstairs. The top floor also houses the bookkeeping offices, photography area, marketing department, full cosmetic dental lab, conference room, kitchen, and full bath.
Large conference room: One area frequently utilized is the large conference room upstairs. This space is where the ACCD holds internal-continuing education classes, staff meetings, study group meetings, and conferences.
Products display area: The practice also has a products merchandising display area much like those found in an upscale spa or hair salon. Here the ACCD tries to keep products available that they think will be of interest to its clients and that aren't generally available elsewhere.
Massage room:The ACCD employees a full-time massage therapist who has special training in TMJ massage..Patients can receive a full-body massage before or after their dental appointment. How does massage help accomplish better dentistry? As ACCD partner Richard Creasman explains, it helps with stress reduction. "When people are scared, their blood pressure rises and their body produces more adrenaline. This affects the anesthetic. It goes through your system more quickly and is less effective," he explains. "Studies have shown that massage releases endorphins and lowers your blood pressure." In other words, you will need less anesthetic for the same numbing effect.
Staff kitchen:Upstairs is a staff kitchen where team members can make their lunches and prepare for receptions, etc. The kitchen also houses combination lockers for the staff where they can keep their personal clothing, purses, and effects.
Staff break room: A small break room is located downstairs. Team members can grab a quick soft drink or bake cookies for the clients.
Deck: The building was constructed with 800-square-foot deck areas on each side wing. If someone wants to get some fresh air, make some calls outside, or have lunch in the sunshine, it's just a quick step outside through the French doors. It is important to have a fun office, and periodic barbeques for doctors, staff, and their families out on the back deck is one of the things that helps keep the environment pleasant.
Elevator: Installation of an elevator not only accommodates handicapped visitors, but also helps with transporting supplies, etc. upstairs.
Doors: The doors are heavy and oversized with large brass handles. Everyone that enters touches them and is amazed at the quality of the architectural detail.
Sound system: Dan King emphasizes the importance of an integrated sound system. "When you walk up to a Starbucks, you hear the music that they have piped on the sidewalk first before you walk inside. It is the same with our office. We have Bose speakers throughout, including all operatories. All operatories and other zones have individual volume controls," he adds.
Technology:Minimizing the number of "cooks in the kitchen" is this practice's philosophy toward dental technology. The practice worked with Patterson's team, who provided the hardware, software, and equipment. Technology plays a vital role in maintaining the warm, comfortable atmosphere, special amenities, and "Five Star" service. Clients also experience the wonderful world of high-tech dental technology, including:
• Intraoral cameras
• Accelerated in-office whitening systems
• Computerized anesthetic delivery system
• Computerized periodontal probing system
• Digital radiographs
• Diagnodent
• Joint vibration analysis
• T-scan
• CAESY patient education system
Consultation rooms: The ACCD has three consultation rooms. They are outfitted with flat-screen panels and CD burners that are used to record PowerPoint treatment plan presentations for clients. "It's just a nice, private place where we can really listen to what clients have to tell us about their smile and what they want us to achieve for them," says Dr. King.
Photography area: ACCD routinely uses digital photography and imaging to show patients the possibilities for an incredible new look. This room satisfies the need for an area where professional-quality photography and imaging can take place.
Dental zen chairs: From the dental chair, patients can watch CNN, surf the Internet, check their email, watch a CAESY patient-education video, or their favorite DVD. The practice also installed a surround sound system into the dental chairs that gives a sound massage. They have dubbed this new innovations the "dental zen" chair
Other technology: The ACCD has internal and external digital video surveillance cameras. These have customer service applications (so we can see which patients are arriving), as well as for enhanced security.
The external doors and a number of internal doors have computer-controlled access. The computerized entry records that entrants are authorized personnel. There also is a state-of-the-art alarm system.
Dental equipment: The practice invested in high-quality, A-dec cabinetry and chairs. All of the cabinetry has a rich wood finish that enhances the warm ambiance of the facility.
This continues to the floors, which are Brazilian cherry wood. Together with the wood-toned cabinetry, it creates a very comfortable feel.
Sterilization area: The sterilization area is close and centrally located to the operatories, cosmetic suites, and hygiene rooms. Patients may not ask, but they are always concerned with hygiene and safety. The practice intentionally created the sterilization center to look like a NASA center, with white panels and Triangle large units with blue and red lights. This conveys wordlessly that sterilization techniques are state-of-the-art.
The aesthetics of this facility speaks volumes about the ACCD's commitment to comfort and quality of dentistry