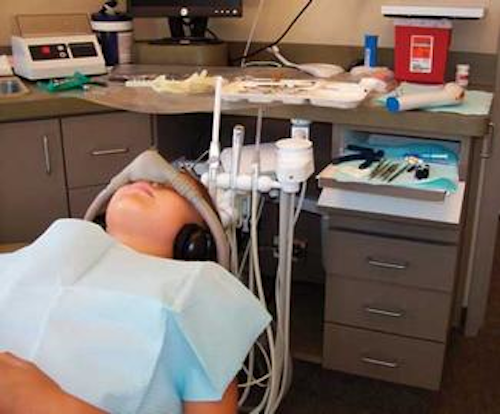 by Vaishali Singhal, DMD
A significant portion of the population believes dentistry is painful, or at least very uncomfortable. As a result, these people avoid the dental office at all costs, or make an appointment only if they are in severe pain.
These folks pose a real challenge for practitioners because they are highly anxious. They feel pain, and they believe they will have even more pain in the dental office. Many times these patients need antibiotics and pain medications to alleviate an infection. Once they become comfortable with medications, they often do not return for the treatment necessary to keep the problem from recurring, and the vicious cycle of pain and missed visits continues.
As practitioners, if we take the time to handle these patients with a lot of patience, we can help them realize that dentistry does not have to be painful and can even be pain free. Over time we can also show them that preventive visits are much more beneficial than coming to the office only when a problem arises. What is the best way to handle such a population? Various methods and levels of sedation are available. Some practitioners administer IV or IM sedation. This method is usually reserved for highly fearful patients who benefit from deep sedation in order to have dental work completed. Another method is conscious sedation. This requires no injections, and nitrous oxide is the inhalation anesthetic used. It also has analgesic, anxiolytic, and amnestic properties.
Nitrous oxide is not metabolized by the body. Once it is inhaled and has a sedative effect on the patient, it is exhaled through the lungs unchanged. This is a benefit to the patient because once the nitrous oxide is terminated and he or she is placed on 100 percent oxygen at the end of a procedure, the patient is restored to his or her normal state of consciousness and can resume daily activities. This is not the case with deeper sedation methods, where someone must accompany the patient to and from the office, and the patient cannot resume daily activities for several hours.
For the anxious patient, nitrous oxide sedation may be a beneficial choice. Due to the drug's anxiolytic properties, the patient will be more relaxed in the dental chair. Because nitrous oxide has analgesic properties, it has the ability to raise patients' pain threshold, and they will be more tolerant to how they perceive pain. An anxious patient who has been made comfortable in the dental office will be a loyal patient for a very long time. Not only have you done a justice to that patient, but you have also enhanced your practice. Many of these patients will refer you to their friends and acquaintances, some of whom will be anxious and want to be treated in an office that administers nitrous oxide sedation.
Available systems and sizes
Nitrous oxide is administered in a 25 to 50 percent mixture combined with oxygen. In the dental office, a nasal hood delivers the mixture to allow for access to the oral cavity. The nitrous oxide and oxygen are packaged into tanks that are delivered to the dental office. The tanks and machines can be portable, or fixed and connected to a central system in the office. The portable system uses a portable yolk stand onto which the E size nitrous and oxygen tanks attach. The system can then be moved from one operatory to another. The yolks may hold two tanks (one nitrous and one oxygen), or four tanks (two nitrous and two oxygen). The benefit of this system is that the initial set-up costs are lower than the cost of a centralized system. The portable machines range from $2,300 to $3,000. Also available is a digital portable unit for about $5,500. The portable system is a good way to start using nitrous oxide before investing in an expensive centralized system. A small office without the room to install a centralized system may also benefit from the purchase of one or more portable units.
Some offices may install a central nitrous oxide system that operates via a manifold, which has several benefits:
Though initial set-up costs are high, this system is more cost effective in the long run as the smaller E tanks of a portable system are more expensive than the larger G or H tanks because of the high cost of packaging of the gases.
The centralized system is more convenient as it minimizes the need to change tanks frequently. Not only are the tanks larger than those of a portable system, several tanks can be connected via a manifold system. When one tank is depleted, the system will automatically switch to the next available tank. Such a system can connect up to 10 units in an office and is beneficial when a large office must supply nitrous oxide to several operatories.
Benefits for your practice
Now that we have discussed the differences in these systems based on costs, how can nitrous oxide be a practice builder? As mentioned above, the anxious patient you successfully treat will refer his or her friends and relatives to you. Many of these new patients will request nitrous oxide for a more relaxed dental appointment. Many insurance companies will not cover the cost of nitrous oxide sedation, which means that this is an out-of-pocket expense for the patient. A patient who truly believes that being sedated will make the appointment less stressful will consider it a worthwhile expense.
The average cost to the patient for nitrous oxide is $50. Some offices charge this fee on a per hour basis, and some charge it on a per visit basis. Some offices build the cost of nitrous oxide sedation into their procedural fee structure. Offices that administer nitrous oxide once a week will increase their revenue by $200 to $250 per month. As the referred patients visit the office, the use of nitrous oxide sedation will increase. Nitrous used once per day will increase revenue by approximately $1,000 per month based on a five-day workweek. This is an additional income of $12,000 per year. Nitrous oxide administered twice daily will increase office revenue by $24,000 per year.
Patient selection
One must remember that even though nitrous oxide is a wonderful practice builder, it may not be beneficial for all patients, and patient selection is important. Patients who are not anxious about their dental visits may not be candidates. Highly fearful patients may benefit more from IV sedation, as sedation levels of nitrous oxide may not be enough to alleviate their fear. Nitrous oxide can be combined with other sedation methods, but the practitioner must be knowledgeable of the effects of the drugs both alone and combined.
The practitioner must remember that nitrous oxide sedation is not a replacement for local anesthetic. It can help alleviate the anxiety of receiving the local anesthetic injection, and may also be beneficial in pediatric offices. In pedodontics, it is used to calm very young children and may be combined with other sedative agents.
A few contraindications for nitrous oxide sedation are pregnant women in the first trimester, patients suffering from COPD, patients with upper respiratory tract infections and middle ear disturbances, patients suffering from psychological disturbances, and current or recovering drug addicts. With proper patient selection and administration, nitrous oxide can be an asset to a dental office.
Dr. Vaishali Singhal, DMD, is a graduate of the University of Medicine and Dentistry of New Jersey Dental School. She is a full-time faculty member at the University's School of Health Related Professions, Department of Allied Dental Education. Dr. Singhal teaches courses in medical emergencies, dental radiology, pharmacology, pain control, and nitrous oxide sedation. Dr. Singhal has given lectures for the ADAConvention at New York's Jacob Javitz Center, as well as in AtlanticCity for the annual New Jersey Dental Association Convention. You may reach Dr. Singhal via e-mail at singhava@umdnj.edu.