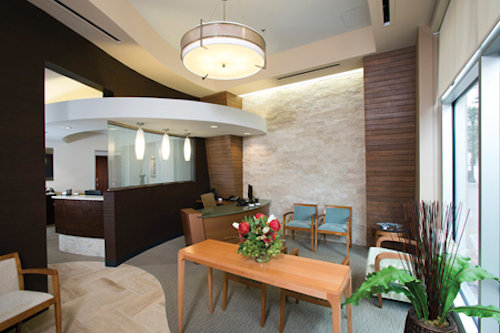 Stephanie Morgan, RID, LEED AP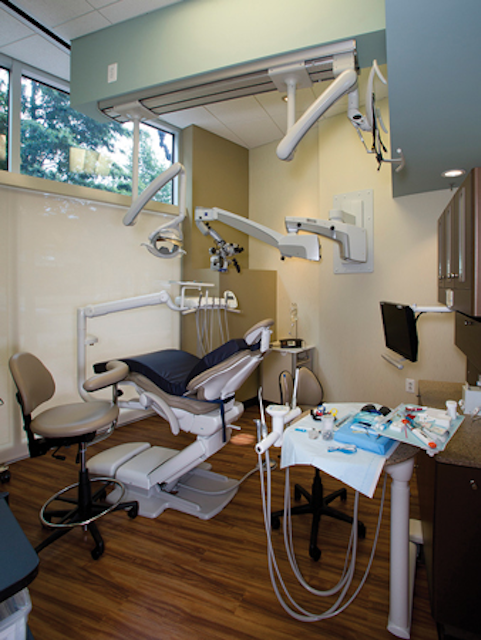 Your dental facility is the face of your practice. It creates the first impression of who you are professionally, and it's one of the most important marketing tools for your practice. How the facility looks and functions should not be put to chance; instead it should be meticulously designed with attention to current and future business needs.
It has the ability to portray your quality of service and level of skill while also reducing patient fear. It also serves the largest role in supporting a profitable practice from the standpoint of functionality and workflow. The more efficiently dentists and staff move through the space, the more productive the office becomes. Conversely, should the office be designed poorly and inefficiently, the exact opposite can occur. Patients can become uncomfortable and may not refer other patients, or they simply may not return. The practice can lose money from inefficient layouts and potential ergonomic issues related to repetitive movement injuries.
While every area of the office is important, one could argue that the operatories are the most important when it comes to ergonomics and workflow. These are the places where it is imperative for the surroundings to be as ergonomic as possible while maintaining a feel that is not only esthetically pleasing, but also calming.
In order to achieve the highest design standard in an operatory, you should ask a few questions before building a space. How long will you be in your space? What kind of delivery unit will you be using-rear, over-the-patient, side delivery, or carts? Do you need specialty or enhanced rooms for specific procedures?
To reduce fear and confusion, the equipment should have the lowest visibility possible to patients. Many times X-ray heads and other equipment can be placed on the rear delivery wall or center island cabinet, and the delivery units can be located around the head of the patient where staff and patients do not walk.
The side cabinets should remain uncluttered as much as possible. The foot of the patient chair should be pointed toward an end wall that contains either a window or soothing piece of art to help distract and calm patients. The ceiling lighting should not be directly over the head of patients when they're lying down, and the fixture itself should have indirect qualities. The operatory light or headlamp provides enough task lighting for the operating field, so the rest of the room's illumination should fill the space without glare or hot spots.
To make the greatest ergonomic impact on the staff, the goal is to have complete freedom of movement and easy access to instruments. For assistants, legs should be parallel to the back of the dental chair. Hips should be opposite the patient's shoulders, and assistants should be able to sit comfortably and reach the area of instrument transfer without bending, twisting, or leaning. For the doctor, there should be enough room at the head of the patient to allow for an unrestricted range of motion from the 9 o'clock to 12 o'clock working positions.
When it comes to the look of the space and the finish materials, one should consider all commercially-rated finishes. The dental cabinets should be made of high quality laminates. Stained or painted wood is not preferred from a durability standpoint. The countertops should be made from laminates or non-porous solid surface materials. Granite and other natural stones are not recommended because they are porous and will not stand up over time to the use of chemicals.
The flooring should be a commercial grade vinyl or carpet. Tile is not favored because of sound control issues and the ease with which instruments can break when dropped on tile. Wood is not good from a durability perspective, and laminate floors can be loud and hard to clean. When choosing materials and colors, visualizing the look of the operatory can also pose a challenge. Fortunately there are new visualization methods emerging that will help dental office owners make these decisions before construction begins.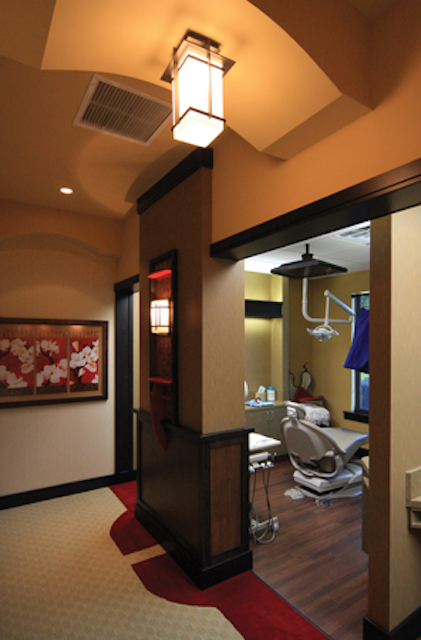 One such tool, inView by Pelton & Crane, is a comprehensive web-based dental office design tool created to methodically guide dental professionals through the office design process. Designed for dental professionals who are starting, growing, or remodeling a dental office, the program breaks down the office design process into six manageable phases based on time tested project management best practices.
Considering different color and layout options? Check out Pelton & Crane's Interactive Design Center. The Design Your Own color selection tool allows you to explore Pelton & Crane's complete catalog of more than 80 colors to create the perfect combination.
Deciding to move forward with a new office design project can be nerve wracking, and it's a decision that most dental professionals make only once or twice in their careers. The good news is that you do not have to do it alone. Organizations such as EnviroMed Design Group and Pelton & Crane would love to help you bring your dream office to life. Schedule your free in-office design consultation today!
---
Stephanie Morgan, RID, LEED AP, is a principal at EnviroMed Design Group, a full-service firm specializing in beautiful, ergonomic, and functional dental office design. Trained at T.H.E. Design, Ms. Morgan has extensive experience in this field and knows the key components needed to facilitate a successful practice. Her clients truly love where they work! For a complimentary consultation, contact her at stephanie@enviromedgroup.com, (512)707-7400, or visit enviromed.com.