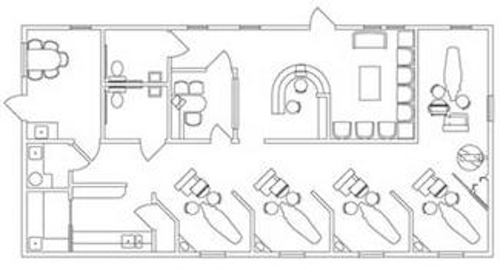 by David J. Ahearn, DDS
One of the most valuable and lasting improvements that any dentist can contribute to a successful practice is an investment in great office design. Whether remodeling an existing office or creating a brand-new facility from scratch, several essential design elements should be considered to help create a more productive, comfortable, quiet, and user-friendly practice.
There are many distinct styles of practice. Clearly, dental office design is an individual matter based on your needs and budget. Nevertheless, the following key issues are common to any office:
• Aesthetics
• Empowerment of key personnel
• Noise control
• Rapid access to key equipment and materials
This two-part series contains the 12 elements that are essential to your success. They will provide you with what you need to know – from creating a sense of excitement to the effortless integration of high-tech equipment into your practice.
1"Right size" your practice
The new office should be large enough to accommodate the needs of your personnel and patients comfortably. This statement seems quite obvious; however, often we are asked to consult on new (sometimes completed) office designs that, upon evaluation, reveal plans that are significantly under- or oversized. A careful assessment of the practice numbers – including a procedure analysis – will provide good indicators for your appropriate design targets. The goal is to create a patient flow that allows for high efficiency while preventing bottlenecks.
2 Your office and your life
We all know that providing dental care can be stressful. You and your staff need a place to unwind and socialize. Leave room for a little fun. Ideally, this area should be as far removed from the clinical space as possible. Conversely, to stay abreast of those essential activities that pay the bills, consider locating your private office close to the clinical area. A conveniently located private office can help you monitor the "pulse," the comings and goings, and allow clinical staff ready-access to you. Don't hide the real office manager from the practice. (Figure 1.)
3 Hub-and-spoke
The sterilization and resupply area is the clinical hub of your production terminal. Think Federal Express! Make sure this area is centrally located and fully equipped both for sterilization and restocking the entire facility. If you are creating an office with fewer than 10 treatment areas, don't even consider multiple sterilization locations – centralize it! Also, don?t waste money on a pre-fabricated "sterilization center." These centers are too compact for most offices that do not employ a full-time sterilization assistant, and do not provide a good cost-to-benefit ratio.
While there is no magic to creating an optimal design, the details of your sterilization area are crucial. Frequently, doctors are sold sterilizing equipment that is faster and supposedly more efficient. The concept of rate-limiting steps has rarely been studied in dentistry. Simply stated, any given process will flow no more quickly than its slowest step will allow.
In a busy office that is properly staffed for efficiency, the rate-limiting step in sterilization is how often a clinical staff member is able to move the sterilization technology cycle along, not how fast each individual piece of equipment functions. Therefore, the fastest equipment is rarely quicker in achieving its actual objective of returning instruments back to treatment than a well-organized, high-flow stericenter. While we certainly are not advocating slow equipment, a proper layout, ease of use, and durability should be your primary keys to stericenter purchasing decisions. (Bottom left, Figure 2.)
4 Inventory is easy
Centralize all of your storage – not just your bulk purchases. Consolidate your active storage for rapid room resupply as well. This aspect of your design should not be an afterthought. We see far too many offices that are burdened with tens of thousands of dollars in supplies that are scattered throughout the office! This makes purchasing control and stock rotation impossible. It also inhibits the adoption of new generations of products, and allows product outdates to occur.
Your resupply system should be hidden from patient view, yet immediately accessible and within easy reach to clinical staff. This provides for both rapid access and ease of just-in-time inventory control. Products should not be allowed to remain in their bulky promotional or shipping containers and, when possible, should not be stacked vertically. (Figure 3.)
5 Lab links
Although every practitioner knows that the dental lab feeds resupply directly, too many office designs completely isolate these closely integrated areas. The office design should facilitate a quick and convenient transfer between these locations, yet they must be physically separate even if a minor amount of model work (trimming, etc.) is performed in-office. Labs need doors. Sterilization and resupply must be open to the clinical space. Make sure that the steady stream of items flowing between these areas is unobstructed. They are separate, yet united. (Figure 4.)
6 Silence is golden
The importance of creating effective sound barriers and sound cushions within the dental office cannot be overstated. In the past, it was acceptable to physically isolate a "waiting room" from the rest of the office. This is no longer appropriate, because patients expect to be treated as guests – not as inventory or part of the furniture! Accordingly, superlative sound control is imperative to provide a quiet atmosphere in what has become the combined front office/guest-seating area.
Patients hate the sound of dental drills – even more than we can imagine! Fortunately, many acoustical techniques are available to minimize this problem. The sound-reflectivity of high-pitched, air-rotor turbines presents unique challenges demanding careful evaluation of soundproofing details.
Remember, acoustical planning involves not only physical barriers, it also includes wall compositions, strategic door and window placements, and, occasionally, state-of-the-art ceiling and wall coverings. Much-needed sound-deadening coefficients can be obtained through a variety of different wall and floor design modifications.
These principles serve as the design foundation for your practice. In the next article, we will complete the list with a discussion of integration, consolidation, and mobilization, as well as cost and the "wow" factor.