FOR DECADES there have been relatively few improvements to make removable dentures efficiently. We would take a primary impression, then a secondary impression, use wax rims to try to establish occlusion and tooth position, have an anterior setup try-in, and then a full try-in. At some point in between, the case would probably be sent back to the lab because the setup wasn't right, and before you knew it, you would have spent 10 appointments and lost every possible dollar of profit you had hoped to make from the case. We would always hope that the patient would present with a serviceable enough set of dentures that could be duplicated by the lab for use in the process, but that would mean the patient had to go without his or her dentures for a day or more.
With digital scanning and 3-D printing, we can shortcut this process without losing the quality of the final product. In fact, for many cases, the quality is improved over our age-old workflow. There are several ingenious doctors out there who have fully digital workflows—from impression, to setup, to 3-D printing of the denture itself using the latest materials. The downside to this process so far is that it requires significant doctor time and an understanding of the software. Many dental laboratories are skilled in various software programs that can design the dentures for the doctor, but this often requires multiple try-in appointments and extra steps in communicating any changes needed. 
In my office, we have moved to a hybrid workflow that uses digital scanning and 3-D printing along with traditional steps for the wax try-ins. This workflow has made communication with the laboratory simple, yet with a plethora of information provided in one appointment. Patients no longer have to go without their old dentures for any amount of time. We are still able to artistically work with the patient chairside to find the optimal setup and tooth positions. This more efficient workflow allows us to offer our patients a great final product at a lower overhead cost. Here are the steps we use in our workflow.
No. 1: Consultation
We start gathering information before patients even say "yes" to our fees and give consent to get started. What do they want changed? How does the current setup of anterior teeth look in the "picture frame of their smile"? Do the upper centrals need to be moved up or down? Is the midline correct? How do the teeth appear in a profile view? Are the flanges of the current denture overextended or too short?
At this appointment, we digitally scan the patients' individual dentures extraorally chairside while they watch. The "wow factor" of the technology has been proven for us as it gives patients confidence in our ability to help them, and it has greatly improved our case acceptance rate.
No. 2: 3-D print the dentures
Once patients have decided to move forward and have made a financial commitment, we print the dentures using a FormLabs2 printer (figure 1). If, during the consultation appointment, we felt that significant changes to the anterior setup would be required, we make simple modifications using Meshmixer software to elongate/shorten/position the centrals (figures 2 and 3). There are many great new resins coming out specifically for 3-D printing of dentures.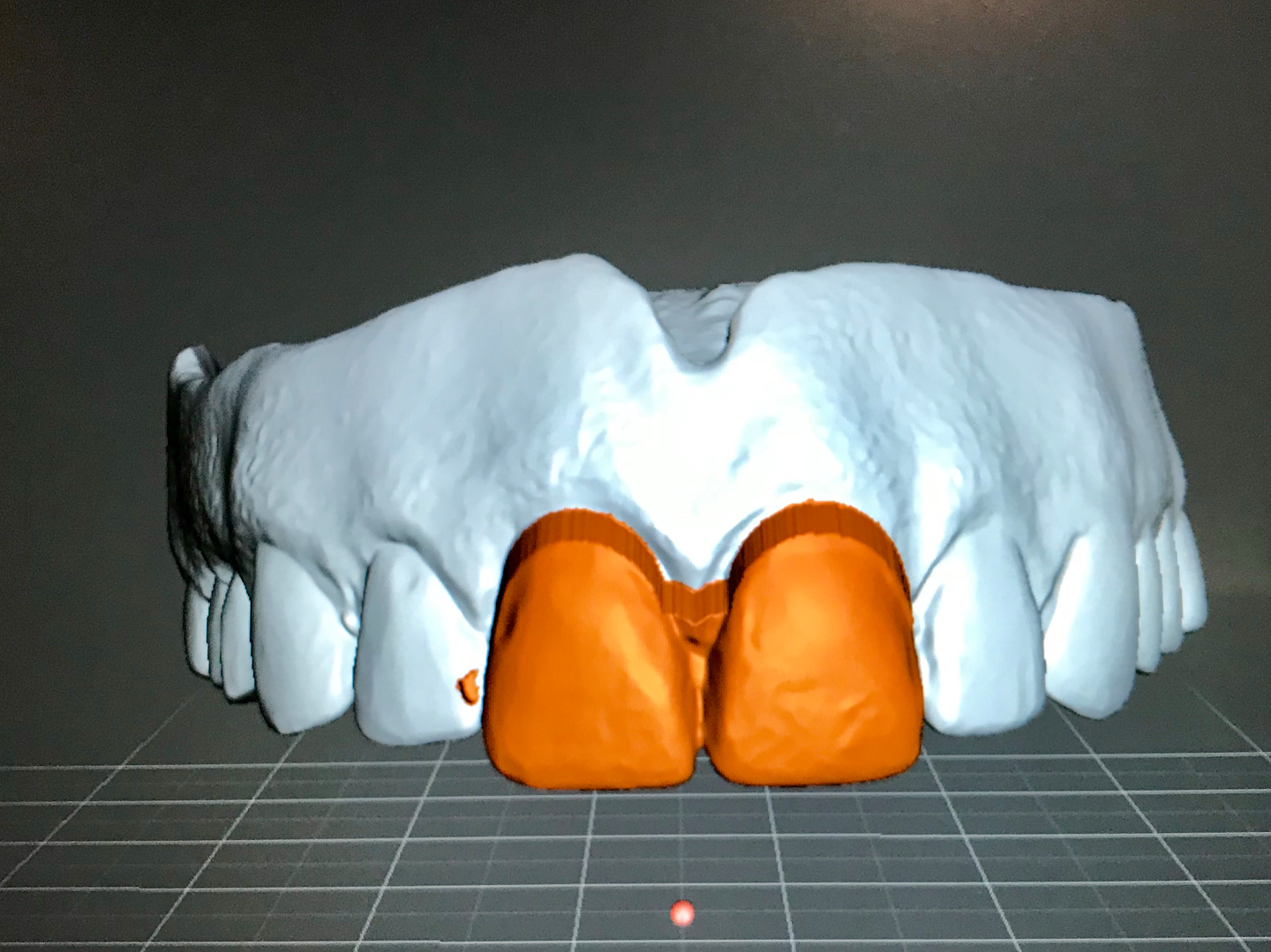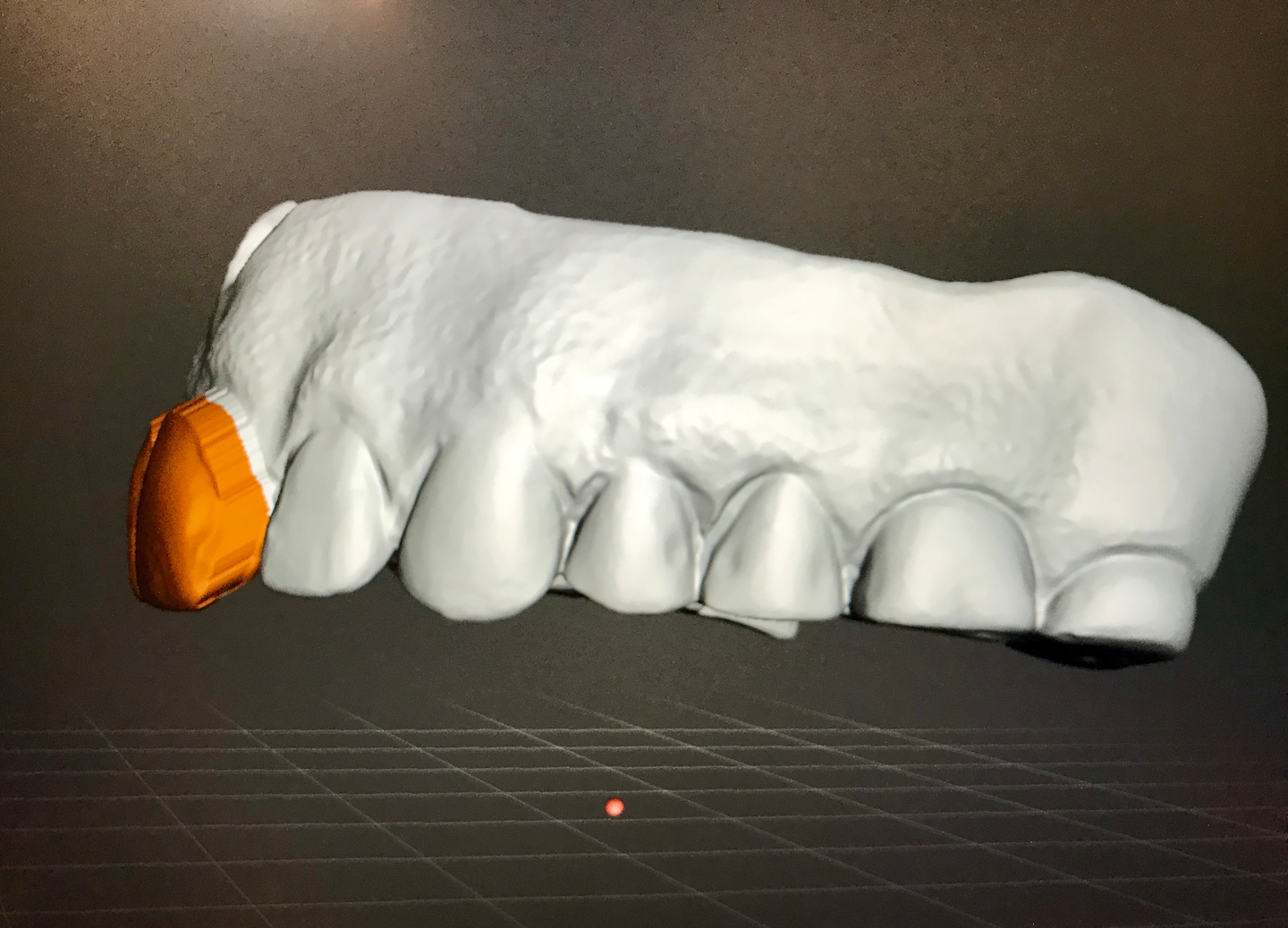 Figures 2 and 3: Manipulation of incisal edge position using Meshmixer software

No. 3: Prepare prints for next appointment
Once cleaned and cured, the newly printed dentures are prepared for use as custom impression trays, bite registration, development of anterior tooth position, and communication of desired tooth size and shape. We remove approximately 2 mm from the flanges if those areas were deemed to be overextended. We remove all sharp points created from the printing supports. Then, with a #4 round bur, we punch holes in the intaglios so that the impression material can easily flow through without distortion or excess pressure on the tissue. Just before patients come in, we add a thin layer of impression adhesive to the denture. We are sure to cover the flanges at this time (figure 4).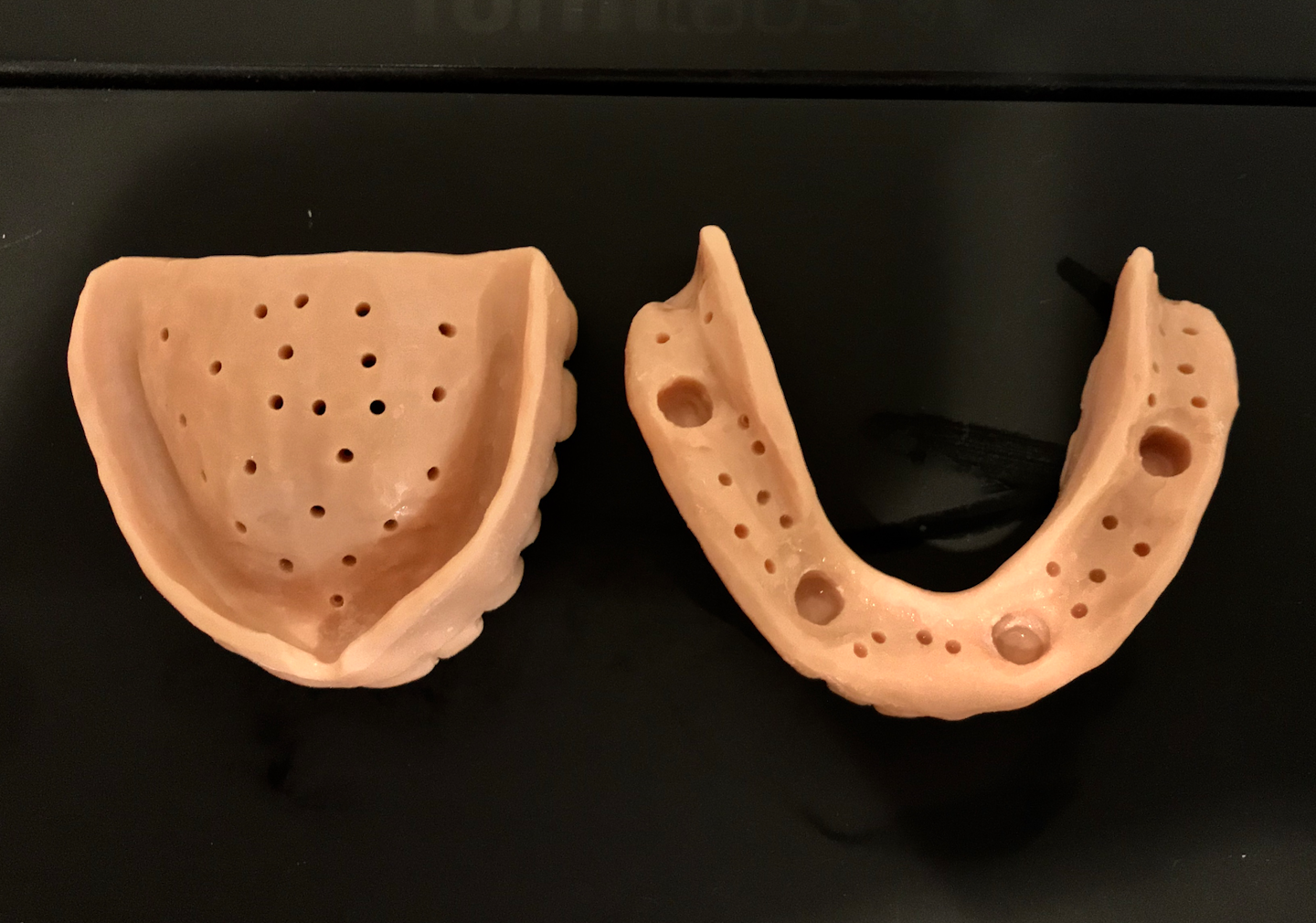 Figure 4: Processed 3-D printed dentures ready for final records

No. 4: Final impressions
Using the 3-D printed duplicate dentures as custom trays, we take our final impression with polyvinyl siloxane (PVS) material, making sure to establish proper borders. At this point, the final position of the maxillary centrals is established. It can be as simple as drawing a line on the current setup and adding composite resin to change the length or profile position. The occlusal plane is registered and photographed for the lab, and finally occlusal position is established. Frequently, we need to open a patient's vertical dimension, which can be done easily by adding acrylic to the duplicated denture teeth at chairside.
No. 5: Full wax try-in
Here's where we are back to analog. Personally, I like to work with patients chairside to find what they feel is the best esthetic setup for them. That's hard to do if working fully digital. So, at this point, we will tweak a few things such as rotating the laterals, intruding the centrals, etc., to find a great balance between function, phonetics, and esthetics. The best part is that these come back from the lab nearly perfect. No troublesome, big changes will need to be made in the posterior; just small adjustments to personalize the setup to each patient's needs.
No. 6: Delivery
Since we started using this hybrid process, we've yet to have a case not drop right in and feel comfortable for the patient. The occlusion has been spot-on each time (figure 5). Best of all, there's no more trepidation when I see that we have a denture delivery on the office schedule!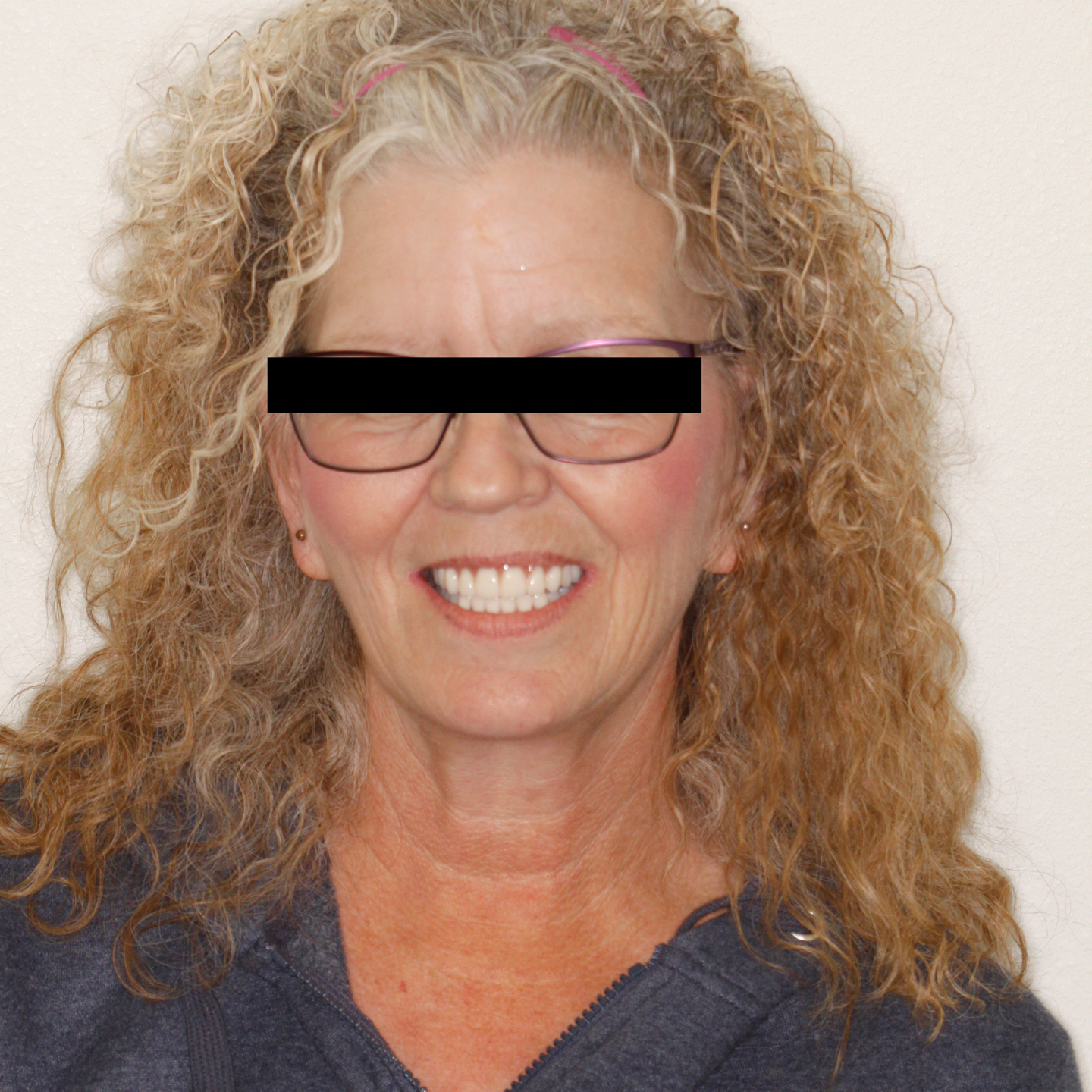 Figure 5: Great final result in three appointments

I have no doubt that in the future we will move toward doing more steps digitally. The convergence of digital images of patients smiling with designs of their future dentures is exciting and will continue to improve our process. But for now, this hybrid approach of scanning and printing dentures followed by analog impressions and try-in has greatly improved our efficiency and results.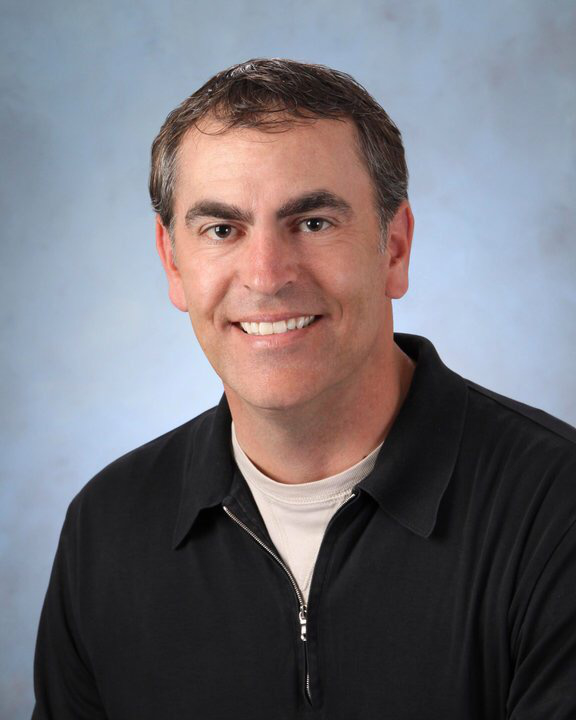 CRAIG HARDER, DDS, a native of Spokane, Washington, is a 1995 graduate of the Creighton University School of Dentistry. He practices in Moses Lake, Washington, and previously served as the Grant County Health Department's dental liaison as well as Access to Baby and Child Dentistry champion.