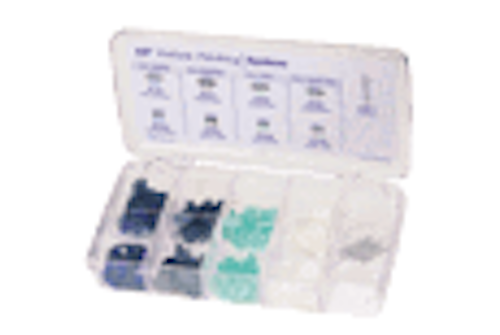 Joseph Blaes, DDS
Pearl 1 -
Esthetic Polishing System by Brasseler. Here comes a great new composite-polishing kit from the polishing experts. This is a new "sandpaper disc" polishing system by Brasseler with some unique features that, in my opinion, make it a great system. The mandrel system is completely different from any I have seen. The disc attaches to the mandrel via a plastic material that does not allow the mandrel to come through the center of the disc. Now you have only polishing material in contact with the composite restoration. There is no metal center to knick or discolor the finish of the composite. The Brasseler system comes in two sizes and four grits. The coarse discs are safe-sided and the other three sizes have grit on both sides of the disc. They cut well and have a good flexibility to allow you to get into those tight places. Another innovative product that makes our lives simpler! Call Brasseler at (800) 841-4522 to order or for details.
Pearl 2 -
E-Z Temp Inlay and E-Z Temp Onlay by Cosmedent. Finally, a neat new temporary filling material for inlays and onlays does all the things you want a temporary to do. I want a temporary that is consistently easy to handle, quick to place, easy to get the bite right, a decent shade, doesn`t require cementing, little or no sensitivity for the patient, does not come out between appointments (but is easy to remove at the seating appointment), and one that can be placed by either the dentist or an auxiliary. This new inlay/onlay kit from Cosmedent does all of the above. E-Z Temp is a light-cured temporary restorative designed for inlays and smaller, one-cusp onlays. The material is quick and easy to place - you don`t even need a matrix. As you light-cure the material, it will expand enough to seal the cavity, protect the tooth, and prevent sensitivity. After the material is set, you can actually carve it (it will feel like you are carving soap). It has excellent retention but is quick and easy to remove and leaves no residual in the tooth, so the cavity is clean and ready for try-in or etch. This is one of those materials that you can sit around and think of many more uses for. For instance, use it to close endo access (all endodontists should have some E-Z Temp in their offices and get rid of that awful stuff they use that is so hard to remove); use it to seal implant screw access between appointments; use it for emergency lost fillings; the list is endless. The E-Z Temp onlay material is a stiffer version for better retention with larger restorations. You can order E-Z Temp in a unit dose kit or in syringes. I couldn`t practice without this one! Order your kit from Cosmedent by calling (800) 621-6729.
Pearl 3 -
BD® Dental Needles From Crosstex. BD (Becton Dickinson) makes most of the needles used in hospitals and physician`s offices. This giant needle maker has recently introduced a new line of dental needles. I first saw the new BD® Dental Needle at the Wisconsin State Meeting last May. As often happens these days, a good friend of mine said that he had a great new product to show me. At lunchtime, he literally dragged me on to the exhibit floor and over to a booth that was showing the new needle that he felt should be a pearl. At the booth, I looked at the needle and said, "So, someone else has entered the needle market; what`s the big deal?" Well, BD has rigged up a "Sharpness Testing Device" that I tried, using my favorite needle as a comparison. The test was very convincing, so I decided I needed to try some of these needles on my patients. The next time you are at a meeting, stop by and try the test yourself. In the medical industry, BD is known for sharp needles. Sharp needles mean less pain when the needle penetrates tissue and less deflection of the needle as it moves through the tissue. I have found that the BD® Dental Needle has a significant improvement in sharpness, and this results in dramatic reductions in both penetration and drag forces. What this means to patients is less pain and a quick, easy injection. For details, call Crosstex at (888) CROSSTEX (276-7783). Order from your dealer.
Pearl 4 -
Esthet-X™ Micro Matrix Restorative by Caulk. Another new composite - just what you need, right? Well, maybe ... if it would do some things that other composites don`t. Esthet-X™ falls into the category of the new "universal composite" systems. The "Micro Matrix" means that the particle size is smaller, to give the material a brilliant, durable polish that is comparable to the microfills. The material also has the physical properties of an advanced hybrid composite and thus can be used on posterior teeth. This material has combined the best of the hybrids and the best of the microfills into one great new product. Esthet-X™ is nonsticky for easy handling, and it is less sensitive to ambient light so you will experience a longer working time. The material is actually fun to work with because you can carve it and it resists slumping. It comes in 31 shades in three different opacities, so you can build very natural-looking teeth. Call Caulk at (800) 532-2855 or visit www.caulk.com. Order from your dealer.
Questions?
Maybe you`ve observed that a product reviewed in Pearls performed differently for you. Maybe I can help. Let`s chat! E-mail me at: joeb@pennwell.com. Or fax to: (918) 831-9804.
Pearl 1
Pearl 2
Pearl 3
Pearl 4