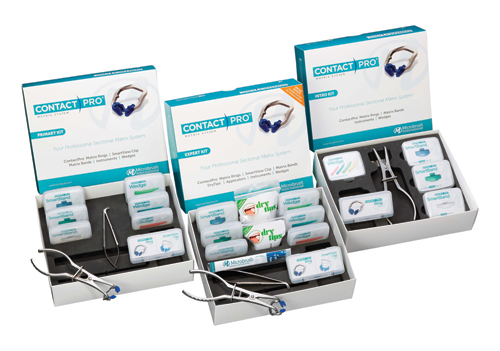 Howard Glazer, DDS, FAGD
ContactPro sectional matrix system
from Microbrush International
Question: What metal is like a rubber band? Answer: The metal in Microbrush's ContactPro ring, which has been engineered to allow it to expand easily but return to form once removed from the tooth. This easy and wide expansion also allows for a wider field of visibility when the ring is placed over the tooth to secure the sectional matrix band. This also means easier access for your curing light.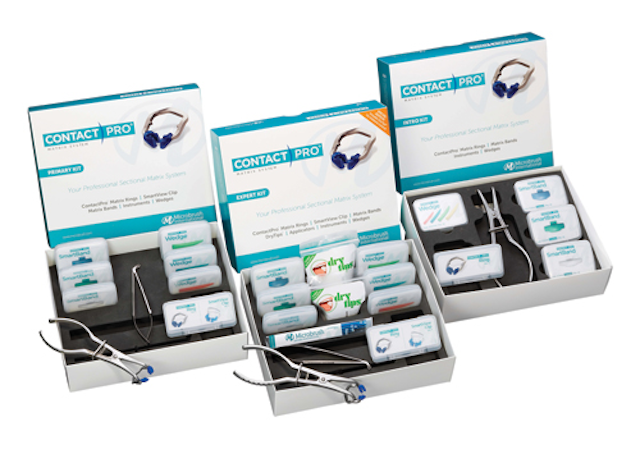 Microbrush has a proprietary SmartBand that is ultrathin and has a nonstick coating. SmartBands come in various sizes and all have a definite marginal ridge that allows for proper marginal contouring, along with a subgingival "cuff" to allow for smooth placement, at the interproximal subgingival surface when held in place with the ContactPro contoured wedge(s). These rings can be stacked for adjacent Class II restorations or even for a single mesio-occluso-distal preparation.
Take a look at the SmartView Clip too. This is designed to act like a rubber-dam clamp and improve visibility. There are three types of kits—intro, primary, and expert—that contain rings, ring and band forceps, sectionals, and wedges. You can't go wrong with any of these kits, and I have found that I can achieve great contact and margins each and every time. By the way, you can get a free trial of ContactPro if you contact Microbrush at (847) 458-5518.
ASAP, or All Surface Access Polishers,
from Clinician's Choice
ASAP is an abbreviation for All Surface Access Polishers (Clinician's Choice, United States; Clinical Research Dental, Canada). ASAP also generally means you want something done fast. These are great polishing wheels that do just that.
They provide a super high shine with just two steps. The prepolisher (purple) is embedded with diamond particles (44 microns) that eliminate minor surface defects, while the final high-shine polisher (orange) gives you a high-gloss appearance in seconds. The unique spiral design reaches all accessible surfaces and is designed for use on composite resin, resin-modified glass ionomers, porcelain, denture-base acrylics, lithium disilicate, zirconia, and bis-acryl provisional restorations.
These polishers are used in a slow-speed, latch-type handpiece at normal operating speed in a clockwise direction, and they truly do bring out the best in your restorations. You only need to use light pressure to bring up a high glossy luster, and thus you avoid the potential of frictional heat generation that causes pulpal sensitivity.
There are two sizes available for both wheels: a 10 mm diameter wheel for pediatric patients and patients with restricted access and a 14 mm diameter wheel for adult dentition. The polishers are autoclavable, and the manufacturer claims they can be autoclaved upwards of 30 times.
All too often, dentists will focus their efforts on creating successful restorations without spending a sufficient amount of time polishing the restorations. Patients want perfection in your treatment, but all they see is the final polish. These polishers allow you to provide both to satisfy the esthetic needs of the patient.
My generation of dentists learned to mix materials ranging from alloys, to bases and liners, to impression materials, to so many other powder and liquid materials. Today's generation of dentists is inundated with automix materials to ensure proper mixing and proper outcomes. For my inlays, I vividly remember using a very good product called DuraLay Inlay Resin Kit (Reliance Dental Mfg. Co.) with a distinctive odor and red color. Today we have an automix dual-cure acrylic pattern resin from Taub Products called Stellar DC Acrylic, and it is truly stellar.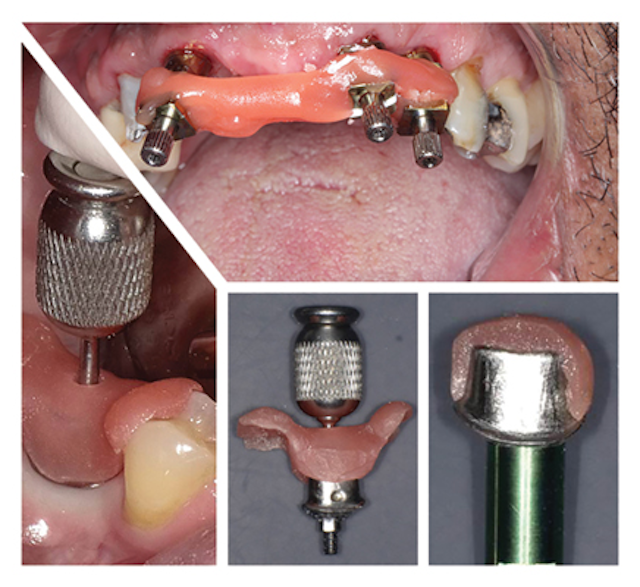 To help validate the product's merits, I had prosthodontist Zachary Sonkin, DDS, review it. His comments can be summarized in brief: "Stellar allows you to accomplish tasks that would be otherwise arduous and time consuming . . . It is self-cured in no longer than one minute or light cured in only 20 seconds, and it has a five-second tack cure."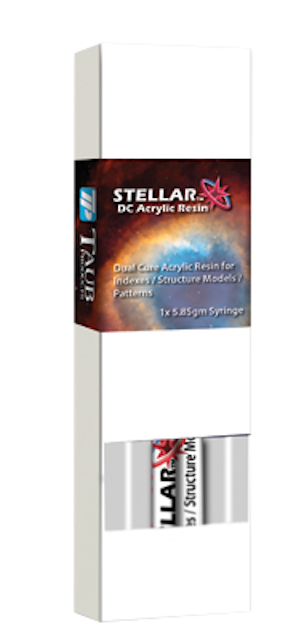 We have found that it does not slump during the setting phase, and there is no polymerization heat and no shrinkage. This becomes critical when creating implant verification jigs or solder indexes or pickups. Note too that it burns out cleanly without any ash residue. Dr. Sonkin and I agree that using Stellar to create a seating jig chairside for multiple implant placement in the posterior region of the mouth maximizes the predictability of a good result.
Thanks and a tip of the drill to Taub for a great product, along with GoCHx chlorhexidine gel and Zero-G Bio-Implant Cement, all of which allow us to provide optimal implant placement and exacting results.