New Products
A common problem related to the surgical placement of dental implants is the difficulty clearly seeing the depth markings on the drills.
Oct 1st, 2005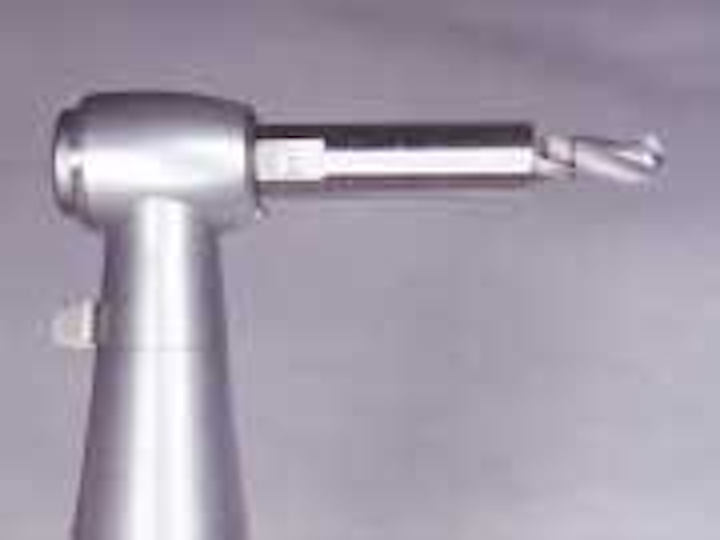 Implant drill stop
A common problem related to the surgical placement of dental implants is the difficulty clearly seeing the depth markings on the drills. A detachable stop that controls penetration of the drill into the bone greatly increases safety and minimizes risk. The stop allows surgeons to focus on the axial dimension and not be required to keep their eyes on the markings. The stop prevents creating an osteotomy deeper than a predetermined depth. The drill stop is fabricated of surgical stainless steel, is autoclavable, and can be used indefinitely.
The stop is designed to be used with Straumann drills. Two diameters of stops are available. The smaller stop can be used with 2.2, 2.8, and 3.5 mm drills. A larger diameter is needed for the 4.2 mm drill. The stops are offered in 8, 10, 12, and 14 mm depth control. Stops are available for both short and long drills. The stops also may be incorporated into a surgical stent and serve as a drill sleeve with depth control.
For more information, visit www.drillstops.com.
CAESY Enterprise 5.5 released
Patterson Dental Supply, Inc. announces the release of CAESY Enterprise 5.5, the newest update of its server-based software program. It features new and updated multimedia presentations and an elegant new look and feel for ShowCase, the case-presentation software included with CAESY Enterprise. ShowCase enables dentists and staff members to create case presentations, present them chairside, or send them home with the patient to reinforce case acceptance. Enhancements include the addition of viewer themes providing sleek new designs that allow the appearance of the viewer to change and, the Patient Message feature, which lets the dentist write a short note to the patient and have it displayed on the screen.
The new release also features updated videos in the New Technologies, Hygiene, Orthodontics, Restorations, and TMD sections of CAESY.
For more information, visit www.caesy.com or call (800) 444-6035.
New StarDental® SolaraPlus™ handpiece
DentalEZ Group introduces its new ergonomically designed StarDental SolaraPlus handpiece. The small and lightweight titanium body of the SolaraPlus provides more than 18 watts of power - the highest of any handpiece in its class - offering strong, fast, controlled cutting. In addition, the lube-free, versatile handpiece features bifurcated fiberoptic rods for shadow-free illumination and a HiFlo fiberoptic swivel that provides enhanced airflow for consistent high torque.
The new SolaraPlus joins the successful Solara series, which includes the Solara, SolaraFlex™, and SolaraFlex Plus models, offering durability, flexibility, and easy access for maximum maneuverability and efficiency.
For more information, call (866) DTE-INFO and press "2" for DentalEZ Customer Service, or visit www.dentalez.com.
Contact Perfect makes perfect contacts
Contact Perfect is a direct-contact matrix system. Revolutionary direct-contact technology changes the paradigm for all Class II restorations. Removable matrix walls now allow uncured composite resin to uniformly expand and displace to create direct interproximal contact. The result is perfect contact points and contours with absolute predictability.
Contact Perfect uses standard Tofflemire retainers and is available in three band styles - a universal two-surface band, a bicuspid MOD band, and a molar MOD band. For more details and free training video, visit www.contactperfect.com or call (866) 770-5049.
AdDent introduces the Microlux DL
The Microlux DL fiberoptic illuminator is designed to enhance dental examinations of the oral mucosa. Used in conjunction with a traditional visual and tactile examination, the battery-powered Microlux DL helps clinicians locate abnormal lesions on soft tissues for a minimum cost of about $6 per exam after initial purchase. The Microlux DL is painless, noninvasive, inexpensive, and easy to use. Most Microlux DL exams can be completed within three minutes - and provide information that could have far-reaching benefits for your patients.
If you own a Microlux Transilluminator, the new DL light guide will fit your current model. Light guides for both the Transilluminator and the DL models as well as the DL Solution can be purchased separately.
For more information, call your dental dealer, visit www.addent.com, or call (203) 778-0200.
Henry Schein Caries Indicator Syringe Kit
The new Caries Indicator Syringe Kit detects infected dentin using red dye, which is safe, economical, and effective. The kit contains easy-to-use syringes and sponge applicators that accurately help place the bright, red dye exactly where the operator chooses. The kit contains four 1 ml syringes and 20 sponge tips.
For more information, call Sullivan-Schein Dental at (800) 372-4346 or visit www.sullivanschein.com.
Discus Dental licensed to distribute Aphthasol®
Distributed exclusively to licensed dental professionals by Discus Dental, Inc., Aphthasol is the first FDA-approved and only prescription drug specifically indicated for the treatment of aphthous ulcers in healthy adults. Studies show that up to 25 percent of dental patients suffer from Recurrent Aphthous Ulcers (RAU) but, until now, treatment options have been marginally effective or simply palliative. Finally, Aphthasol is clinically proven to accelerate healing and reduce pain.
Aphthasol, Amlexanox Oral Paste (5%), is a tasteless and odorless mucoadhesive paste that is known to be a potent inhibitor of mast cells and allergic response. Mast cells are found in greater quantities in RAU lesions when compared with healthy mucosa. Aphthasol is proven to provide 72 percent faster healing time and 90 percent faster pain resolution when compared to no treatment.
For more information, call (800) 422-9448 or visit www.discusdental.com.
Ivoclar Vivadent introduces IPS e.max®
Ivoclar Vivadent, Inc. announces the availability of the next generation of all-ceramic materials: IPS e.max. IPS e.max is an all-ceramic system that encompasses both pressable and CAD/CAM technologies for fabricating esthetic and strong metal-free restorations. Complex multi-indication cases can be completed with just one restorative system.
The new system includes IPS e.max CAD, which are high-strength, precrystalized glass ceramic blocks for single-unit copings for anterior and posterior restorations as well as three-unit anterior bridges. When higher strength is required, IPS e.max ZirCAD also can be processed efficiently with CAD/CAM technology. When pressable fabrication techniques are warranted, IPS e.max Press offers ideal fit, form, function, and optical properties for anterior and posterior crown copings and anterior bridges. For press-to-zirconia techniques, IPS e.max ZirPress maximizes the marginal integrity of the restorations.
Unifying the IPS e.max components is the IPS e.max Ceram layering ceramic, which is compatible with all of the IPS e.max substructures. Its nano-fluorapatite glass ceramic formula provides an opalescence, translucency, and brightness that enables the creation of life-like restorations, regardless of fabrication technique.
For more information, call (800) 533-6825 or e-mail to mail@ivoclarvivadent.us.
New CEREC milling cabinet promotion
Sirona Dental Systems has teamed up with Patterson Dental to launch a nationwide CEREC milling cabinet promotion. Starting September 1 through December 31, Sirona will give away a brand-new tabletop or full-version milling cabinet with every purchase of a CEREC 3D CAD/CAM system. Designed to increase work space and reduce noise, the sleek CEREC tabletop and full-version milling cabinets, valued at $2,795 to $2,995, feature self-retracting drawers with insets for organizing all the necessary CEREC materials.
The CEREC System has been continuously improved and upgraded with its latest version, CEREC 3D, providing reduced design and production time as well as significant improvements in restoration fit and esthetics.
For more information, call your local Patterson branch, Patterson representative, or CEREC specialist at (800) 873-7683.
New book offers insights on pulp treatment
A new book, published by Pulpdent Corporation, describes evidence-based, research-supported techniques for treating the vital pulp and the pulpless tooth, and offers insights gained through the author's six decades of experience in dentistry. The book, "Save That Tooth," is authored by Harold Berk, DDS, DSc, FACD, FICD, FAAPD, Clinical Professor Emeritus at Tufts University School of Dental Medicine, and founder of Pulpdent Corporation. It includes a broad range of clinical information, philosophical approaches, case studies, technical tips, and resources relating to saving teeth.
"Save That Tooth" is a hardcover book of more than 250 pages and is richly illustrated with full-color clinical photographs, medical illustrations, radiographs, and original artwork. There are also extensive references and suggestions for additional reading, as well as sections with helpful hints and frequently asked questions. The book is a valuable resource but also an enjoyable read for dental students and practicing clinicians alike. "Save That Tooth" is available for $80, including shipping. Order by calling (800) 343-4342.
Cosmedent for Kids offers new materials
Cosmedent, Inc. introduces Cosmedent for Kids, a new product line designed to better serve the needs of pediatric dentists. Cosmedent for Kids is a division of Cosmedent that provides specialty dental materials to the pediatric market. Some new products include two new pit-and-fissure sealants, COSMESEAL-FILLED (the first microfill sealant) and COSMESEAL-CLEAR (a new unfilled sealant), three specialized pediatric kits from Cosmedent's top-rated Renamel Restorative System, and new primary tooth matrix bands.
To receive a Cosmedent for Kids brochure or to request more information, call (800) 621-6729 or visit www.cosmedent.com.
CareCredit
®

support in Spanish

CareCredit is providing a variety of materials, including patient brochures, presentation charts, and applications in Spanish. For many patients, these materials will make it easier to understand how they can accept recommended treatment and make low monthly payments with a "No Interest" or "Low Interest" monthly payment plan. In addition to the in-practice materials, CareCredit also is providing 23/7 bi-lingual customer support and communication, including patient statements for those patients who indicate a preference for Spanish.

Enrolled practices can request materials by calling (800) 859-9975 or via CareCredit's online resource center (www.carecredit.com). Practices interested in enrolling in the CareCredit program can get started by calling (800) 300-3046, ext. 4519.
Breakthrough whitening chemistry
Combining Amorphous Calcium Phosphate (ACP) with the proven effectiveness of Potassium Nitrate, Discus Dental now offers the most powerful one-two punch for sensitivity relief in take-home or chairside whitening. Recent studies using Nite White® ACP indicate a 30 percent reduction in sensitivity during take-home whitening, with more than twice as many patients experiencing zero sensitivity.
Licensed by the American Dental Association Foundation (ADAF), ACP has proven to dramatically reduce patient sensitivity while enhancing the enamel's natural luster. ACP also works to give patients brighter, more lustrous smiles. It chemically bonds with the tooth surface, filling microscopic defects and enhancing overall smoothness and luster. Clinical testing further shows that Nite White ACP patients achieve longer-lasting results. Independent testing by the ADAF indicates that ACP remineralizes enamel subsurface lesions.
For more information, call (800) 422-9448 or visit www.discusdental.com.
Henry Schein Z-50 brushless handpiece
The new Z-50 brushless handpiece features variable cutting speeds up to 50,000 rpm with ultra-high cutting power. This state-of-the-art system provides silent, high-torque performance and is virtually maintenance-free. A digital display and convenient hand and foot controls make for easy use. Strong construction ensures long-term reliability. The handpiece includes a one-year warranty.
For more details or to order, call Sullivan-Schein at (800) 372-4346 or visit www.sullivanschein.com.
Universal composite instrument from Garrison
The new universal composite instrument (part number TN008) from Garrison Dental Solutions combines five commonly used posterior composite hand instruments into one instrument, saving tray space, and sterilization and setup time. Eliminating clinician/assistant instrument exchanges also reduces sculpting time. Specific angulations of the various components allow improved access to the preparation. On the bladed end, the instrument features a redesigned acorn carver that more closely mimics occlusal contours. The instrument end with the ball burnisher has two sizes of condensers built in. The condenser shapes have been optimized to improve the tamping ability of each tip without simply poking holes in the composite. The condensers double as matrix band "contact formers" having been specifically shaped so as to prevent them from getting locked in the composite during curing.
The new instrument features a titanium-nitride non-stick coating and an ergonomic large-diameter lightweight handle. To order, call (888) 437-0032 or visit www.garrisondental.com.
Hu-Friedy announces new mini-syringes
The exclusive Hu-Friedy line features two meticulously handcrafted syringes. The refined size and open thumb ring offers improved comfort and ergonomics for superior performance. In addition, the nonfixed hub allows for easy replacement as needed. The stainless steel construction allows for any method of cleaning and sterilizing. The new stainless steel mini-syringes and hub replacements are available in the following part codes: SYRAM - Mini-Aspirating Syringe "A" Type; SYRCWM - Mini-Aspirating Syringe "W" Type; and HUBACW - Hub Replacement "A" and "W."
The new syringes and hub replacements are available through any authorized Hu-Friedy dealer.
For more information, call your Hu-Friedy dealer representative, or call (800) HU-FRIEDY (483-7433).