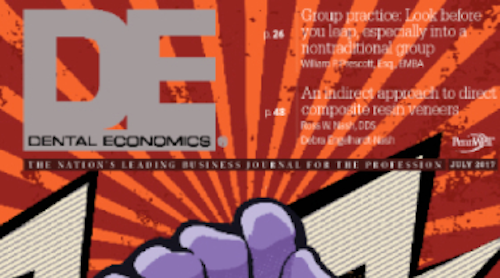 Allow me to congratulate you on building the killer practice. From the inside out, you've carefully scrutinized and planned every detail. From your perfect location to your amazing team to the advanced training you've successfully completed, your practice is the envy of every doctor in your community.
So why is there a server in your practice?
If you're using a server, what other 20-year-old technology are you using in your practice? Are you using amalgam in your restorations? Are you taking x-rays with film and dealing with the associated waste? Is there a paper appointment book at the front desk?
I hope not! Amalgam restorations, x-ray film, and paper appointment books are leftovers from the '90s. And so are servers. Here are four reasons why you should trash your server today:
Sticky flytrap for HIPAA security requirements
Your server could be in a broom closet next to the mop pail, tucked under a desk and frequently kicked, or gathering dust in the corner of your office. Regardless of where it sits, it represents a huge risk and challenges your ability to comply with the HIPAA Security Rule. Here's why:
Physical security - Your server must have restricted and managed access. What a pain it must be to keep the broom closet locked!
Electronic security - The routers and firewalls you may have purchased from Walmart can be hacked by nearly every high school nerd in a matter of minutes.
Backup integrity - Where does one begin with what could go wrong with backups? Historically, they are unreliable. And mirrored drives are pointless should your practice burn to the ground.
Emergency availability - HIPAA requires that you must be able to retrieve and access protected health information (PHI) in the event of a local disaster. If the server is destroyed, you'd better hope your backup restores.
IT management - Because PHI resides in your office, the burden of physical security, electronic security, backup, and disaster recovery rests squarely on your shoulders. Like you've got nothing better to do!
When you remove a server from your practice, you also remove the responsibility for complying with the HIPAA Security Rule. Moving your practice to a cloud-based management system is the easiest way to trash your server.
$150 monthly monument to a bygone era
Your cost for having a monolithic server in the practice is about $150 every month. The average server amortized over five years equates to a $50 monthly expense. Tack on maintenance and data backup costs, and you add an additional $100 to your monthly bill. Add it up, and every year your practice contributes $1,800 toward outdated technology. Would you spend even one dollar on amalgam or film? Of course not. Why is technology any different? A better use for those dollars is to put them toward the latest technology platform: The cloud.
A big, fat target for every thief
A dental practice is a target-rich environment for any burglar. Thieves knows they will find computers, drugs, and other items that can be quickly turned into cash. In a story aired by KFSN's news team, Sergeant Michael Landon of the Fresno Police Department said, "A lot of times these suspects are addicted to drugs; they're desperate to feed their habit."1
With PHI on a server or other computer in the practice, if it goes missing after a theft, the consequences range from embarrassment to stiff penalties. I can't imagine any doctor wanting to tell patients that their personal health information is now in the hands of criminals. Trash the server and you'll never be faced with that predicament.
A ball and chain when you need to sprint
What better way to grow than to duplicate your success with a second or third practice? Unfortunately, multiple locations generate multiple technology and management challenges. Remote-access software may provide you with a connection to the data, but the user experience is clunky or slow - or both.
If you move your practice to the cloud, you avoid the complications that stem from managing multiple practices. Access to one practice's financials is just as simple and easy as accessing the financials of another practice; all you need is a username and password.
You can trash your server today. In the year 2017, server technology is 20 years old, and the cloud has replaced it as the current technology platform.
AUTHOR'S NOTE: Learn more about the benefits of the cloud at curvedental.com/why-the-cloud.
Reference
1. Ybarra J. Two thieves who steal from dental office in Northeast Fresno. KSFN-TV website. http://abc30.com/news/two-thieves-who-steal-from-dental-office-in-northeast-fresno/1870658/. Published April 13, 2017. Accessed June 1, 2017.
---
Andy Jensen is vice president and chief marketing officer at Curve Dental Inc., a software development company that provides web-based management solutions for dentists and dental groups. Contact him at andy.jensen@curvedental.com. Read more at curvedental.com/blog.