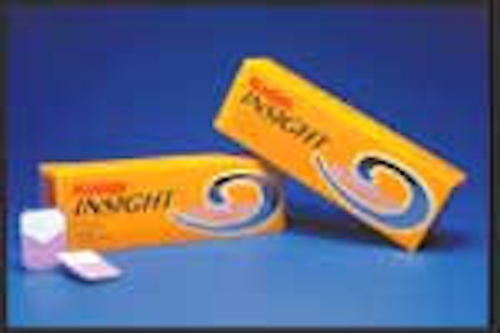 By Joseph Blaes, DDS
Pearl 1 – SureSoft Dental X-ray Film Packets by Kodak. I usually cringe when someone wants to take a periapical or even a bitewing film of my mouth. I have several tori on the lingual of the mandible that are just waiting to be bruised by an X-ray packet. Many of my patients have the same problem and, consequently, the same fear.
Kodak has designed a totally new product for intraoral film that significantly reduces the potential for discomfort. The solution required some complex redesign of Kodak's equipment.
SureSoft Packets feature a comfort edge that looks like they are surrounded with a soft foam material. Instead of a sharp edge coming in contact with the tissue, now there's soft foam on that edge. The X-ray exam does not have to be an uncomfortable experience for your patient or your staff. Patient comfort is central to patient care. Patients who are relaxed can be treated more easily and successfully.
Initially, SureSoft Packets will be available only on Kodak InSight Film in size 2, the most popular size of X-ray film. Kodak is helping to make dentistry more comfortable!
To order, call your dealer. For more information, call Kodak at (800) 933-8031 or visit their Web site at www.kodak.com/go/dental.
Pearl 2 – Revotek™ LC by GC America, Inc. Sometimes a dental company really solves a problem with a new product. Revotek™ LC is a brand-new, easy way to make temporary inlays, onlays, crowns, and veneers. It is a light-cured, sculptable composite resin for temporary restorations.
I have used this material successfully for single crowns, inlays, and onlays. No preoperative impression or stent fabrication is required. Simply take some of the material from the light-proof storage case and preform it slightly. Then place the material and form it around the tooth. Sculpt the material with any flat instrument around the margins and interproximally; then have the patient bite into the occlusal part of the material. When the patient opens, recheck the contours, and light-cure to a rubbery stage. Remove the temporary, do a final light-cure, trim and finish, and then cement. There is no exothermic heat, no odor, and no irritation!
Using Revotek™ LC, you can make and cement a single crown is less than three minutes from start to finish. GC has come up with a great solution to temporaries.
Order from your dealer or visit www.gcamerica.com for more information.
Pearl 3 – ViziLite™ Oral Examination Device by Zila Professional Pharmaceuticals. I saw this product at the Chicago Midwinter meeting and was impressed with the research and chemistry.
The ViziLite™ is for use in conjunction with a conventional visual oral mucosal examination to improve the identification, evaluation, and monitoring of oral mucosa abnormalities in those who are at increased risk for oral cancer. The disposable ViziLite™ Test Kit includes a handheld, disposable chemiluminescent light and a 1 percent acetic mouthrinse that work together to help dental professionals detect abnormalities that might not be visible to the unaided eye. The test is painless and can be performed in about two minutes.
After the patient uses the pre-rinse, activate the light and place it in the holder. Atypical or dysplastic mucosal abnormalities appear bright white, focusing attention on lesions that might not be seen otherwise. This can show you where to collect cells for biopsy with the Oral CDX.
Studies have shown that if oral cancer is found at the earliest stage (Stage 1), treatment is quicker and easier and more than 90 percent successful. More than 8,000 Americans die of oral cancer every year. This new tool can reduce that number significantly.
I believe that this product should be readily available, but for now it is exclusive with Patterson Dental. Contact your Patterson representative or branch office to order. For additional information, visit www.pattersondental.com.
Zila has two very good patient-information brochures that explain the procedure and the reasons for it. Contact Zila at www.zila.com for more information.
Pearl 4 – LuxaBite by Zenith/DMG. Get ready for a revolution in bite registration! Get ready to send your lab a perfect bite registration every time! Get ready for less and sometimes no occlusal adjustments on finished cases! You can have all of this and more with the new LuxaBite system from Zenith/DMG.
This product was suggested, developed, and tested by dentists who were looking for a better way to capture a bite registration. They were successful, and now it is available to you.
LuxaBite is easy to use for all restorative cases that require bite registration. The difference is that LuxaBite gives you an accurate ridged bite registration that your lab technician will love. There is nothing else to buy and your intraoral technique will remain much the same, with just a few small changes. Be sure to read the instructions that come with the material and follow them closely. You will be amazed with the results and wonder why no one thought of this before.
Order from your dealer or visit www.zenithdmg.com for more information.
Pearl 5 – Opalescence® XTRA™ Boost by Ultradent. Along with all of the hype about using lights for in-office bleaching, here comes Ultradent with a product that does not need a light to activate the chemistry.
Opalescence® Xtra™ Boost is a new chairside whitener that is 38 percent H202. The product is packaged in two separate syringes, and they are mixed together to activate the proprietary chemistry chairside, eliminating the need for a bleaching light.
There is no upfront cost for the dentist or the patient. The simple chairside mix gives you a fresher, more active chemistry, which has a tooth-kind ph of 7.0.
Call Ultradent at (800) 552-5512 to order or for more information.
Pearl 6 – Satin Swivel™ Ultrasonic Scaler Insert by Hu-Friedy® Manufacturing Company. If you want to score some points with your hygienist and make her job much more comfortable, get her some of these ultrasonic inserts. As you know, the swivel handpiece ended our fight with handpiece tubing. Now you can end your hygienist's fight with tubing by getting her the Hu-Friedy® Satin Swivel™ Scaler.
Engineered to get rid of the drag from the handpiece cord, it enables the user to roll the insert in the fingertips. Your hygienist will be able to move from tooth to tooth or arch to arch without stopping to turn the insert. The Satin Swivel™ has a large-diameter handle with a soft silicone grip, which is designed to reduce finger-pinching and enhance tactile sensitivity.
Call Hu-Friedy® at (800) 483-7433 or visit www.hu-friedy.com for more information.
---
To review past Pearls columns, log onto www.dentaleconomics.com Search for "Blaes" or "Pearls"
Dr. Blaes has a general practice in the St. Louis area. He is known for his expertise in dental materials and techniques and his innovative systems designs. He writes and lectures on "How To Increase Productivity and Profitability." Dr. Blaes is a member of the American Academy of Dental Practice Administration. He may be reached at joeb@pennwell.com.