In today's challenging competitive landscape, dentists continue to hold their ground. That's the overall message reflected by this year's survey. The data collected closely mirrors last year's in nearly all categories, which indicates general dentists experienced another year of slow growth.
The good news is that doctor production grew 2.4%, although overall practice production remained virtually flat at $1,053,283, slightly below last year's average of $1,072,998. Unfortunately, a commensurate decline in hygiene production appears to have offset any gains in doctor production.
"Dentistry has entered a period of stagnation," said Roger Levin, DDS, chairman and CEO of Levin Group Inc., a leading dental consulting firm. "Dentists are dealing with a multitude of game changers that have made practice growth more difficult than any time in recent history." Those game changers include
• the expansion of dental service organizations (DSOs) and a growing number of group practices;
• declining reimbursements from insurance providers and continued uncertainty surrounding health care in general;
• a greater supply of dentists due to the addition of new dental schools;
• older dentists delaying retirement; and
• fewer dental visits by adult patients and millennials.
"You've got more dentists competing for a smaller pool of patients. It's not surprising that the profession as a whole is at a standstill," said Dr. Levin.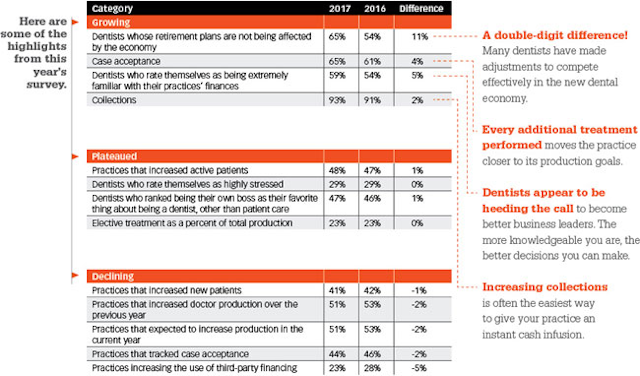 About the survey
This year marks the 11th edition of the Dental Economics-Levin Group Annual Practice Survey and Research Report. By gathering and presenting meaningful data about the state of dentistry, our survey enables dentists to measure their performance in critical areas and use that information to spur positive changes in their own practices.
This year's data, collected from February through May, is reflective of practice performance during the 2016 calendar year for general dentists, specifically practice owners in the United States. Survey respondents were largely male (79%) and mostly doctors who had been practicing for more than 20 years (70%). A plurality of survey participants (38%) said they worked in a medium-sized town, followed by 29% in a major metro area, 20% in a large city or town, and 13% in a small town or rural area.
As in previous years, Levin Group designed the survey and collected the responses. The Levin Group Data Center then analyzed the results and compared them against relevant benchmarks, including the 2016 survey.
Marketing: Reaching new patients
Acquiring new patients requires more effort, more strategy, and more skill than in the past due to the highly competitive nature of today's dental marketplace. Less than half of responding dentists (41%) said they increased the number of new patients.
When it comes to marketing, the majority of dentists are relying on a few strategies directed toward current patients or the community. Two-thirds of surveyed dentists said they targeted both active patients and the community with one to five strategies. That isn't enough, according to Dr. Levin. "An effective internal marketing plan should employ at least 15 strategies throughout the year targeting patients and the community," he said. "Today, you need both quality strategies and a sufficient quantity of strategies to deliver the results dentists need to grow their practices."
Social media can be a powerful marketing tool for engaging current and prospective patients. However, only about two-thirds (69%) of responding dentists said they had a practice Facebook page. The other platforms had even less participation, with Google+ at 40% and LinkedIn at 17%. Nearly a quarter of practice owners (23%) said they don't use social media at all. "With the vast majority of Americans carrying a mobile device and more and more people spending time on Facebook and other sites, practices should have a robust online presence, and that means social media, not just a website," said Dr. Levin.

Case presentation: Persuading current patients
There was one key category that showed a significant drop from last year, and that was in the area of third-party financing. In the 2016 survey, 28% of respondents said they increased the use of outside financing; this year, that group dropped by 5 points to 23%. Making treatment more affordable is one of the ways to increase case acceptance, especially for treatment that requires out-of-pocket costs.
"One point that I consistently emphasize in my seminars is that dentists have to do more with what they already have, and that means current patients," said Dr. Levin. "Many patients are candidates for a variety of restorative and elective services. But you have to make your case and you have to make it well."
Twenty-three percent of production originates from elective treatment, which indicates that more dentists are moving beyond single-tooth treatment. In addition, many general practitioners are expanding their service mixes by performing specialty procedures. More than half of dentists (53%) offer some type of orthodontic treatment and a third of general practitioners have surgically placed dental implants.
Improved business skills, improved production
The business of dentistry has grown more complex in the aftermath of the 2008–2009 recession. To enjoy greater practice success requires a higher level of business skills. This seems obvious, but does that mean it's true? We wanted to find out. We correlated the production of dentists who didn't use a practice management consultant with the production of those doctors who did. In addition, we factored in whether the number of new patients increased, stayed the same, or decreased for those practices (table 1).
We found that all three dentist groups who used a consultant had higher production than those who didn't. The biggest difference was for practices that increased new patients and used a consultant. They outperformed their counterparts by $173,380 or 15.3%. Most dentists (66%) said they didn't use a practice management consultant, but for the 34% who did, it paid off in additional revenue.
Conclusion
Dentistry as a profession is in a holding pattern. General dentists on average experienced another year of slow or no growth. Still, Dr. Levin maintains that individual dentists have the power to effect positive change in their practices. "You can only control what you can control," he said. "Fortunately, as a practice owner, you have a lot of opportunities to improve your skills and increase your production. Just because the industry is flat doesn't mean your practice has to be."
Editor's note: For past survey results, visit levingroup.com/delg-survey or search on dentaleconomics.com.